Kylie's Dead Of Knight & KyMajesty Are Different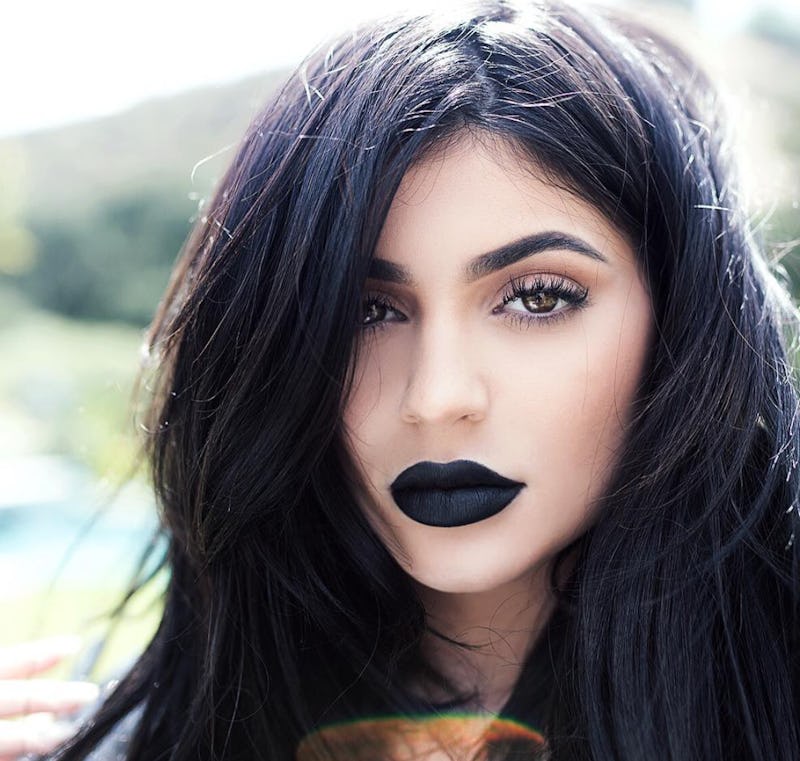 Oh Kylie Jenner! You always, always keep us guessing. Last month, the makeup mogul teased Majesty, now called "KyMajesty," a new Metal Matte lipstick with a blue x black x silver sheen. The shade has yet to be released. Now, Jenner has revealed the Dead of Knight Lip Kit, a rich, true, matte black that will go on sale this Friday, June 10. Fans of the brand and of Lip Kits have to be wondering how the Dead of Knight Lip Kit is different than the still-unreleased KyMajesty Metal Matte, right? Well, there are several key differences. Make no mistake — they are soooooo not the same shade, texture, or consistency.
Before I dive into the diffs, allow me a quick aside re: the visuals: When the Kylie Cosmetics Instagram posted an utterly stunning photo of Jenner's BFF Jordyn Woods rocking deep, gothic, matte black lips and tagged it as KyMajesty, I was sort of surprised, since it didn't look the same on Woods as it did on Jenner. I even mused that the difference in tone and shade might have been lighting or perhaps Woods mattified KyMajesty with another product. I also noted that both of their lips looked awesome. Now that Jenner has revealed Dead of Knight, I am thinking Woods may have actually been rocking that shade in the shot.
Was DoK hiding in plain sight? Who knows? I guess it matters not, since we're getting two black-toned lip products in the near future.
OK, back to the main question. How are Dead of Knight and KyMajesty different?
Well, Dead of Knight is an official Lip Kit. That means it is a liquid lipstick that will dry down to a serious matte finish, like all of its siblings.
Another difference between DoK and KyMajesty? DoK will also come packaged with a creamy, matching lip liner, since all KLKs have accompanying liners. That's due to the fact that the mega matte lip look demands precision, especially with such a dramatic and adventurous color. You can't apply this shade sans a liner or without assistance from a mirror. That's just not prudent. The KLK price tag is also $29.
BTW, the splatter pictured above is so much better than the usual swatch, right?
Jenner claimed that Dead of Knight is essentially crowdsourced, since she asked fans and customers what they wanted and they responded with a black lipstick! She confirmed the fan input and inspo in the caption of the Instagram photo of her with DoK-painted lips.
Let's talk about KyMajesty, FKA "Majesty," and why it's different. KyMajesty is a Metal Matte, so it has a metallic finish and serious sheen, per the photos and videos that have been posted. This shade also has way more of a blue tone to it. Kylie's Metal Mattes aren't sold with a matching liner, although you should probably invest in one to keep this lip look in check and clean. KyMajesty should also have an $18 price tag, like the other Metal Mattes.
As of June 10, Dead of Knight will be officially released while KyMajesty won't. That's another diff.
One thing they have in common, though? Both are super bold and gothic looks. You should wear these blackened lipsticks with a serious dose of confidence.
On a personal note, I recommend wearing both with little-to-no makeup on other features. Keep the rest of your face as bare as possible, unless, of course, you are going for super vampy!
That said, these are the most look-at-me lips you can have so balance and a light makeup look are essential.
Good luck shopping Dead of Knight on Friday, June 10, all you Lip Kit lovers!
Images: Kylie Cosmetics/Instagram (4)