The Dead Of Knight Swatches Are Here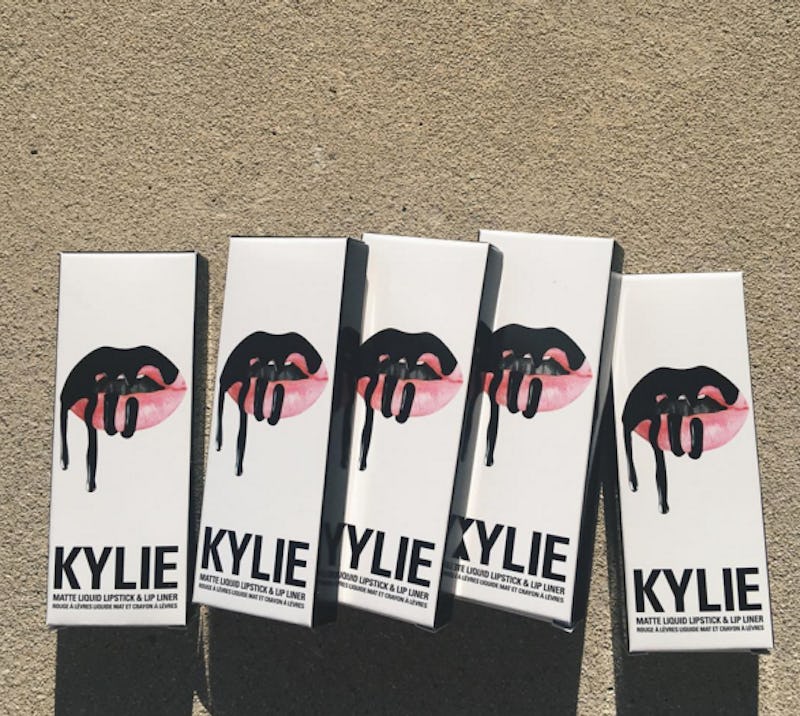 If you've been a loyal follower of the brand (and you know you have!) then you already know that you can never assume anything. Just because KyMajesty was teased doesn't mean that will be the next color to get released. That would be way too predictable, you know? After dropping yet another new black shade yesterday, the swatches of Kylie Jenner's Dead Of Knight Lip Kit are already here.
Of course, it's proving to be just as creamy, matte and black as you'd hope for it to be, based on the swatches Jenner debuted on Snapchat. The photos she released to announce the shade are absolutely gorgeous, and the lippie definitely lives up to that level of a black matte lip when swatched, too.
Jenner said she created this black lippie because it's what her fans wanted to see, and since the swatches are here, the packaging's ready to go and it goes on sale Friday, June 10 — I'd say she definitely hasn't disappointed fans with this surprise. Everyone was so excited for the black metal matte to come out, so another new matte shade was the last thing anyone had on their minds. Expect the unexpected with Jenner and her Lip Kits. And if you do, she'll surely never let you down!
Jenner's created a major statement-making lip color with this shade.
It's deep, dark and mysterious.
That's pretty much all you could ask for from a lippie.
It's sleek and shiny when it's wet.
And super matte black once its dry.
It's all bottled and ready to be in your hands!
Dead Of Knight comes equipped with a black liner, too.
All of that combined will give you the ultra luxe matte black lip you've been waiting for.
You never know what could happen with the Dead Of Knight slicked on your lips.
And isn't that just the kind of excitement you need in your life?
Images: kyliecosmetics/Instagram (1); Giphy (1)