12 Best Fast-Selling Beauty Products To Buy Online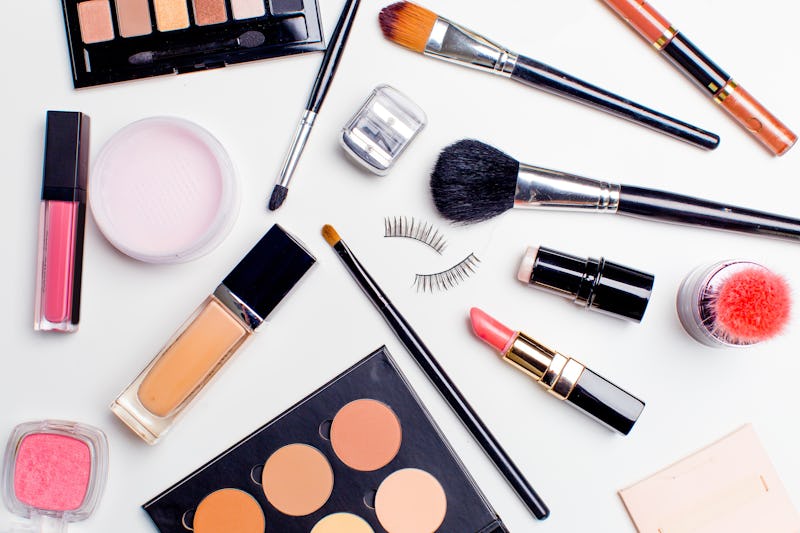 You know the feeling — you've had your eye on something for weeks on end, and the second you go to nab it, they're all sold out. The internet's filled with options, but it's not magical. Sites do run out of things, so when it comes to beauty products that sell out really quickly, keep a close eye on the stock number, or you might just miss your chance.
Amazon is definitely my favorite place for anything and everything I need — including some of the best beauty products you can buy online. From housewares to cosmetics, I love that the ingredients are out in the open, the materials are often posted, the reviews are specific and reliable, and two-day shipping is always an option. That's why I reached out to an Amazon rep to get the inside scoop on hair and skincare products that move like the wind, so you all can get the upper hand on the fastest-selling beauty products online to stock up on right now.
Whether you're looking for clearer skin, more hydration, fuller hair, healthier strands, or reliable sun protection, check out these top-selling beauty products that seem to just fly off the figurative shelves — after all, while the "he/she is doing it" argument isn't any way to live your entire life, there's some definite truth in things like numbers and reviews.
Clean Hair The Healthy Way With This Awesome Cleanser
WEN Spring Orange Blossom Cleansing Conditioner , $32, Amazon
This seasonal scent is one of the top-selling new releases in hair care, and people are raving about it. WEN Spring Orange Blossom cleansing conditioner replaces your shampoo and cleanses your hair with high-quality oils and extracts, leaving your strands bouncy, voluminous, and healthy. Reviewers are obsessing about the fresh springy scent, and hair is softer, less frizzy, and so much easier to manage.
Dry Out Blemishes And Pimples Overnight
Mario Badescu Drying Lotion , $17, Amazon
When it comes to shrinking acne and breakouts overnight, Mario Badescu's drying lotion seems to be everyone's go-to. It's got great ingredients like sulfur and calamine, both of which work to reduce inflammation and make any pimple disappear while you sleep. Reviewers say it's powerful and effective, but also great for sensitive skin, and some say they'll never again use anything else to tackle their breakouts.
Get Moisture And Protection All In One
Perricone MD Photo Plasma , $75, Amazon
This SPF 30 sun-protecting moisturizer, Perricone MD photo plasma, sells like crazy and is so highly rated because it's super lightweight, has an incredible texture, is loaded with vitamins and antioxidants, and hardly feels like sunscreen. Even people with the most sensitive skin love it because it has a gentle whipped consistency that leaves your face feeling soft. Best of all, it absorbs really well, so it can be used underneath makeup without any issues.
Texture Your Way To Full And Voluminous Hair
ORIBE Hair Care Dry Texturizing Spray , $44, Amazon
Amazon launched ORIBE hair care dry texturizing spray in December, and they've seen this "holy grail hair product" rise to the top of sales in no time. It acts as a dry shampoo while it volumizes and adds texture, and it goes on invisible without any caking or residue. From thick, frizzy hair to thin, limp strands, reviewers all across the board are totally loving the all-day stay, and they say it smells amazing, too.
Get A Close And Comfortable Shave With A Great Cream
Proraso Shaving Cream , $10, Amazon
Apparently, this Proraso shaving cream became a number one best seller after launching on Amazon earlier this year. It's 95 percent natural without any parabens or silicones, and it creates the perfect setting for a close, nick-free shave every time. People love the tingly eucalyptus scent, and they can't stop raving about how well it lathers, applies, and delivers.
Check Out This 60-Second Tanning Mousse For Real-Looking Color
St. Tropez Self Tan Bronzing Mousse , $31, Amazon
If an even tan is your goal, this St. Tropez self tan bronzing mousse is going like golden-brown hotcakes. The lightweight formula is easy to apply, goes on even, and dries in 60 seconds for a natural-looking sun kissed glow anywhere. Reviewers say it's the most effective and reliable brand they've ever used because it doesn't streak, doesn't leave a residue, and genuinely looks real.
This Lightweight Moisturizer Works For Men And Women Alike
Jack Black Double-Duty Face Moisturizer , $28, Amazon
For a broad-spectrum sunscreen and a moisturizing facial treatment all in one, there's the best-selling Jack Black double-duty face moisturizer. Along with sun protection, it's got antioxidants and vitamins that nourish your skin from the inside out. It's lightweight, non-greasy, and absorbs easily, and although it's marketed toward men, they're not the only ones using it. One reviewer said, "I'm a girl and I love this stuff because it goes on super light and works well under make-up."
Nourish Damaged Hair With This Quick-Selling Conditioner
ORIBE Hair Care Gold Lust Repair & Restore Conditioner , $49, Amazon
According to my Amazon rep, customers can't get enough of this best-selling conditioner from Oribe. It's got oils and extracts that heal and nourish hair for shiny, smooth, and manageable results. It's especially great when it comes to giving tired, dyed, and damaged hair a serious makeover, and one reviewer says, "I tried this masque and then I was in love. Bought the whole line! It is seriously a God-send."
Dry And Straighten With This Stylist-Recommended Set
T3 Holiday Styling Set , $200, Amazon
This T3 Holiday styling set is in high demand, and it tends to sell out as soon as Amazon restocks. This awesome combination delivers smooth, salon-quality hair with its lightweight and ionic blow dryer and hair straightener. Together, they reduce frizz, dry and style hair exceptionally fast, and have several different heat settings and speeds to suit any kind of hair. It's regularly recommended by hair stylists, and it's a great value for the set.
Heal And Tone Skin While You Sleep
StriVectin Advanced Retinol Intensive Night Moisturizer , $79, Amazon
Nighttime moisturization is really important, and this quick-selling StriVectin retinol intensive night moisturizer makes the most out of your beauty sleep. It's got rejuvenating and skin-restoring retinol that give your face a makeover while you rest, and because it tightens and tones skin without any irritation, this is a go-to product for tons of women.
Check Out This Top-Selling Sunscreen That Melts Into Skin
La Roche-Posay Anthelios Melt-In Sunscreen Lotion , $36, Amazon
La Roche-Posay Anthelios melt-in sunscreen lotion is a 60 SPF body and face sunscreen that's entirely water-resistant and comes dermatologist-recommended. It's got a fast-absorbing velvety texture that you don't have to wait around for because it dries instantly. One reviewer says, "I live in Florida and this is the best and longest lasting sun block I found."
This No-Crimp Curling Rod Is A Total Game-Changer
Sultra The Bombshell Rod Curling Iron , $99, Amazon
When it comes to beautiful, bouncy curls, loads of hair enthusiasts turn to Sultra's The Bombshell rod curling iron. It's been called a "game changer" because it turns even the most stubborn hair from flat to voluminous in a matter of minutes. It's got even heat distribution 360 degrees around the barrel, all without creases or clip-lines, as well as a no-tangle swivel cord and a safety auto-off function. Game changer, indeed.
Bustle may receive a portion of sales from products purchased from this article, which was created independently from Bustle's editorial and sales departments.
Images: Fotolia (1); Amazon (12)