How To Dabble In Trends Without Spending A Lot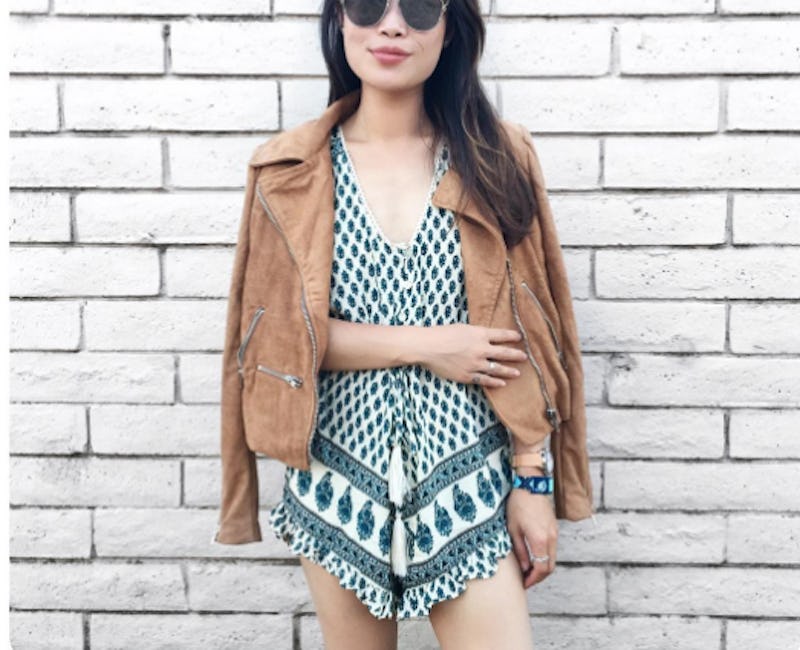 When the summer hits, ice cream trucks roll out, floaties are busted out of the basement, and all the coolest summer fashions make their debut out of storage boxes and into our closets. Along with them comes an itch to shop the newest trends, along with the distressing thought of "but I might not be able to afford them." There's no faster way to pump the breaks on an exciting fashion excursion than an empty wallet.
So how can you shop trends without going broke? There's a series of things to consider (and a lot of ammo for shopper's guilt,) when you think about trends: They might only last a hot minute, they might not go with your current style, they might be hard to mix and match, or they can just be something to amuse you for a month or two before you get the sense you want to donate it. So spending heaps of cash on something so fleeting makes it difficult to shop for. But have hope, fashion friends! There are ways you can still indulge yourself in summer trends without forking over too much cash. Below are 11 tips on how to buy trends without spending a lot of money.
1. Get Similar Looks In Unexpected Places
Instead of heading to an expensive boutique when the velvet choker trend had reached flash-point, I went to JoAnn's Fabrics instead. Why? Because a skinny, velvet ribbon only cost a little over a dollar and it gave me the same look as the 30 dollar choker in the catalog. If you want to play with a trend that probably won't stay a staple in your closet, try finding similar looks in stores you wouldn't normally think of walking into. Fashion writer Perrie Samotin at StyleCaster offered, "We're not talking about regular 'acceptable' fast fashion stores, but rather teenybopper-seeming mall stores, dusty Salvation Army outposts, cheap departments stores, even dollar stores, which are heaven for cool accessories like bandanas, canvas totes, and pool slides." And if you really love the trend after a few test runs? You can always buy a better version later.
2. See Which Pieces Will Go With Your Closet
While I'm all for those cute cowboy boots that are coming out this summer, I literally have nothing in my closet that will go with them. Which means I'd have to buy a whole new look just to try out the trend. But those ruffly, off-the-shoulder white blouses that have a southwest feel? Now that could go with so many things. If you're looking to play with a new trend, try to choose pieces in that family that will already jive with your closet. Fashion writer Kayla Sloan at financial site Smart Asset offered, "As I look at the new trends each season, I try to evaluate how well they would fit in with the clothes and accessories I already own. This strategy allows me to buy a piece or two rather than several head-to-toe outfits." It'll keep the spending to a minimum.
3. Go Thrifting
Trends come back around, right? Because of that, you can find a lot of similar pieces at thrift stores that will let you play with a look you're unsure of for only a couple of bucks. Fashion writer Jessica from College Fashion advised, "Most trends cycle throughout the years so there is always a chance to find previously worn items that are on-trend once again." From turtleneck crop tops to mom jeans, you can find them there.
4. Wait Until It Goes On Sale
Here's an obvious tip: Don't buy retail! If you want to try a trend but can't rationalize putting down Benjamins for it, just exercise you patience and wait till that mid-season sale rolls through to pounce. Style writer Lucy Aiken from Elite Daily pointed out, "Nothing beats the rush of getting the lowest possible markdown on a great piece." And it'll limit the guilt if it turns out the trend actually isn't for you.
5. Focus On Accessories
Say you've been interested in the '70s trend. Instead of dropping big money on a couple of dresses or blouses, focus on the accessories instead. Samotin explained, "Even old clothes can be elevated with the right accessories — none of which have to cost a lot of money." Aim for fringe bags, mod sunglasses, floppy hats, platform shoes — all these will bring that mod trend to life.
6. Find The Cheapest Version
Are you looking at pointy, wrap-around ballet flats? Instead of cashing in on the ones at Zara that are for 40 dollars, why don't you shop around and find that you can get very similar ones at Forever 21 for only 15 bucks. While the Zara ones might be better quality, chances are the shelf-life of this trend will only be a season so you don't need to worry about that. Sloan explained the reasoning, saying that the item "will likely only be in style for a couple of seasons, so I don't need to buy a high quality item that will last for several years. By then, there will be new trends to follow." So save yourself those dollars.
7. Get It Out Of Your System
Maybe you just want the trend because a lot of people are wearing it right now? In order to see if you'll get over it in the span of a couple of weeks or if it's really something you want to try out in your closet, first try to see if you could get it out of your system. Alden Wicker, the founder of forthcoming EcoCult, told fashion site Broke & Chic, "Repetitively pinning a trend helps me get it out of my system. If I still want the trend after a month or two, I'll give in." Smart!
8. Trade With Friends
If your pals are just as fashion obsessed as you are, chances are they'd be willing to filter out some cute pieces from their closet in exchange some of your own. Style writer Amanda Raye at Broke & Chic explained, "Did you recently buy a galaxy skirt or a neon peplum shirt? You can only wear something that bold so many times before you get sick of it. Instead of leaving it in the back of your closet for months, trade it with a friend who bought into a popular trend as well." It's better than keeping those pieces hanging!
9. Take Advantage Of Fast Fashion
Instead of splurging for a pair of overalls at Madewell or Bloomies, head over to Forever 21 and pick up a pair for around 20 bucks. While fast fashion items might not be the best quality, they can be a great place to dip your toe into a style you're on the fence about without having much money at stake. Samotin pointed out, "'Fast fashion' also has become something of a dirty phrase lately, but the fact remains that these stores are a panacea for women looking to try out a trend without foolishly spending half her paycheck to do it." It's a god place to give it a whirl.
10. Visit It In The Changing Room
Here's a tip I constantly do when an interesting trend breaks but I'm not sure if it's worth the investment: I visit it in the changing room. Let's take the denim trend for example: I fill my arms with overalls, pinafores, denim shirts frayed at the bottom, etc, and then go try them on slowly in the changing room. I'll then leave and do the same thing about two or three times until I can clearly read my reactions in the mirror after I've put them on a couple of times: Do I actually love this trend? Or did I just get swept up in the fun of it? If the answer is the former, I go and buy it with minimal guilt.
11. Try DIY-ing It
Rather than buying a sleeveless crop top at the store, go to the thrift store and hem one into a crop. Or instead of spending big money on high waist shorts, buy a cheap mom-jean pair at a charity shop and cut the pants into shorts. Jessica pointed out, "Like packing a lunch from home versus eating out, making a clothing item or accessory yourself can be much cheaper than buying it already made." While you won't be able to DIY everything that's hitting runways, keep an open mind on what you can alter to fit that look. It can save you a lot of cash along the way.
And with more cash, comes more chances to shop!
Images: @itsnotheritsme/ Instagram