Where To Buy NYX's Cosmic Metals Lip Creams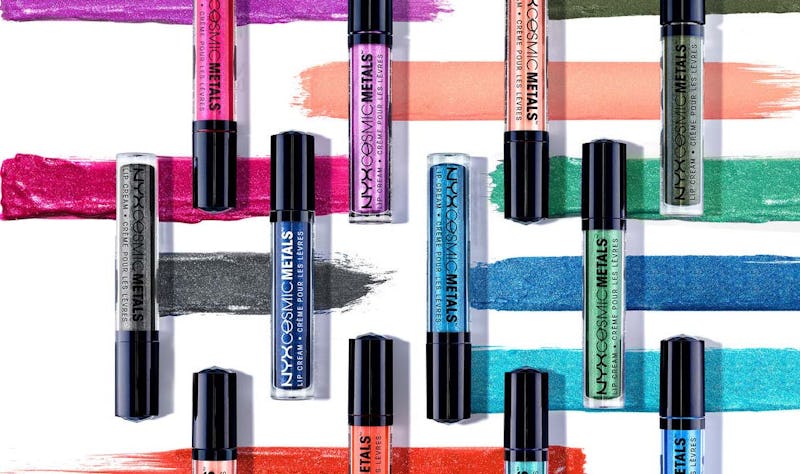 Back in the day, I loved to smear sticky, fruit-flavored lip balm on before heading to the school dance. Most of my middle school beauty products contained chunks of glitter, and while I loved it then, I never thought I'd see the day it came back into style. Here's where to buy NYX's Cosmic Metals Lip Cream, because it's the grown-up glitter you need this summer.
Right on the heels of Kylie Jenner's Kylie Cosmetics Metal Matte Liquid Lipsticks launch comes this exciting NYX product release. NYX Cosmetics is my go-to source for trendy makeup with great formulations at an affordable price, so I couldn't be more excited about their cosmic metals lip creams. The best part? The NYX Cosmetics Cosmic Metals Lip Creams are just $7.50 a pop!
You can buy these beauties online at nyxcosmetics.com right now, and you can shop them in Ulta stores in July. There are 11 shades ranging from coral orange to rose gold, silver, olive, and violet. They go on and feel like a lipgloss, so your lips will be hydrated and ultra-shiny.
NYX describes the gloss as an "intense, multidimensional color" with a "creamy smooth, dazzling metallic finish." All things dewy, glittery, hydrating and dazzling are definitely in this season, so scoop these up!
NYX Cosmetics Cosmic Metals Lip Cream, $7.50, Ulta
Everyone on Twitter is loving how these look, proving that all that glitters is most definitely gold in the makeup world.
Image: NYX Cosmetics; Ourfa Zinali/Twitter