7 BECCA x Jaclyn Hill Eyeshadow Alternatives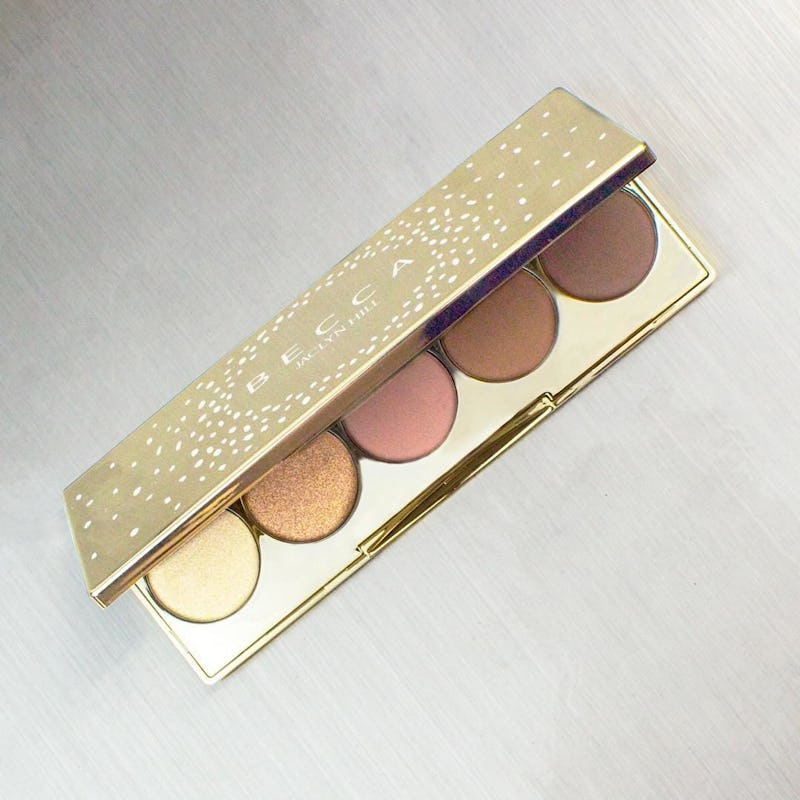 On Tuesday night, Jaclyn Hill took to her Snapchat for an announcement that the BECCA x Jaclyn Hill Champagne Glow eyeshadow palette would not be released. Fans were understandably sad, but these BECCA x Jaclyn Hill Champagne eyeshadow palette alternatives to shop are perfect if you're looking for a back-up. While all Hillsters are bummed that a Jaclyn Hill designed shadow — here's looking at you, Champagne Toast — won't be gracing their lids, there are similar (and some Hill-approved) palettes that will get you through the cold winter until Hill launches her own line.
Tuesday's Snapchat announcement was clearly an emotional one for Hill. The beauty guru and entrepreneur prides herself on promoting quality products that she truly believes in, and at first, she truly did believe that the Champagne Collection eyeshadow palette was the true to BECCA formulation both she and the company had expected. Due to no fault of BECCA and Hill's own, things didn't go quite so well at the lab where the shadows were made resulting in patchy and dry products.
While some palettes were of the traditional BECCA quality, others weren't, and Hill wasn't having. Working hand-in-hand with BECCA, she pulled the products from the June 16 release, and it definitely shows her dedication to her subscribers and fan.
Thankfully, there are still stellar palettes out there. These seven BECCA x Jaclyn Hill Champagne eyeshadow palette alternatives will tide you over until Hill releases her own line of products.
BECCA Ombre Nudes
BECCA Ombre Nudes Eye Palette, $40, Sephora
BECCA's shadows are incredible quality, and Hill uses them all the time. This beauty is perfect for natural looks.
BECCA Ombre Rouge
BECCA Ombre Rouge Eye Palette, $40, Sephora
For a warmer look, try the Rouge palette.
Benefit Cosmetics
Benefit Cosmetics World Famous Neutral Most Glamorous Nudes Ever, $38, Sephora
The light peachy pink shade and purple-brown hue are great alternatives for Hill's palette.
Tarte
Tarte Tartelette in Bloom Clay Eyeshadow Palette, $45, Sephora
The Tartlette in Bloom palette is perfect. Also, I'm biased because I own it.
Dior
Dior Reviver Backstage Pros Illuminating Neutrals Eye Palette, $62, Sephora
If you're okay with a splurge this cool-toned palette is a great option.
Too Faced
Too Faced The Chocolate Bar Eye Palette, $49, Sephora
You knew this palette was coming, right?
Urban Decay
Urban Decay Naked2 Basics Palette, $29, Sephora
Did you want to use the Champagne eyeshadow palette for everyday? Here's your daily alternative.
Images: Courtesy of brands