Why You Had To Wait So Long For 'Finding Dory'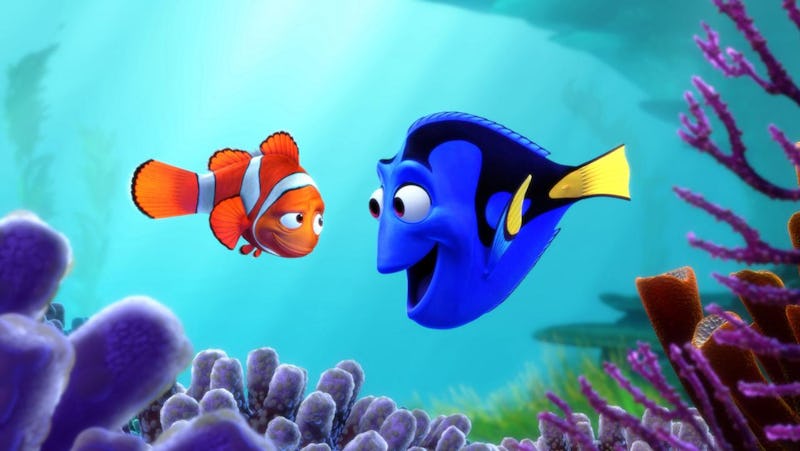 While Dory from Finding Nemo might have a pretty bad memory, the rest of us haven't forgotten Ellen DeGeneres' one-woman campaign for a sequel. For years, in the aftershocks of Nemo's box-office destroying success, DeGeneres would address the matter on her talk show, half-joking, half-real talk. "At first, it was kind of serious, joking on the show about all the other sequels that Pixar was making and that they weren't making a sequel to Finding Nemo," DeGeneres said in a recent interview with Entertainment Weekly . "Then I kept doing it because it was funny." 10 years later, however, the funny woman is finally getting her wish. But what exactly took Finding Dory so long to come out?
Well, for one, writer/director Andrew Stanton apparently never thought he would make a follow-up to Finding Nemo. "I thought it was a closed circuit. I thought that's everything I wanted to say," he told reporters from Gizmodo after a recent screening of Finding Dory . After Nemo, Stanton went on to work on other projects like Wall-E and The Incredibles, and kept plenty busy with other Pixar magic. "But the brain works in mysterious ways," he said in the Gizmodo interview. "Around 2010, I was starting to think about Dory." That's when Stanton and his team decided that fans had waited long enough for a sequel to Finding Nemo, and that they'd finally provide us with a follow-up.
Because Stanton initially created Dory as tragic character, it took extra effort to write up a story with her at the center. "She didn't have the ability to find her way home again now that she found this wonderful family," Stanton continued during his panel with Gizmodo. Ultimately, Stanton couldn't stop thinking about the character and began to put together the story. Yet Finding Dory's characters presented a big challenge for the animator. Hank, an octopus, marked new territory for the Pixar team. Animators often use skeletons to predict movement, but what to do with a sea creature who doesn't have bones? Turns out that, according to Gizmodo, it took Stanton and his crew more than a year of animation work to get the movements just right.
Stanton also went to creative measures in casting the movie. Stanton watched hours of the Ellen show on YouTube, according to CinemaBlend, and looked for celebrities with whom DeGeneres shared great chemistry. The videos provided an opportunity for the filmmakers to hear how Degeneres sounded opposite potential cast members.And now, Finding Dory has quite the roster, using the voice work of folks like Idris Elba and Diane Keaton.
When it came to putting together the movie, Stanton also brought in a brand new types of animation software. "First is Renderman RIS. Up until now, every Pixar movie has used the original Renderman software, so that makes Dory the first film in about 30 years to be done on something different," Gizmodo reported. Dory also utilizes a new water animation program called Katana, which should result in some groundbreaking scenes.
As for the actor at the movie's center? DeGeneres apparently had no problem slipping back into her role. "It's very easy for me to do her. I mean, the voice is me, so that's not a struggle at all," she said in her interview with Entertainment Weekly. "It really did surprise me how easy it was for me to be her again."
So, how will audiences find the new film? We'll have to keep swimming until Finding Dory splashes into theaters on June 17.
Image: Walt Disney Pictures/Pixar; Giphy