'Finding Dory' Should Make 'Nemo' Fans Happy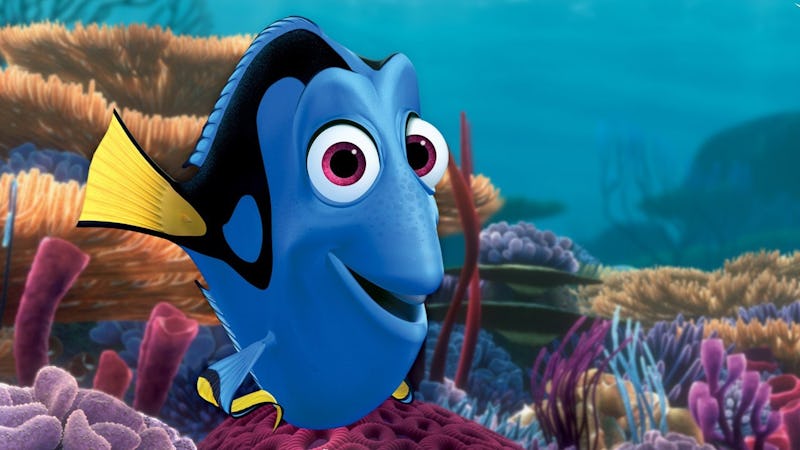 Finding Nemo was a huge hit for Disney and Pixar back in 2003, so it wasn't all that surprising when the companies announced they were working on a sequel to the film, Finding Dory, based around the film's breakout character of Dory, the blue tang with the short memory, unforgettably voiced by Ellen Degeneres. And even though the film isn't out until next summer, the trailer for Finding Dory has just arrived. So what is Finding Dory about?
In the new movie, Dory remembers something from her childhood while sleeping that inspires her to set out to find her family. As is evident in the trailer, this proves difficult because... well, it's Dory. Her memory is terrible, and she's not even sure what memories are exactly. Nevertheless, she's determined to locate her lost loved ones and find out where she came from. Joining her on the adventure are the stars of Finding Nemo, Marlin (Albert Brooks returning) and Nemo (voiced by newcomer Hayden Rolence). Curiously also returning from the first film (though not seen in the trailer) are Gil (Willem Dafoe) and Vicki Lewis's Deb (along with her "sister", mirror reflection Flo). These two (or three) were Nemo's fellow captives in the dentist's office in the first film, so it remains to be seen how they'll show up in the sequel.
In addition to what fans saw in the trailer is the information about the film Disney unveiled at their D23 Expo back in August. It was revealed there via some preview footage that Dory says "the jewel of Monterrey, California" in her sleep, and the group realizes that's where they need to go to find Dory's parents (who do show up, voiced by Diane Keaton and Eugene Levy). Marlin is initially opposed to the idea of Dory's quest, but changes his tune when he remembers how he felt when he lost Nemo. At some point during the trip, however, Dory is separated from her friends and ends up in captivity at the Marine Life Institute, where much of the film takes place. There, she meets several new characters: Hank the Octopus (Ed O'Neill), Destiny the Whale Shark (Kaitlin Olsen), and a beluga whale voiced by Ty Burrell. These animals are all way bigger than Dory, so it should make for an interesting juxtaposition when she's hanging out with them.
It should also be noted that the movie is a direct sequel to Finding Nemo, not a spinoff, and it takes place just six months after the events of the first film (despite what Billy Eichner thinks). It goes without saying that the film looks amazing, and if it can capture even a hint of what made Finding Nemo so great then Pixar fans will be very happy.
Images: Walt Disney Pictures; giphy