What I Saw At The Museum Of Broken Relationships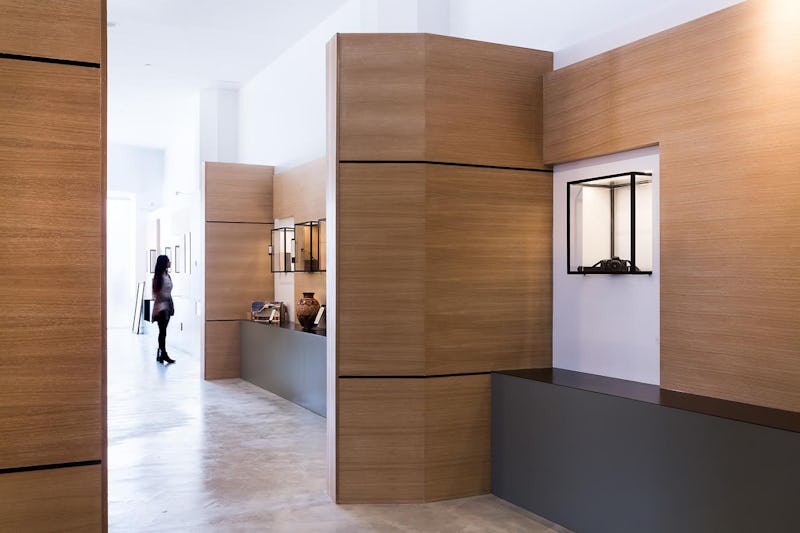 What do a broken yellow camera, a pair of contact lenses, a teddy bear with a broken recorder inside of its plush belly, and a tattered copy of The Outsiders have in common? They all are remnants of relationships that have since ended, and they (and many other artifacts) can be found at The Museum of Broken Relationships in Hollywood, California, which opened its doors earlier this month. This is the second branch of the museum, which originally opened in Croatia, and Los Angeles has been anticipating its arrival for months.
The museum exhibits 100 items, all donated by the public, in order to create a profound art project symbolizing heartbreak, grief, and acceptance. Each item is displayed along with a card listing the object, its place of origin, and a blurb from the donor discussing the object's history and their reason for giving the item away.
I went to The Museum of Broken Relationships shortly after it opened near the famous Hollywood and Highland intersection. It was an intense and worthwhile exploration into the emotions we share as human beings who have the capacity to love, to laugh, to change, and to stop loving. Everyday objects displayed as works of art show how much emotional weight a random item can carry when it is attached to a memory, and viewing those random items in the context of another person's life is beautiful and overwhelming.
When I walked into the museum, right away I noticed a large sign on the wall describing the purpose of this project:
The Museum offers a chance to overcome an emotional collapse through creation: by contributing to the Museum's collection. Whatever the motivation for donating personal belongings — be it sheer exhibition, therapeutic relief, or simple curiosity — people embraced the idea of exhibiting their love legacy as a sort of ritual, a solemn ceremony. Although often colored by personal experience, local culture, and history, the exhibits presented always form universal patterns, inviting us to to discover them and feel the comfort they can bring.
I spoke to Janna Koretz, Psy.D., licensed psychologist and Azimuth Psychological founder, and asked her to explain the psychology that causes people to have such profound connections to an object."Objects tend to be a representation of something else, such as an experience, a person, or a feeling," Koretz tells Bustle. So the attachment to the object is because of the emotional connection and association to the object."
Visitors to the museum who are affected deeply by the exhibit can sign a guestbook, expressing their own thought about a relationship from days gone by. Though the museum had only been open for a few days, multiple pages were already filled with short tales of fleeting romance, devastating breakups, and gratitude for being able to share their stories.
More information about how to visit and donate to the museum can be found here. And I highly suggest you make the trip — I learned a lot in my hour long visit to The Museum Of Broken Relationships:
1. Humor Can Help You Cope
While I was exploring the many heartbreaking artifacts displayed around the museum, I came across a few donations clearly meant to make the viewer laugh. Not only did they provide levity in a profound, emotionally heavy exhibit, but they demonstrated humor's function as a coping mechanism and proved that our lowest moments in relationships can become great sources of comedy later. As you walk into the exhibit, one of the first objects that you will see is a bright red and white cheerleader dress for the Nebraska Cornhuskers. Beneath the dress is a plaque on which the donor describes purchasing the cheerleader dress so that she could wear it for her boyfriend, a Nebraska football fan. It continues, "The night he ended things, I almost put the uniform on in anticipation of him getting home but thankfully opted for a flannel PJ set instead." We've all been there, gurl.
Later, I saw a bright blue frisbee donated by someone from Belgrade, Serbia, listed as "Stupid Frisbee." On its corresponding plaque is a humorous rant detailing how their ex-partner gave them a frisbee as a pathetic second anniversary gift.
2. It's Understandable Why You Can't Seem To Just Throw That Thing Away
When the donors wrote about the significance of their donated objects, many said they chose to give those mementos away because it was too painful to look at the object on a regular basis, but they could not bring themselves to throw it away either. That complex, sorrowful feeling existed whether the object was something as personal as a mix tape or as mundane as a little baggy of contact lenses that was left behind after a partner moved out of a shared apartment.
Koretz explains this profound emotion tied to keepsakes: "When we have experienced a loss, we can be unsure of what to do with the objects that represent those who have passed (literally or figuratively), because they cause both so much pain while also reminding us of something we loved."
A binder of personal love poems was donated as, in the words of the donor, the museum "is a great home for these poems that I can't bear to throw away." A wedding dress stuffed in a jar, donated by a divorcee, was similarly given to the museum; the divorcee explained that throwing it away felt wrong, but donating it to a thrift store where someone could purchase it to wear at her own wedding felt like bad luck. So she hid it away in a jar until the museum gave her a space where it could belong.
3. The End Of A Friendship Can Be Just As Heartbreaking
The museum also exhibited objects from broken friendships, and the stories of the objects were just as heartbreaking as any romantic love lost — whether it was betrayal by a toxic friend or a decades-old companionship falling apart. These items, a boomerang and a lottery ticket, were reminders that we must let ourselves grieve however deeply we need too when a friendship ends, and not assume that it doesn't deserve the same heartbreak as a romantic relationship.
Instead of wondering if we are being dramatic when a friendship is in trouble, Koretz tells us to remember that mourning any relationship is a unique experience. "Grieving is a very personal process and it is different for everyone," says Koretz. "I think being true to oneself and allowing the experience of true emotions is a good way to manage loss initially."
4. Getting Rid Of Tangible Memories Is Often Needed To Heal
After a partner of nearly 30 years left the donor for someone else, the donor needed to get rid of the dozens of music cassette tapes that the ex had made throughout their decades together. The card from the donor reads, "My heart is broken. I cannot keep the cassettes any longer and I do not wish to."
5. Unrequited Love Can Feel Like A Breakup
What about a broken relationship that was never a real relationship — the unspoken crush on a best friend, the coworker who turned you down, the FWB that never developed into anything more? In the museum, you'll find a small, stuffed Betty Boop doll; it looks like the kind you would win from a claw machine at a mini-golf arcade. The donor had been given the doll by a coworker and friend; when the donor worked late, a woman would come back to the office with random gifts as surprises, including this Betty Boop doll. The donor never spoke up about their romantic feelings for her, and now the woman has a boyfriend. So while the donor never actually broke up with the woman, another kind of breakup had to take place. The plaque reads, "So this isn't a breakup with her... We still work together, and we're still friends. And she's still amazing. But I have to let go of whatever hope I had and heal and move on. This is my breakup with hope."
Koretz justifies the intense emotions that you may feel even if it is over an unrequited romance. "Relationships are personal and bring out everyone's worst fears, mostly about rejection and emotional pain,"Says Koretz. "They can also represent or recreate previous relationships that were unhealthy." Because of the emotions that can be triggered, Koretz continues explaining that "the feelings could indeed be as intense for someone experiencing grief from an unrequited romantic as someone experiencing a breakup."
6. Broken Relationships Don't Have To Be With Another Person
It is especially moving that the museum acknowledges broken relationships occur not just with other human beings. You can end a relationship with your past, with your beliefs, etc. Among the artifacts detailing love stories and friendships, there is a small Peter Pan plush donated by a 50-year old man who has accepted, simply, that he grew up.
Keep walking, and you'll see a figurine, described as a relic from the donor's religious past: "I was baptized a Christian by my parents. It took me 15 years to be able to break that forced relationship."
7. Becoming A Caregiver Changes A Relationship
Being in a relationship with another human being means there may come a time when your role changes from lover to caregiver. An object donated to the museum, a pair of blue jeans, powerfully tells the story of a wife whose husband experienced severe brain damage after a motorcycle accident. The husband is described as now existing in a different reality in which he can't keep track of present time, thinking it is various different decades of his life. As the wife explains on the blue jeans' corresponding plaque, "He is still here, but I have had to learn how to live with a broken relationship, a one sided relationship."
Koretz emphasizes self care in her advice for learning how to live with this new kind of relationship. "Self care for caregivers is very important. Caring for another is wearing physically and emotionally, and it is difficult to continue to give one's 'all' if emotional resources are depleted." Koretz explains what you can do to still support your partner while also supporting yourself. "Continuing to see friends and family, exercise, and pursue hobbies while caring for another is not selfish, but mandatory to maintain good care taking habits."
8. Grief Is A Process
You will definitely tear up while walking through the museum. The mundanity of the objects makes the donors' pain feel so familiar — reminding you either of something you have already experienced or reminding you that you will inevitably feel this kind of sorrow someday. Giving memories away to the museum was part of the mourning process for some of the donors. That was an aspect of the museum that I thought about for a long time, even after I was back home. Sometimes, we need to let physical memories go for our own sake, but those memories deserve better than a trash can or a shelf at thrift store where they may or may not ever find a home again. The museum ensures that these tangible parts of people who have left will still be honored and cared for even if we have to let them go.
At the museum, there is a glass case containing six cologne bottles which had belonged to a donor's husband before he passed away from cancer. The card from the donor reads that while she has been slowly getting his things out of the house, she has not been able to give away his cologne. She writes, "I would feel better about doing so if they went into an exhibit."
Images: Courtsey of The Museum Of Broken Relationships; Rachel Sanoff (8)