The 'Spongebob' Musical Is What The World Needs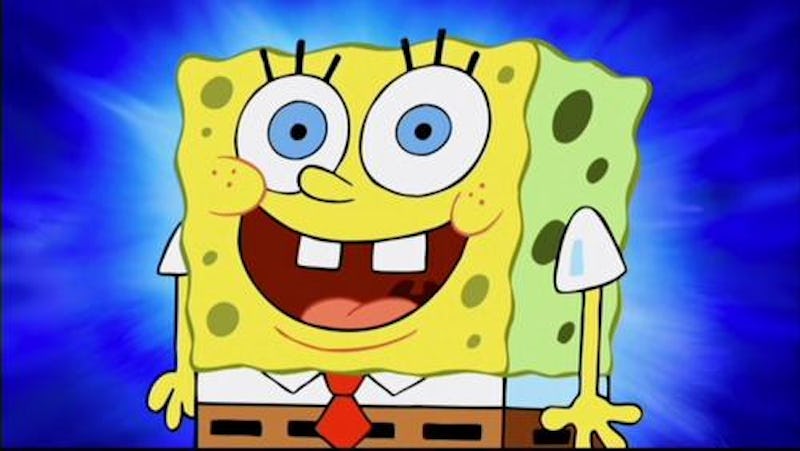 Do you like musicals? I don't. Mostly because the stories — from Cats to The Phantom of the Opera to Joseph And The Technicolor Dreamcoat — can be pretty snoozeville. So thank goodness the performance the world needs and will actually enjoy is here: the Spongebob Squarepants musical. Whether or not you're into musicals normally, this one looks pretty special: for a start, it stars everyone's favorite Bikini Bottoms characters: Spongebob Squarepants, Patrick, Sandy, Mr Krabs, Squidward, and Plankton. For a second, the story is quite literally fire. Forget about that funky dreamcoat, these are some seriously high stakes: Spongebob, played by Ethan Slater, will have to save Bikini Bottom from being wiped out by a volcanic eruption that's happening any day now. Life without Squidward et al.? I'm on the edge of my seat and I'm not even there.
But the music side of things is even better, if that's possible. The musical features original songs from Aerosmith, John Legend, Sara Bareilles, Cyndi Lauper, Lady Antebellum, T.I., and David Bowie penned specially for the musical. Those are some star-studded musical credentials. But, really, the question this musical raises in my mind is: why did we have to wait so long? It's 2016 and they're only just showing this in Chicago (though, if it goes well, the show will go on to Broadway, claims Entertainment Weekly). We've needed this musical since forever.
Let's look at what we've had up until this point: we've enjoyed nine seasons of the show, to celebrate the show's tenth anniversary, a guest role was written for one episode for Johnny Depp while Spongebob Squarepants got immortalized in wax at Madame Tussauds. In 2011, scientists named a new species of mushroom after Spongebob Squarepants. And besides that, there have been countless movies: the two television movies, Spongebob's Atlantis Squarepantis (2007) and Spongebob's Truth or Square (2009), then actual cinematic movies, The Spongebob Squarepants Movie (2004), The Spongebob Movie: Sponge Out of Water (2015), and there was even a tweet last year suggesting a third movie, which would be the sequel to the 2015 movie, is in the works. Clearly, the world has an endless thirst for everything Spongebob-related.
So how did it take seventeen years for a Spongebob musical to make it to the stage? The show's popular support is pretty intense; everyone from Barack Obama to The New York Times have claimed it as a singularly wonderful show.
I'd argue that we've waited such a long time because the world wasn't sure about making the transition from a cartoon to a real-life musical. Presumably, last summer's live action Spongebob Movie: Sponge Out of Water (the Bikini Bottom characters are all brought to life in 3D animation) helped to convince people that Spongebob could be just as popular in a non-cartoon format, with the movie getting a healthy 80 percent rating on Rotten Tomatoes.
What's exciting is how much professional backing the musical has: Tom Kitt (Next To Normal, If/Then), who has both a Tony Award and a Pulitzer Prize under his belt, provides music supervision while Tony Award winner Christopher Gattelli (Newsies) is on hand as the choreographer. I don't think the Spongebob Squarepants musical is just going to be amazing because it's Spongebob. With the wealth of talent involved in the musical, I think it's going to be hard to resist whether you're a Spongebob fan or not. So okay, maybe seventeen years was exactly a long time to wait for a Spongebob musical, but it looks like our wait is about to pay off.
Images: Nickolodeon