The One Collection For '90s Loving Plus Sizers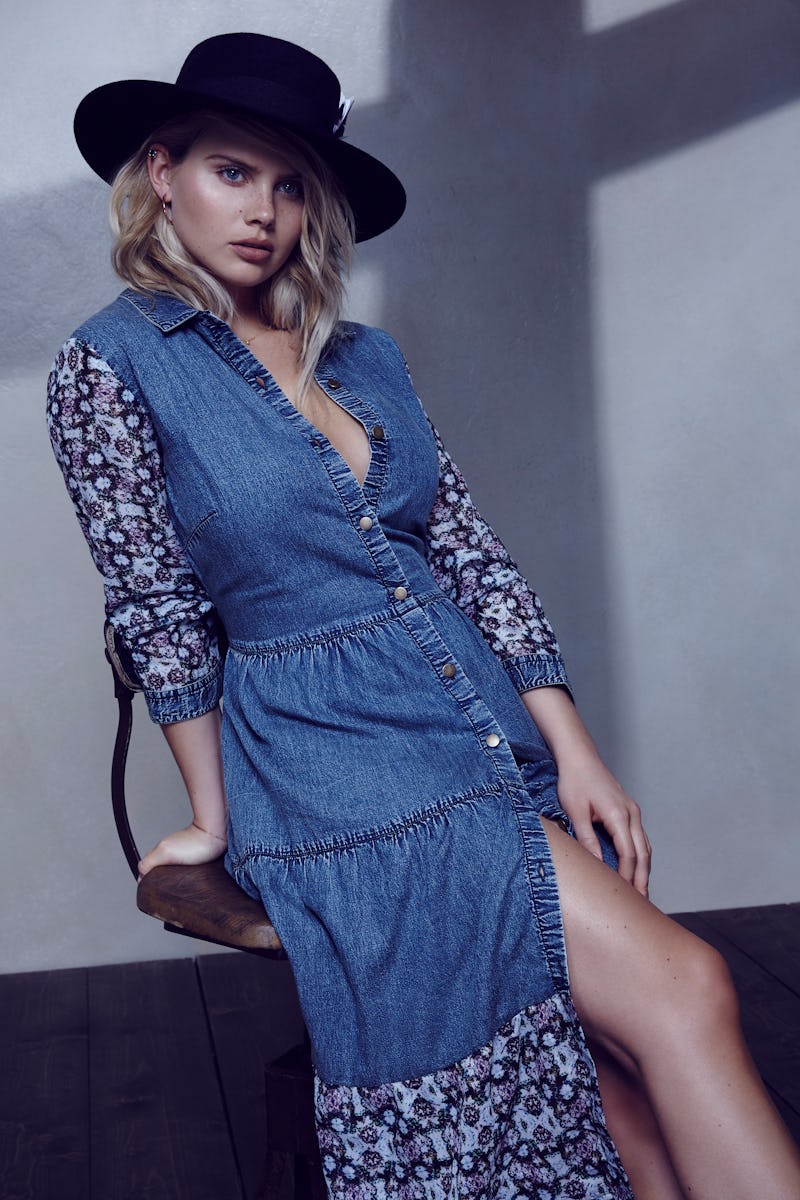 The Cut For Evans collection by British plus size clothing brand Evans has returned, once again hiring a fashion design student to create a capsule line for the brand. And the latest works created by student Gabriella Seal are a '90s plus size fashion dream.
Combining trippy, floral patterns against classic denim, the collection consists of six signature pieces all "designed with an aim to abolish insecurities, encourage confidence, and bring out the 'inner boho' of the Evans customer," as explained in a press release. The pieces arguably achieve this through their bold designs in both pattern and style. In a market currently steeped with '60s and '70s vibes, it's a series of garments that feels original. With pieces coming in a price range of $23 to $100 and in sizes 10 through 28, it's also pretty inclusive.
By using designers still in school, Evans has not only opened itself up to new ideas and concepts from unheard names, but also proven itself to be in touch with youth culture and contemporary fashion. Instead of copying trends, the collaboration between Seal and Evans is making them more current and more appealing to an ever-growing, sartorially conscious plus size public.
What's better still is that these designs are far from the "flattering cuts" and "less is more" attitude that many plus size brands used to assign to plus size style. I mean, a cropped pant and Bardot top two-piece is even available.
Navy Printed Trousers, $55, evansusa.com
Printed Bardot Top, $55, evansusa.com
By utilizing the same floral pattern throughout her collection, Seal has made it much easier for plus size shoppers to mix and match across the festival-themed line to create an outfit that isn't just stylish, but comfortable for each unique shopper. You may love the Bardot neckline, but not be here for the pants, and there would be no reason to worry. There's also a perfectly tasseled skirt to fulfill your two-piece dreams.
Denim Tasseled Skirt, $59.50, evansusa.com
Rebecca Van Reicher, Head of Design at Evans, spoke highly of Seal's designs in the press release, commenting, "I feel inspired by this inventive and unique collection. Gabriella has really focused on the Evans 'Body Love' message and her designs will challenge misconceptions of plus size fashion."
What I feel this collection achieves, more than anything, is a fresh and modern look at current trends. Instead of sticking to the faithful festival looks rolled out every year featuring tie dye and flower crowns, Seal and Evans have created a chicer renaissance of '90s trends — all of which are seemingly wearable for anyone, not just '90s kids.
Images: Courtesy Evans