Has Michael Westen Finally Met His Match?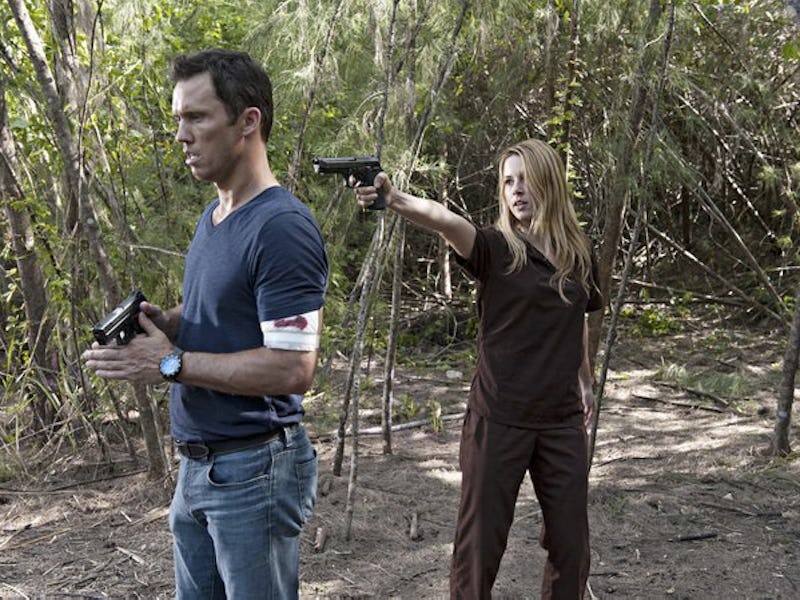 Mike, Sam and Jesse track the escaped Russian operative Sonya, following nearly imperceptible footprints and broken twigs through the forest. Just as Michael realizes she's outwitted them, Sonya drops from a tree, gun in hand.
Smart cookie. She's understandably suspicious of Westen's motives—if I'd just been imprisoned and tortured for two weeks, I don't think I'd be too keen on getting locked up again either. Despite Mike's convictions, Sam and Jesse are equally leery of their new team member.
Next on the docket: getting the eff out of the country. Fortunately for our gang, sweet-faced Sonya proves to be a surprisingly terrifying negotiator, convincing a smuggler friend to find them room on a freighter leaving that night. And so they leave, and the credits roll, only ten minutes into the episode.
Nah. Just kidding. Did you really think it'd be that easy?
Russian secret agent Colonel Oksana, whose cheekbones are nearly as lethal as her intentions for Sonya, bursts onto the scene. Mike and Sonya narrowly escape from the smuggler's warehouse in a volley of grenades, only to find themselves the targets of a nationwide man[and woman]hunt.
To infiltrate Oksana's operation, Sam and Jesse go undercover as bounty hunters "Chuck Finley" (a former Major League pitcher) and "Virgil Tibbs" (Sidney Poitier's role in In the Heat of the Night), offering to cooperate with her search.
Meanwhile, Mike and Sonya find themselves at a nearby airport, cornered in an underused hangar with Oksana's guards approaching. "I can have this plane ready to fly in thirty minutes," Mike says, because there's apparently literally nothing this man can't do. But how to kill those thirty minutes, with as little literal killing as possible?
Sam and Jesse blow up their car outside the Colonel's police station, a brilliant diversion that (combined with Mike's voice on the radio) successfully tricks her into believing that he and Sonya aren't in the hangar after all—but right in front of her headquarters.
She recalls her troops from the airport, and Sonya and Mike make their getaway in the newly refurbished plane. I think this is the beginning of a beautiful friendship... if Sonya can be trusted.
Back in Miami, Fionna's man-candy Carlos plans to take her on a trip—partly for work, partly to take her mind off Mike. But friendly neighborhood CIA officer Andrew Strong demands that she stay in town as a "matter of national security." When she refuses, he has her arrested.
Strong explains that, should Mike's mission fail, all his friends—she, Madeline, everyone—will be sent back to prison indefinitely. Reluctantly, she relents, sadly putting her relationship with Carlos on hold.
Sadly for her, I mean. Carlos is nice and all, but Fichael (Mionna?) is forever.
Fun fact: You might recognize Sonya (Alona Tal) as a classmate of Veronica Mars, Meg Manning.
Image via USA