Doughnut-Shaped Sushi Is Too Cute For Your Eyes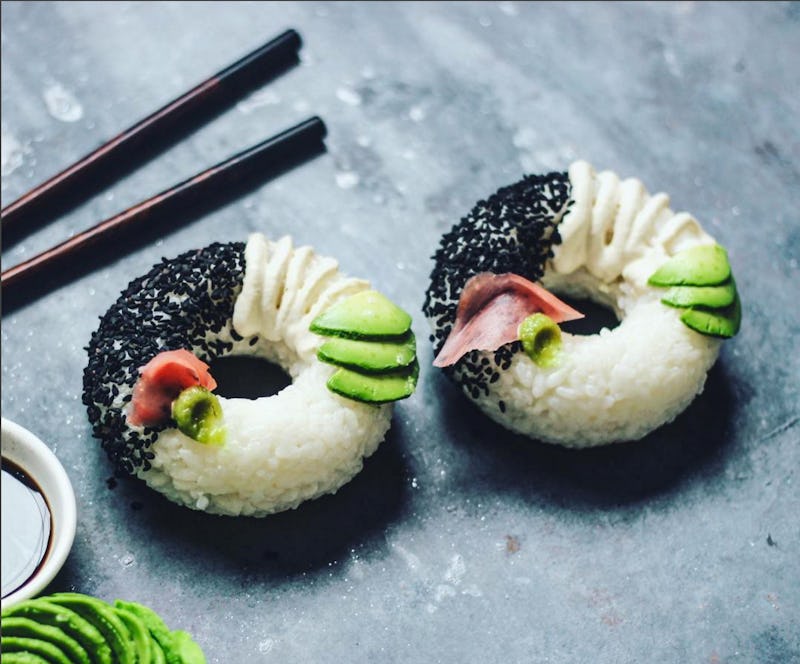 If you are a true food lover then get ready to drool directly into your keyboard. Sam, the Instagram user behind So Beautifully Raw, makes delicious vegan food creations that will have you skipping to the nearest supermarket for supplies. Her food is beautiful to look at — the prime example being her doughnut shaped sushi. Tiny, round, and magically perfect, these doughnuts put anything I have ever made in my kitchen to shame. Seriously. Sam has a naturally strong artistic background, and when mixing that with a passion of food it was inevitable she would see herself creating food art.
What I love about Sam's Instagram is that she often shares the secret to getting her food so picture perfect. While the art of sushi has been around since the 8th century in Japan, making them look like tiny doughnuts was never in the cards for the original sushi forefathers. Luckily, Sam was able to use her creativity to mold cooled wet white rice using small doughnut molds. The molds are readily available online and sold in so many places that you can get one for yourself today! After your rice-doughnut has been formed, decorate it to your liking. Sam went with black sesame seeds, sliced ginger, wasabi and even avocado. The flavor combination has my tummy growling, already!
Sam's food selection adheres to a vegan lifestyle, but I bet if you didn't have those food restrictions yourself you could include fresh fish into the mix. I would cut tiny tuna sprinkles to place atop my mini doughnut. Feel free to check out Sam's Instagram for some serious vegan food porn. It's an insanely appealing combination of food design, high quality ingredients, layout, and ingenuity that's making her followers insanely happy. Here is what her sushi doughnut creations looks like:
First of all, please make sure to note that the tiny saucer of soy sauce can double for a coffee cup. I'm sure that was not a coincidence but a very well thought out food decision. I cannot look away. Plus! Look at that avocado rose. I've been trying to make my own but they never come out as pretty as in this photo. You can learn how to make your very own avocado rose here. Her network of followers keeps growing and after talking with her over email, Sam seems to be the only one surprised by this!
"I definitely didn't see it coming!" she shared with Bustle. "It's definitely exciting and I have had a lot of awesome opportunities arise from it. I plan on keeping my Instagram as authentic as possible, I always reiterate to my followers that just because I have a certain amount of people following me doesn't make me superhuman, and I'm just a human with all the bells and whistles of life and a crazy passion for art and creating."
She made the perfect food. The rest of Sam's work is equality as appetizing and delicious looking. Her favorite foods are actually a lot less complicated.
"My favourite food (funnily enough) is actually just plain, whole foods," she wrote. "As much as I like creating crazy and colourful dishes, sometimes I just enjoy a good ol' baked sweet potato. (The purple kind is the best kind FYI)."
Here are her vegan galaxy doughnuts that are just as cute as the sushi ones but are actually meant to be eaten for desert.
Or in my case — a midday snack.
I would get lost in time and space to spend some time with them on my plate. And if you are looking for a more savory dish, try out Sam's sandwiches that tower over the competition.
Just look at that. Even the crumbs look perfect. If Sam ever wants to cook anything for me, I would gladly fly her out to my house.
Images: Courtesy Instagram/sobeautifullyraw