Why It's OK 'Bad Moms' Is Directed By Men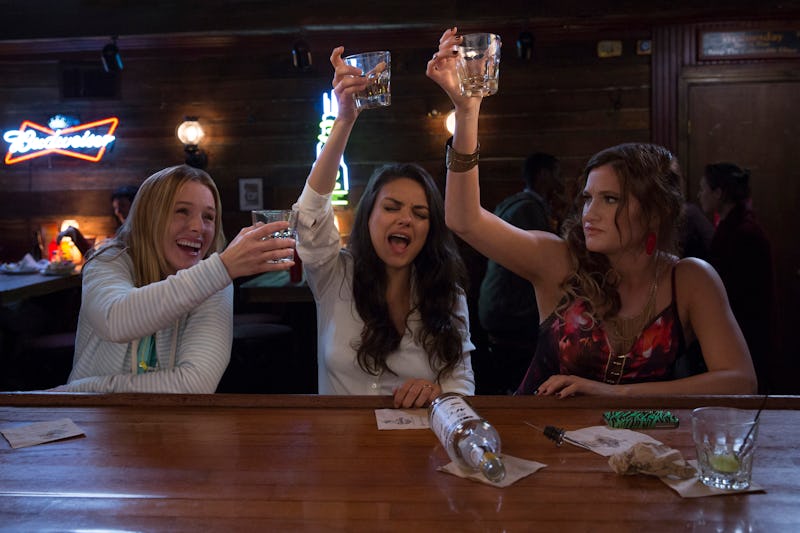 Considering that it's called Bad Moms , has a plot about motherhood, and features a cast filled with A-list women ranging from Mila Kunis to Christina Applegate, one wouldn't be out of line to assume that the new comedy must be made by a team of women. Yet the movie, out July 29, is actually written and directed by two men, The Hangover's Jon Lucas and Scott Moore. That fact might be disappointing to some hoping that a women-led movie would have an all-female team behind it, but while on Bad Moms set in New Orleans, the cast tells me that they have no problems with having Lucas and Moore on-board.
"They wrote this script as an homage to their wives," says star Mila Kunis. "It's very much as a thank you."
Echoes co-star Kathryn Hahn, "It's definitely a love letter to their awesome wives."
When I speak to Lucas and Moore, they reiterate this point; the directors say that the idea for Bad Moms, which follows a group of suburban women who decide to go wild after years of being the "perfect" moms, came from seeing the challenges and pressures their wives faced as mothers. To make sure their leading women were realistic and fully-formed, Lucas and Moore sent drafts of each script to their wives, and had them weigh in on each joke and reference. The men freely admit that they were happy to make changes whenever their loved ones informed them that they were "completely wrong" about something related to the lives of women.
Still, the idea of two men being the ones responsible for a movie entirely about women might not sit well with some, especially considering how infrequently women directors get to direct major Hollywood films (a 2015 USC Annenberg Study reported that women made up just 1.9 percent of directors in 2014's top movies.) The Bad Moms cast is fully aware that people might be critical of the fact that their film has male directors, but they insist that Lucas and Moore couldn't be better equipped for the job — especially because there's always someone watching — famed producer Suzanne Todd — to make sure they're kept in line. Says Hahn, "There's an awesome producer that's been behind the monitor, and she's —"
"A ball-buster," Kunis finishes, with a laugh.
The primarily-female cast helped with keeping the movie's depiction of women realistic, and makes it stand out from the sea of male-driven comedies, the actors add. Hahn seems proud when she says that throughout the duration of Bad Moms' shoot, she hasn't "had one talking scene with a male actor."
"I've had non-talking scenes," she says with a laugh, a nod to the fact that I just watched her make out with a stranger during a scene set at a grocery store. "But that's pretty amazing to think, huh?"
Adds co-star Kristen Bell in a very NSFW way, "It's been a clam jam."
It's clear from their ease with one another that Kunis, Hahn, and Bell all bonded closely on set, echoing their characters' tight friendship, and all three of the women being mothers in real life certainly seems to have added to the intimacy they share after months on-set. Explains Bell, "Being a mom can be so isolating, that hanging with other moms can be so healthy."
Adds Hahn in a deadpan, "And your cycles really arrange."
Male directors or not, it's clear that the Bad Moms cast couldn't be happier — and funnier — about being in a movie starring so many awesome women.
Images: STX