Best Summer 2016 Shows To See In Your City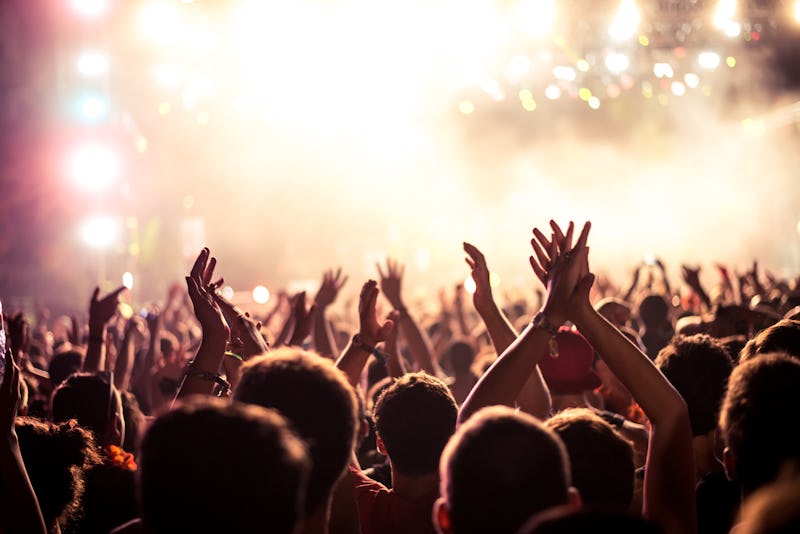 If you're constantly playing your favorite artists on repeat, feverishly blocking off the best summer concerts of 2016 on your calendar, and spending nine-or-so months of the year wishing it was the other (much sunnier) three-ish months on the calendar, you're no stranger to great summer music festivals and concerts. Or perhaps you are, and you're trying to figure out which summer music festivals and concerts are actually worth the hype.
There are so many highly anticipated tours in 2016 to experience, it can become a bit overwhelming. If you've been waiting to get tickets for Kanye West's The Saint Pablo Tour, get those mouses clicking. Or perhaps the best summer concert for you reaches otherworldly levels once you've taken in a few of J. Bieb's dance moves. (Psst! Check out if Justin Bieber's Purpose tour and tickets are headed to your area!) Or take things up a notch further, if getting tickets to the best summer concerts means you're hailing Queen Bey on her Formation tour.
Whether you're coming along for rock, pop, rap, alternative, 'something you've probably never heard of,' or simply along for the ride, here are some of the best summer concerts to see during those blistering sunny months.
2016 Honda Civic Tour Featuring Demi Lovato & Nick Jonas: Future Now
What: Disney's golden children Demi Lovato and Nick Jonas head up the 15th annual Honda Civic Tour this Summer with 37 city stops and The Power of Dreams sweepstakes, where you can enter for a chance to win the "Levels" and "Cool for the Summer" singers in person.
Where: 37 cities (see full schedule here)
When: June 29 through September 17
Beyoncé: The Formation World Tour
What: Queen Bey and the Beyhive are at it again with summer dates sneaking a bit into fall (September sees the songstress in St. Louis, Los Angeles, Houston, New Orleans, and Atlanta). Relive all the glory of the "Lemonade" video's best looks, too, while you're at it.
Where: Nearly 50 cities (see the full schedule here)
When: April 27 through October 2
Black Sabbath: The End Tour
What: Ozzy Osbourne and the legendary metal band gets together for one last international run, reportedly playing a 14-song setlist that will bring everyone in the audience to their feet.
Where: More than 40 cities (see full schedule here)
When: June 23 through February 4
Drake: Summer Sixteen Tour
What: The world's best dad dancer is blinging a hotline near you this summer, hitting nearly 30 cities and being joined by Future himself. Start from the bottom and pull your turtlenecks on up to here because Drake's back and better than ever.
Where: 27 cities (see full schedule here)
When: July 20 through September 17
ESSENCE Festival
What: ESSENCE Festival is bringing Mariah Carey, Ciara, Leon Bridges, Lion Babe, and even Puff Daddy & The Family to the Mercedez-Benz Superdome (see full lineup here) this summer, along with a lineup of speakers including Ava Duvernay, Soledad O'Brien, and Michelle Williams.
Where: New Orleans, LA
When: July 1 through July 4
Guns N' Roses: Not In This Lifetime...
What: If you're not guilty of air guitaring "Sweet Child of Mine" once every few karaoke sessions, then it's time to break your Guitar Hero back out. Axl Rose, Slash, and Duff McKagan reunite with a few others to welcome you back to the jungle.
Where: 24 cities (see the full schedule here)
When: April 8 through August 22
HARD Summer Music Festival
What: HARD Summer Music Festival is an electronic music festival headlined by Ice Cube and Major Lazer with sets by DJ Khaled, Ty Dolla $ign, and Porter Robinson.
Where: Fontana, CA
When: July 30 through July 31
Justin Bieber: Purpose World Tour
What: Is it too late to say "Sorry" I missed you the first time you came to New York, Biebs? He's hitting nearly 60 cities on this world tour including Nashville, Orlando, Greensboro, and back to NYC to take over Madison Square Garden on July 18.
Where: Nearly 60 cities (see the full schedule here)
When: March 9 through July 18
Kanye West: The Saint Pablo Tour
What: Yeezus, Yeezy, Kanye, Pablo: The man has a lot of names, but he doesn't need much of an introduction. Catch The Saint Pablo tour that's hitting nearly 40 cities in the United States and Canada, including New York, Los Angeles, Tampa, Nashville, and Toronto.
Where: Nearly 40 cities (see the full schedule here)
When: August 25 through October 29
Vans Warped Tour '16
What: More than 80 bands are scheduled to play the classic tour, including We The Kings, Yellowcard, Sum 41, Good Charlotte, and Against the Current (see full lineup here).
Where: 42 cities (see full schedule here)
When: June 22 through August 13
Weezer and Panic! At The Disco: Summer Tour 2016
What: The golden years of your life, that's what. Not really, but the early '90s and early '00s bands join forces to help promote Panic!'s new Death of a Bachelor album released back in January. Plus, Andrew McMahon in the Wilderness will be the special guest.
Where: 41 cities (see full schedule here)
When: June 10 through August 6
Zac Brown Band: Black Out The Sun Tour
What: The group hits the road less than three months after tying up their Jekyll + Hyde tour, where Brown promises the sound is a well balanced mix of country and city all in one.
Where: 24 cities (see full schedule here)
When: May 19 through September 3
Bustle may receive a portion of sales from products purchased from this article, which was created independently from Bustle's editorial and sales departments.
Images: Fotolia (1); Wikipedia (1)