10 Signs You're Wearing the Wrong Underwear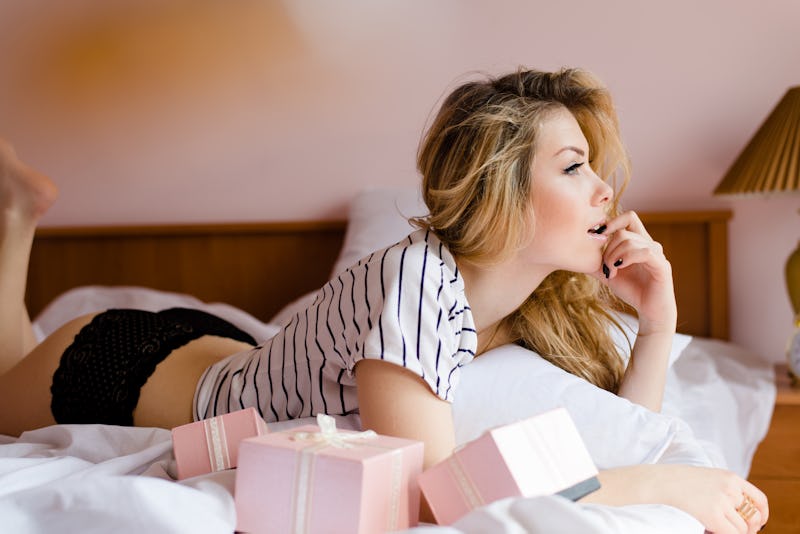 Underwear might seem like a pretty straightforward thing, but understanding how to know if your underwear fits you is a bit more complicated than sticking your legs through the holes. For every great pair of underwear I've bought, there have been a dozen pairs that regularly inconvenience my life. If you look for these secrets to selecting great-fitting undies in the pairs that you already own, you'll be way more likely to pick out pairs that fit great, feel great, and look great the next time you go shopping.
Now, please note: I don't mean to downplay the nightmare that is underwear shopping. It's often a huge hassle to find your size, you're not allowed to try them on after you've finally found what you're looking for, and something about the phrase "loose underwear bin" just does not sit right with me. Because I can't try them on when shopping for new underwear, I usually opt to buy my underwear online. Then, at least, I have the reviews, pictures, and size charts to guide me. Once you know your underwear mistakes of the past, it makes the whole experience that much easier. Check out these telltale signs that your underwear just isn't working for you, so you can finally find a pair that does.
1. You're Getting Yeast Infections
Lunaire Women's Boy Shorts (5-9) , $16-$27, Amazon
When yeast infections are a common thing, it's a telltale sign that the material you're wearing isn't breathable enough. Go for something sheer and lacy, like these Lunaire boy shorts. They come in your choice of five different designs, and have a stretch lace trim that offers full coverage without restricting air flow. Reviewers say they're sexy, fit well, are stretchy and comfortable, and they totally love the quality.
2. You Feel Too Confined
Maidenform Lace Thong (One Size), $19, Amazon
When your panties start to feel more like a prison than a means of hygiene, switch to this Maidenform lace thong. The stretchy lace band provides an effortless fit, the breathable cotton lining allows for just the right amount of protection, and the back fits comfortably, too. It's got such high ratings because it hugs the right places, looks great, and feels like nothing at all.
3. You Can See Underwear Lines
Some people aren't bothered by underwear lines, but if you are, try these no panty lines thongs. Their entirely seamless laser cut and body-hugging fabric is invisible underneath slacks, yoga pants, or tight dresses, and they provide a great shape that works for many style preferences. You can get it in your choice of five different colors, and they've been called a "must have" for all tight clothing.
4. The Seams Are Cutting Into You
Torrid Striped Seamless Hipster Panty (Sizes 0 Plus-4 Plus) , $13, Amazon
If you're perpetually dealing with red lines on your skin and seams that seem ready to snap, go for something like these seamless hipster panties. Instead of thicker, confining material, these edges are super flat, so they stretch and mold to your body for a comfortable and effortless fit. They also won't ride up, and are made with a lightweight, durable, and breathable fabric
5. They're Making You Itchy
Boody Organic Bamboo Briefs (S-L) , $10-$15, Amazon
A lot of women are really sensitive to certain fabrics, or the dyes, additives, or chemicals within them. If you're perpetually itchy down there and you've ruled out the possibility of a yeast infection, check out these Boody organic bamboo women's briefs. They're made with 80 percent organic bamboo rayon, which makes them extra soft, lightweight, and comfortable, as well as moisture-wicking and breathable.
6. You Don't Have Enough Butt Support
Maidenform Smoothe Luxe Hipster (Sizes 5-8) , $4-$20, Amazon
Some people totally go for the under-butt look, but if you find yourself having to pull your underwear down over your cheeks all day long, go for something with more coverage, like these luxe hipster undies. These undies have a satin stretch waistband and a breathable lace front, which make them perfect for lounging around in comfort or turning things up.
7. They're Drooping In The Crotch Area
No Pinching No Problems Modern Brief Panty (M-XXXL) , $6-$21, Amazon
When you start to feel the crotch of your underwear slipping down your pant leg, it's time for an upgrade. This 'No Pinching, No Problems' modern brief panty is a go-to for so many women because it's made from a stretchy and shape-holding material that hugs your body in all the right places. It offers full coverage and a high elastic waistband that keeps your underwear where it should be, and one reviewer puts it quite eloquently: "I thought I was going to have to resort to suspenders. Thankfully, a pair of these came straight to my door, from this purveyor of undergarments."
8. The Waist Gets Stretched Out Too Easily
Calvin Klein Women's Modern Cotton Bikini Panty (S-L) , $8-$20, Amazon
If, by the third wash, your underwear looks more like a classy curtain draped halfway across your butt, this Calvin Klein modern cotton bikini panty is an awesome option. It's got a comfortable but durable wide waistband to keep things up and in place, and the bikini fit is crazy comfortable, fits well, and feels great.
9. You're Flat-Out Uncomfortable
Youmita Bamboo Plus Size Panties (2X-4X) , $21-$29, Amazon
If a pair of underwear is just all-around pinchy, tight, and confining, go for the next size up. These Youmita bamboo panties are some of the most comfortable styles out there, and they're absolutely adorable, too. They're made from cotton, spandex, and bamboo yarn, and are super breathable, soft, and hug the body in all the right places without making you feel restricted.
10. You Don't Feel Protected During Your Period
Leak Proof Control Panties (4-8) , $13-$19, Amazon
Regardless of your go-to feminine hygiene products, there are some panties you just don't wear that week — for example, your favorite white lace thong. Instead, reach for these leak-proof undies. They come in a pack of two or three, and they are made with an inner leak-proof lining that can hold hours of that arbitrary blue liquid in period commercials (or, y'know, blood). Use them alongside tampons or pads for assured protection, or entirely on their own, and reviewers say they're comfortable, they fit well, and they offer full coverage.
Bustle may receive a portion of sales from products purchased from this article, which was created independently from Bustle's editorial and sales departments.
Images: Fotolia (1); Amazon (10)