The 10 Best Body Washes For After The Beach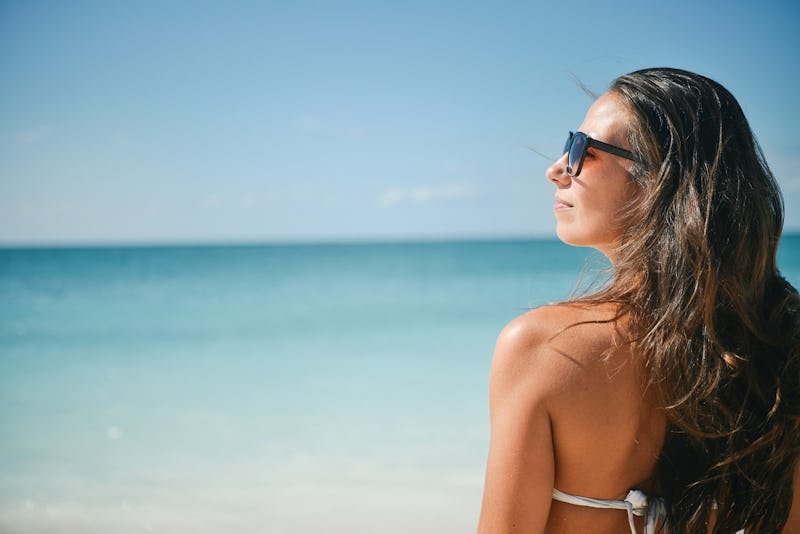 A day at the beach can leave you happy, tired, and tan. But it can also leave your skin dry and in need of some moisture. So it's important to shower ASAP with the best body wash after the beach. That way, your skin can stay soft, supple, and smooth. I mean, let's face it: As relaxing as it can be laying out under the sun or floating in the sea, the salt and rays do nothing in the way of keeping your skin hydrated. In fact, both of these factors actually dry out your skin, and can leave it feeling tight and itchy.
So when you return home to wash off all of the salt and sand, using a traditional body wash or soap may not be your best bet. Because soaps are inherently drying, if your skin is already dry from the beach, a basic body wash may only exacerbate the problem. So you're putting moisture back into your skin instead of stripping it even more, make sure to use a hydrating cleanser after a day in the sun. Need some inspo? Here are 10 of the best body washes to use after a day at the beach.
Dove Dryoil Moisture Body Wash (2 PK), $19, Amazon
The Moroccan Argan Oil in this creamy wash will lock in moisture, leaving your skin feeling soft and smooth.
L'Occitane Almond Shower Oil, $25, Amazon
Almond oil brings moisture back to parched skin so it feels nourished all day long.
SheaMoisture Manuka Honey & Mafura Oil Shea Butter Soap, $8, Amazon
Manuka Honey boosts skin's moisture barrier while Mafura Oil replenishes oils that have been stripped from the skin for seriously intense hydration.
Nivea Creme Moisture Body Wash, $13, Amazon
Cult followers of Nivea's classic body creme will love this body wash that moisturizes with the same properties to keep even the driest skin moisturized long after a shower.
The Body Shop Shea Soap, $4, Amazon
Packed with shea butter and antioxidant vitamins A and E, this soap nourishes, softens, and protects skin that may have had a little too much sun and salt exposure.
Dreamwash Shower Smoothie, $26, Lush
Instantly calm and replenish sun-dried skin with this creamy wash infused with aloe vera and chamomile.
Aveeno Skin Relief Body Wash, $12, Amazon
Soothe dry and itchy post-beach skin with a fragrance-free moisturizing wash that is perfect for sensitive skin.
Phytoplage Hair & Body Rehydrating Shampoo, $24, Sephora
This after-sun wash gently removes salt and sunscreen residue while counteracting any dryness. Plus, it can also be used on hair.
Yes To Coconut Oil Body Wash, $3, Amazon
Coconut and apricot oils intensely hydrate dry skin in the most luxurious way.
J.R. Watkins Coconut Milk & Honey Daily Moisturizing Body Wash, $8, Target
Plant-based cleansers and skin conditioners gently cleanse and hydrate without stripping any of the skin's natural moisture.
Even after a hydrating shower though, don't forget to moisturize for the smoothest, post-beach skin.
Images: stokpic/Pixabay; Courtesy of Brands