Snowden Emerges From Hiding...Kind Of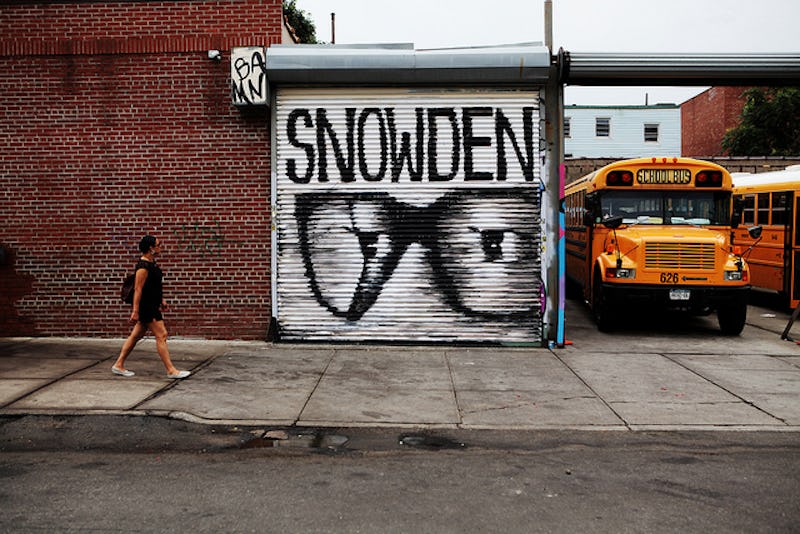 It looks like Edward Snowden may be getting sick of being stuck in the transit area, because he's finally decided to make a public appearance. The now-infamous whistleblower met with human rights organizations at Moscow's Sheremetyevo airport on Friday afternoon, in order to discuss "the next steps forward" in his situation.
Most importantly to come out of the meeting, we finally have a new picture of him, in his signature blue-grey:
Eh, we'll take it.
The invitation to the meeting was sent via email from the address edsnowden@lavabit.com (contact: added) to Transparency International, Amnesty International, UN representatives stationed in Russia, the Human Rights Watch, and a Polish human rights group.
At the meeting, Snowden reiterated that much like Katy Perry, he has "no regrets," and added that "no actions I take or plan are meant to harm the U.S. ...I want the U.S. to succeed."
Not everyone was invited to this human rights shindig, though.
Snowden announced at the meeting that he is seeking temporary political asylum in Russia until he can travel to Latin America.
It's a change in tune from earlier this month, when Snowden dropped his bid for asylum in Russia, and said he isn't interested in meeting with Russian government officials.
A spokesman for Presdent Vladimir Putin said Friday that Russia had not received a new bid for asylum, and that Russia will continue to deny requests until Snowden stops leaking information. Which, given the past week, seems unlikely.
Snowden has been stuck in Sheremetyevo airport since June 23, without a valid U.S. passport. He's applied to asylum in over 20 countries around the world, and while Venezuela, Bolivia, and Nicaragua have offered refuge, he has no way to actually get there. Maybe he's hoping one of the Human Rights activists will smuggle him out?
(Image: EllenBarryNYT via Twitter)