How To Wear The Jeffree Star Highlighters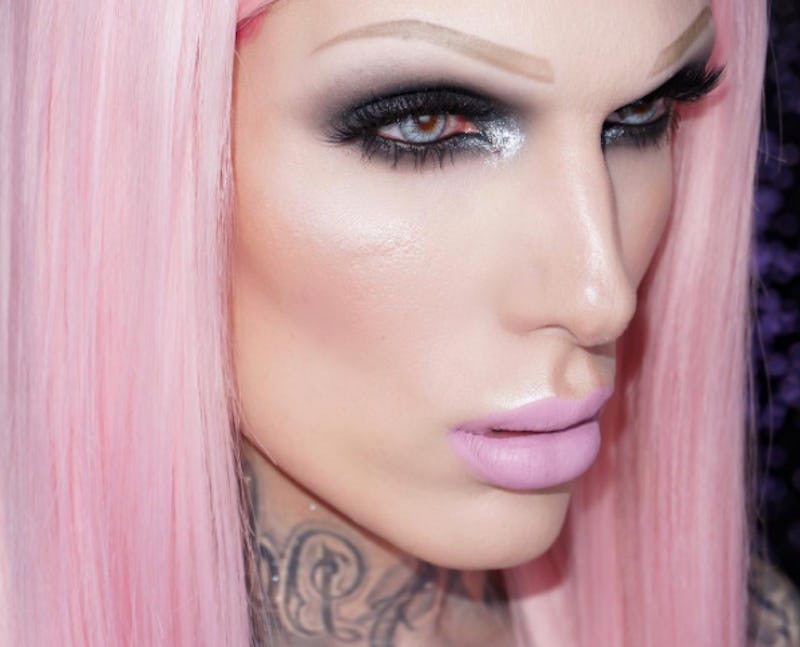 By now, every makeup drawer is home to a highlighter (or two...or five). The highlighting trend is stronger than ever before, and brands are rolling them out in every color of the rainbow, namely Jeffree Star. If you're wondering how to wear Jeffree Star's colorful Skin Frost highlighters for a bold but beautiful glow, look no further.
When I found out that Jeffree Star would be releasing colored highlighters in his new Jeffree Star Cosmetics Skin Frost line, I was beyond intimidated. From mint green to lavender, these highlighters are not for the faint of heart. Heck, are they for anyone? What skin tone can successfully wear a green highlighter? I had to know more.
Skin Frost, $29, Jeffree Star Cosmetics
As it turns out, there are many reasons to rock an unconventional highlight. If you're warm-toned like me, a cool-toned product on the cheeks (like a lavender blush or highlight) can be so complementary. If you're tired of the same old gold hue, a touch of color on the cheeks can give some subtle edge to your look. Star was not playing around when he formulated these highlights: They are soft, beautiful, unexpected, and wearable.
Currently, Jeffree Star has four available highlights in white, gold, peach, and mint green, with the fifth called Lavender Snow and a mystery blue releasing later. They each retail for $29 on jeffreestarcosmetics.com
Skin Frost, $29, Jeffree Star Cosmetics
If you're ready, here's how to wear colorful highlighters.
1. As Eyeshadow
Skin Frost, $29, Jeffree Star Cosmetics
In the summer, I love using a bright and glistening highlight as an all over lid eyeshadow. It's easy and light, and perfect for a lazy summer routine that does your eyes justice. These highlighters are actually subtley tinted, so an all-over mint eye won't look crazy!
2. As A Blush Topper
You can apply highlighter underneath your blush for a glow from within, or top your blush with a colored highlighter to enhance both colors.
3. As A Poolside Punch
Headed to the pool? Bathe in some highlighter to attract eyes exactly where you want them. A cool-toned highlight on your cleavage, shoulders, collarbone and cheeks will make your summer skin stand out.
4. Mixed With Other Highlighters
These colors may seem extreme, but they can be mixed together to create beautiful, custom colors. Tone down a bronze highlight with Ice Cold or Mint Condition, or warm up a too light highlight with King Tut or Peach Goddess.
5. As A Lip Plumper
Skin Frost, $29, Jeffree Star Cosmetics
Highlighter on your cupid's bow and at the center of your pout will make them appear larger, thanks to the light reflection's optical illusion. So if you think these highlighters are too wild for your cheeks, try blending them into your lipstick!