Spencer Is Ending A Relationship On 'PLL'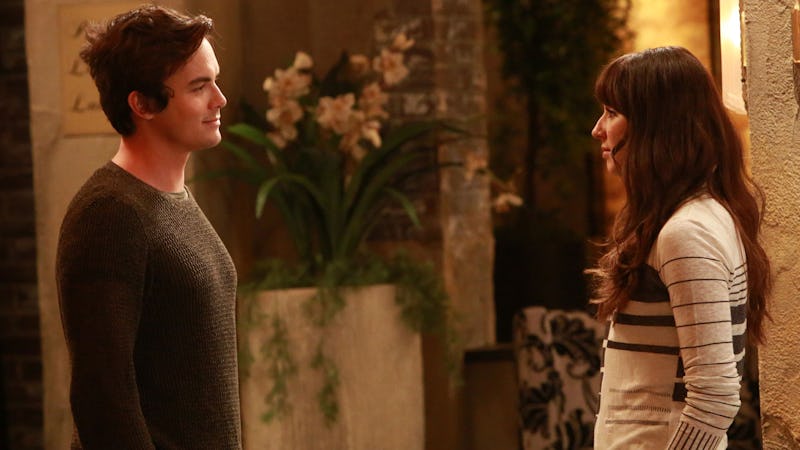 Breaking up with a boyfriend or a girlfriend is tough, but what's often just as hard (and sometimes even harder!) is ending a friendship with someone you deeply care about. Unfortunately for Spencer, that sounds like exactly what is happen on Season 7 of Pretty Little Liars — and it could ultimately change everything for the Rosewood resident. According to new Season 7 Pretty Little Liars spoilers from E! Online, Spencer will end a relationship with either Caleb or Toby, and apparently the scene was so brutally sad to shoot it made actress Troian Bellisario tear up. The spoilers are purposefully cryptic, which means fans are forced to consider the different ways this story could play out. Will Spencer end her romantic relationship with Caleb, or be forced to sever ties with her ex-boyfriend and good friend Toby? It's all up in the air, but if Season 7 is promising to be the most dramatic one yet, then it's awesome that even the spoilers are delivering.
As a Haleb and Spoby shipper, I'm oh-so-over this Spaleb thing, so I'm secretly hoping that the breakup that made Bellisario cry is the one between Spencer and Caleb. Since we're yet to find out what relationship is ending, it's time to analyze why either of them could be — and it turns out that there are a few good reasons why Spencer would have to end things with both parties.
Why It Could Be Toby
As we saw in the Season 6 finale, Toby's girlfriend Yvonne wasn't exactly thrilled about him spending so much time with his ex, especially an ex whose mother just beat Yvonne's in a senatorial election. Yvonne flat-out tells Toby that she doesn't want to make Toby choose her over Spencer, which is good, because Toby chooses to go through with Spencer and the other Liars' plan to take down A rather than stand by Yvonne's side. Given that Hanna was just kidnapped by Uber A, Toby may have some regrets about leaving Yvonne for a scheme that went so awry. Perhaps Spencer ends her friendship with Toby in order to allow him to be 100 percent committed to Yvonne, which would be as noble of a move as we know Spencer is capable of.
Why It Could Be Caleb
Three words: That. Haleb. Kiss. In the Season 6 finale, minutes before Hanna is captured by Uber A, Hanna tearfully confesses that she never stopped loving Caleb — right before the two kiss! When it's revealed that Hanna was taken by Uber A, it's Caleb who seems to take it the hardest, even lashing out at Spencer. There's no way that Spencer can't sense that Caleb's heart isn't totally with her, and if she's going to end her relationship with him, it likely has a lot to do with how he reacted to the Hanna drama.
No matter what relationship ends, it's going to be a sad day for Spencer. Get the tissues ready, because when Spencer cries, we all do.
Images: Freeform; Giphy; castieldeans/Tumblr