9 Pore Strip Alternatives That Will Save Your Skin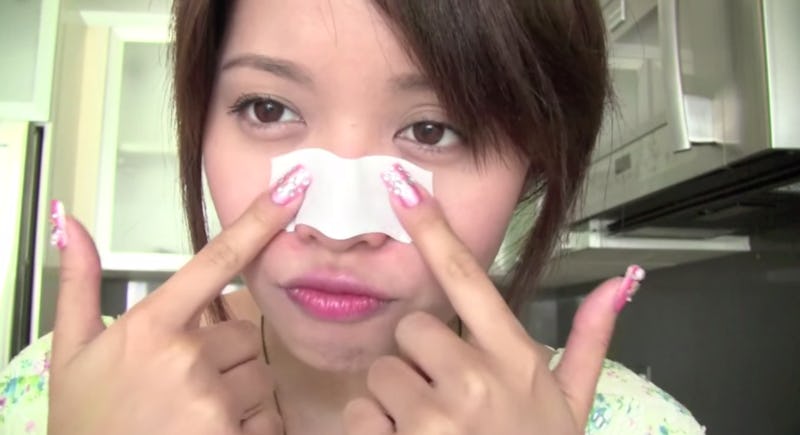 There's just nothing more satisfying than a good pore strip. Still though, they're not for everyone — overusing them can damage your pores and capillaries, and they can get quite expensive, so some people (understandably) choose to steer clear. That said, what are some good pore strip alternatives? Is there anything else you can do that will keep your nose quite as clean?
Well luckily for all of us, there are actually a lot of options out there, from DIY pore strips (made, oddly enough, from ingredients you can find in your kitchen) to oil-busting clay masks, to blackhead-dissolving gels. Heck, sometimes you can use them all in conjunction with each other to create quite the squeaky clean canvas (though, as with anything, be careful not to overdo it — bombarding your skin with exfoliation is never exactly a good idea).
Basically, if you're looking to take a break from your pore strips, there are lots of other things you can do instead — so keep on reading to find out some of the best pore-clearing tips around. They might not be quite as satisfying as a truly disgusting pore strip — but your skin will still thank you for it anyway.
1. Homemade Pore Strips
Did you know you can make your own pore strips? All you have to do is mix milk and gelatin, stick it in the microwave, and paint it onto your face. I've tried it before, and I actually had a lot of luck with it — full disclosure, it smells bad and is pretty messy, but it's a workable alternative to your standard pore strips. Just be careful not to get it on your eyebrows!
Boscia Luminizing Black Mask, $34, Sephora
Peel-off masks are a lot like pore strips, except slightly more gentle — plus, you can apply them to your whole face, as opposed to just your nose.
Kiehl's Rare Earth Deep Pore Cleansing Masque, $30, Nordstrom
Kaolin clay is known for its ability to draw out toxins, so it works particularly well on clogged pores, blackheads and the like.
Origins Clear Improvement, $33, Amazon
As with kaolin clay, charcoal is great for drawing out impurities from the skin.
Skin Food Black Sugar Mask, $8,Amazon
A good facial scrub will help keep your pores clear too.
Paula's Choice Resist Daily Pore-Refining Treatment 2% BHA, $33, Amazon
Likewise, chemical exfoliant will also work wonders on your pores. BHA is actually known for helping to dissolve clogs, so it might be a nice ingredient to add to your routine.
First Aid Beauty Facial Radiance Pads, $30, Amazon
These pads are great, because they combine a little chemical exfoliation with a little physical exfoliation — and they're easy on your skin as well.
Cure Natural Aqua Gel, $27, Amazon
Have you ever used a peeling gel before? If not, it's an experience I highly recommend. It's more gentle than your typical exfoliator, and it's got the same tantalizing ick factor that pore strips do — because when you use it, it makes your dead skin ball up into tiny balls.
Laneige Multiberry Yogurt Peeling Gel, $18, Amazon
So, if you like facial scrubs, and you like peeling gels, you might want to try an ultra-gentle combination of the two.
Images: Michelle Phan/YouTube; Courtesy of Brands