Twitter Reacts To Kylie's New Lip Kit Teaser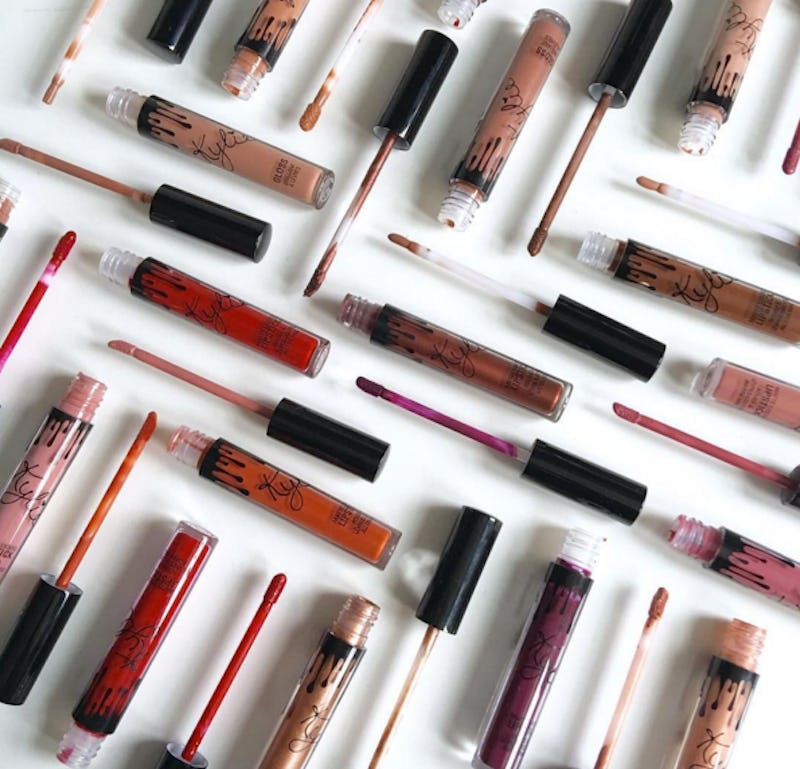 The KyMajesty Metal Matte and Dead of Knight Matte Lip Kit just came out, yet the cosmetics queen has already got more surprises up her sleeve. Kylie Jenner announced she is launching two brand new Lip Kit shades next week, sending fans into a full-on freakout frenzy. Twitter reactions to Kylie Jenner's new Lip Kit teaser will literally make you LOL, because fans are practically losing their minds at the thought of brand new shades being just days away.
The announcement came as of late Thursday night via Kylie's Snapchat, of course. After the latest restock on KylieCosmetics.com, the 18-year-old posted multiple videos revealing she has two more Lip Kits that she wants to release next week, so that fans can receive them in time for 4th of July. Is this a hint that that we'll be getting some version of blue and white in the spirit of Independence Day? Perhaps.
After crowdsourcing for her next launch date, Kylie confirmed on Snapchat that the new Lip Kits will drop on Friday June 24th, so I suggest you mark you calendars now, folks! She then posted a cryptic image of the new kits in their package with the caption "secrets," though the photo had a black and white filter so it was difficult to decipher anything about the hues.
It does appear, however, that one is dark and the other is light, so blue and white are pretty good guesses at this point.
Though fans will have to wait until June 24th to snag the new kits, Kylie promises to give us a sneak peek of what they look like beforehand.
The new Lip Kits will further expand her 10-piece matte collection, which already includes Dead of Knight, Exposed, Kourt K, Candy K, Dolce K, Koko K, Posie K, Mary Jo K, 22, and True Brown K.
Take at look at these 9 Twitter reactions from fans, which perfectly summarize the wild excitement over this news.
The anticipation is killing me!
Hooray!
Your bank account may not thank you, but your lips will.
It doesn't get any better than new KLKs for your birthday.
I need to know the colors immediately.
But it's sooo hard to resist.
Duh.
Ditto.
And the countdown has officially begun!
Image: KylieCosmetics/Instagram