11 Romantic '90s Movies You Can Watch On Netflix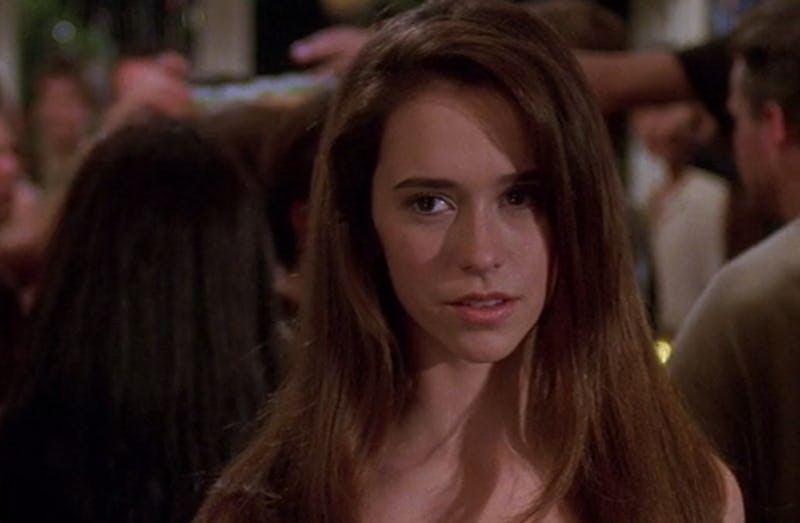 If you need to take a break from binge-watching Orange Is the New Black this weekend, Netflix has you covered. With literally the most randomly specific subgenres you can think of (a "Cool Mustaches" category was once suggested to me after I binged my way through countless Eddie Murphy action-comedies), everyone's favorite streaming service has your back — especially if you're into '90s romance movies. Which, of course you are, because everyone always is.
While I am a sucker for anything from the '90s, the nostalgic decade served up some quality romance movies in particular. After all, where would we be without Julia Roberts, standing in front of a boy, asking her to love her? Or Sandra Bullock, feigning a relationship with a guy in a coma? Or leading man Ben Affleck, for that matter, who appears in more than one of the Netflix offerings below? Absolutely nowhere, that's where. And if '90s romance movies have taught me anything, it's that all of the below are required viewing with a pint of ice cream, socks up to your knees, waterproof mascara, and your best friend on the phone (all while twisting the telephone cord while crying, of course).
Check out Netflix's current selection of '90s romance movies below.
1. While You Were Sleeping
Because nothing says "romantic '90s movie" quite like Sandra Bullock pretending to be the fiancée of a comatose Sandy Cohen.
2. Cruel Intentions
If you put the incest aspect of Cruel Intentions on the backburner, what you have here is a deliciously sexy movie filled with all of the "it" actors of the '90s (Sarah Michelle Gellar, Ryan Phillippe, Reese Witherspoon, Selma Blair, Joshua Jackson...) and an on-screen romance that turned into eight years of marriage between Phillippe and Witherspoon. It's a '90s classic, for sure.
3. Bed of Roses
This is for everyone who watched this preview on the VHS tape of Now and Then. Watch while Mary Stuart Masterson and Christian Slater fall in love amidst a sea of flowers and emotional baggage in this 1996 tearjerker.
4. Clueless
Dionne and Murray might not be #CoupleGoals, but Cher's good-natured meddling leads to some pretty sweet match-making — including her own. Who doesn't want to end up with Paul Rudd?
5. Shakespeare in Love
Because everyone's here for that scene when Will Shakespeare (Joseph Fiennes) unwraps Gwyneth Paltrow's the binding off of her chest.
6. Drive Me Crazy
What's not to love about popular girl Nicole (Melissa Joan Hart) making over the school bad boy Chase (Adrian Grenier) into a preppy, school dance-attending, walking Gap ad? The entire premise of Drive Me Crazy — appropriately named after the Britney Spears song — is what '90s teen movies are made of. Plus, Adrian Grenier is the OG Harry Styles, so really you should just watch this movie for that fact alone.
7. Notting Hill
Queen of '90s Movie Romances Julia Roberts teams up with King of '90s Movie Romances Hugh Grant in this delightfully cheesy take on what happens when a Hollywood actress falls in love with a bookshop keeper in England.
8. Meet Joe Black
Meet Joe Black is peak Brad Pitt, who literally does not get any hunkier than his starring role as Death in this supernatural romance film.
9. Can't Hardly Wait
A cigarette-smoking angel in a phone booth. Barry Manilow's "Mandy." Melissa Joan Hart as that one annoying girl asking everyone in her senior class to sign her yearbook. Can't Hardly Wait has many gems — and Jennifer Love Hewitt as the object of Ethan Embry's affection is just one of them.
10. Chasing Amy
Chasing Amy intertwines sexuality, friendship, and Ben Affleck in this critically acclaimed romantic-comedy about a guy who struggles to come to terms with his girlfriend's sexuality.
11. The English Patient
The second movie on this list to star a Fiennes brother, the Academy Award-winning The English Patient is a romantic drama starring Ralph Fiennes pre-Voldemort, a WWII soldier who is suffering from amnesia — but whose long-lost love may hold the key to the answers.
Now, go forth and binge-watch to your heart's content.
Image: Columbia Pictures