These Two Kylie Lipsticks Will Restock Soon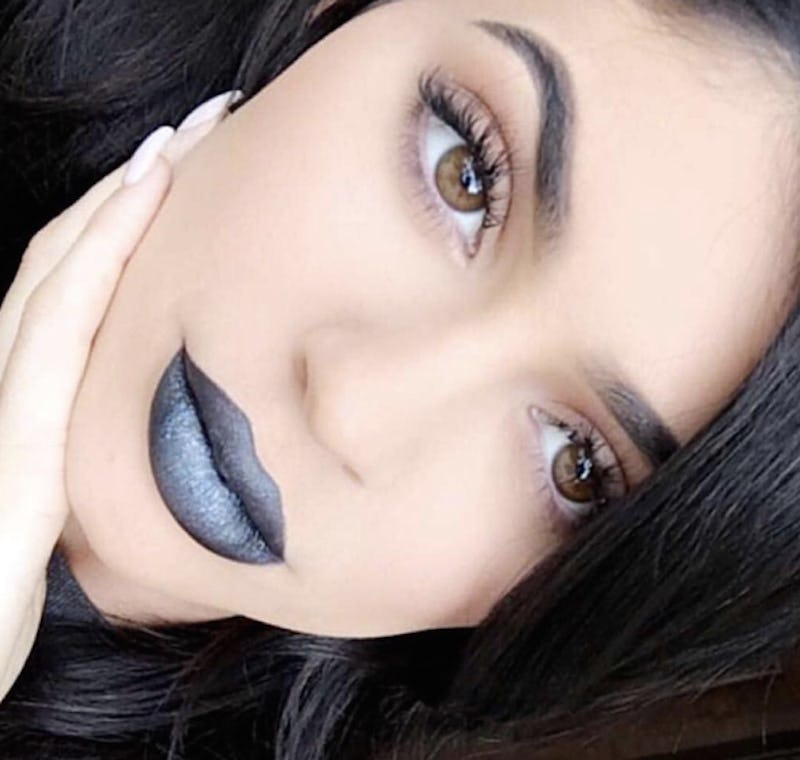 Kylie Jenner's Lip Kits have created quite a frenzy this past year, with shades selling out on the regular. And lucky for us, Jenner announced via the Kylie Cosmetics Instagram page on June 19 that the Kylie Dead Of Knight and KyMajesty Metal Matte Lip Kit restocks will take place on Tuesday, June 21, at 11 a.m. PST. That's right: Jenner's two new black shades, a matte black Lip Kit called Dead Of Knight and a black metallic matte shade named KyMajesty, will be available after selling out initially. And according to the Instagram post of note, this "is the last chance you'll be able to get my exclusive shades Dead Of Knight or Majesty for awhile!"
Just a few days prior to the announcement, Jenner was seen teasing two new new Lip Kit colors on Snapchat. Although she said she was thinking about releasing them on Friday, June 24, I can only hope that she will launch them with this restock on Tuesday. A girl can dream, can't she?
While it is unlikely that the beauty maven will unveil her two latest Lip Kit formulas on the same day as the restock, I am thoroughly thrilled that she is re-selling, since her two black shades sold out so fast — not unlike every other Lip Kit she's created.
Even though all of Kylie's Lip Kits are covetable, it looks as though these two black products might mean the most to her. In a recent Instagram post where she teased Dead Of Knight, Jenner wrote, "I did it for her 😏 back when I only dreamed of having my own lip line. 16-year-old me would be so proud 😢 @kyliecosmetics this new kit is so important to me #deadofknight."
With an overwhelming majority of Lip Kit fans wanting a black shade, Jenner listened and delivered this exquisite matte black color, Dead Of Knight, which resembles the black lip color she used to rock back in 2014.
To further please her lipstick devotees, Jenner also created the metallic black shade, which might just be her most impressive color yet. The moody dark metallic (aka Majesty) is both gothic and glam.
If you have yet to get your hands on these two black lippies, I highly suggest waiting by your computer just before 11 a.m. on Tuesday since these babies are sure to sell out... again.
With so many gorgeous shades, I can only wonder what Jenner's next color might be.
Image: kyliecosmetics/Instagram