8 Ways To Brighten Dark Underarms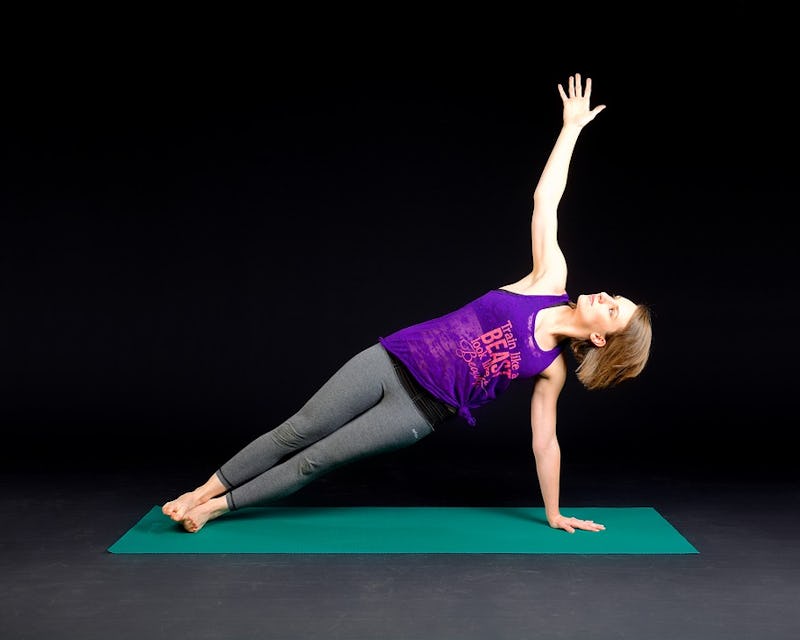 This might be the weirdest way I've ever opened up an article, but "How Do I Get Rid Of Dark Underarms?" is way up there on the list of most-Googled beauty questions. While there's absolutely nothing wrong with rocking underarms that are darker than the rest of your body, they can be pretty annoying if the dark skin under your arms is due to visible hair follicles when you literally just shaved. But dark underarms can also go much deeper than that. Armpits are a huge source of detoxification for your body — when you sweat, you push toxic chemicals out through the surface of your skin. If you've wanted dark underarm remedies because you've noticed your armpits looking darker than normal, there are a few things worth noting.
Unfortunately, with synthetic shaving creams and aluminum-laden antiperspirants, underarms take a huge beating, as all these chemicals are absorbing straight into the very area that should be pushing them out. They're also super-close to your body's major lymph node glands, which are directly linked to your immune system. Dark underarms do happen because of visible hair follicles, but they also happen because of an accumulation of dead skin, a sensitivity to chemicals, a build-up of hormones, and stagnant lymph fluid. In a way, your armpits are like a mirror into your overall health. Check out these all-natural ways to lighten dark-looking armpits with eight easy tricks.
Try Pulling Out The Whole Hair Follicle
Philips Satin Soft Cordless Epilator , $49, Amazon
The most well-cited cause of dark underarms is shaving, because when the hair is cut so close to the surface, the follicles are still clearly visible. A great quality epilator, like this Philips satin soft cordless epilator, takes care of that by plucking the hair from the root in one easy motion. This one is rechargeable, can be used wet or dry, and has two speed settings depending on the area. Reviewers say it works everywhere, and is one of the best ones they've ever used.
Exfoliate To Remove Dead Skin, But Do It Gently
pureGLO Purest Konjac Facial Sponge , $7, Amazon
Another cause of dark underarms is a buildup of dead skin clogging the pores, and this pureGLO konjac facial sponge helps to gently exfoliate without irritating the skin. It eliminates dirt and prompts the growth of new, healthy skin, all while pulling impurities to the surface with its activated charcoal. Best of all, it's entirely natural and environmentally friendly, as it's made from renewable konjac root, and comes with a hook for easy storage in your shower.
Use Lemon To Brighten Skin And Move Lymph Fluid
Organic Lemon Essential Oil , $10, Amazon
Lemon has been suggested by some to help brighten skin, as well as prompt the movement of lymph in your body, which circulates close to your underarms and could be causing the darker-than-usual color. This organic lemon essential oil is USDA-certified, which makes it one of the best and purest brands out there. It comes in a darkened glass bottle to preserve the quality of the oil, and it mixes wonderfully with coconut oil to create a great underarm-lightening serum.
Reach For An All-Natural Deodorant
Primal Pit Paste Natural Deodorant , $10, Amazon
Unnatural deodorants can contain aluminum and synthetic fragrances, which can cause irritation, in addition to blocking pores and lymph nodes to cause discoloration. Primal Pit Paste's natural deodorant is a great all-natural solution because it contains amazing ingredients (like baking soda, which neutralizes odor and whitens skin simultaneously). Reviewers say it's got a great natural scent, absorbs into skin easily, and keeps them feeling fresh all day long.
Help Your Body Detox With Mineral Salts
Thai Crystal Deodorant Mist , $6, Amazon
For an all-natural spray option that'll help you detox your underarms from the inside out, there's this Thai Crystal deodorant mist. It contains nothing more than purified water and mineral salts, which interact with the bacteria under your arms in such a way that it neutralizes odors. However, it contains no chemicals, aluminum, or synthetic scents, and is entirely hypoallergenic. According to the reviewers, "It really works!"
If You Must Shave, Prep The Area First To Reduce Ingrown Hairs
Bikini Soft Coconut Oil & Sugar Pre-Shave Scrub , $15, Amazon
Ingrown hairs are another source of dark underarms, but this Bikini Soft coconut oil and sugar pre-shave scrub helps you to prep your skin for the closest and clearest shave possible. It's made with all-natural ingredients that soothe, exfoliate, and protect the skin, and people say it does wonders as far as preventing irritation and ingrown hairs – plus it smells incredible.
Clean With Chemical-Free African Black Soap To Rejuvenate Skin
Raw African Black Soap , $13, Amazon
African black soap is an effective and all-natural way to lighten skin, as it's filled with vitamins and oils that rejuvenate, protect, nourish, and moisturize your pores. This raw African black soap is some of the best there is, as it's 100 percent natural and genuine, and it leaves your skin feeling absolutely incredible.
Pick A Sugar Wax That's Free Of Synthetic Ingredients
Moom Organic Hair Removal Kit, $19, Amazon
Waxing is another way to remove hair at the roots, so underarms appear lighter, but additive-filled waxes could very well be clogging pores and adding to the problem. This Moom organic hair removal kit is a sugar wax that's made from all organic ingredients that remove hair effectively, and soothe the skin afterwards. This kit comes with the wax itself, reusable fabric strips, wooden applicators, and an instruction booklet, and reviewers say they're "completely amazed" with it.
Bustle may receive a portion of sales from products purchased from this article, which was created independently from Bustle's editorial and sales departments.
Images: HannahWells/Pixabay; Amazon (8)