The Most Political Academy Award Moments
While the Academy Awards are mostly about celebrating films, they are also often used as a platform to talk about politics. Apparently, that's something that has frustrated the Academy for decades. "The show's about movies, about people's work in movies, about entertainment," Bob Rehme, former president of the Academy said. "[The Oscars] are not supposed to be about political activities around the world no matter how much individually we might support any one of those causes."
Those in attendance often feel differently. As millions of viewers tune in, many actors have taken advantage of the national stage in order to make a statement larger than themselves. In the history of the Oscars, these 14 political moments have stood out.
1. MARLON BRANDO SENDS A NATIVE AMERICAN ACTIVIST To ACCEPT HIS AWARD
In 1973, Marlon Brando won Best Actor for The Godfather. But instead of the usual thank you speech, Brando sent Sacheen Littlefeather, president of the National Native American Affirmative Image Committee, to accept his award. Or rather, not accept it, in protest of the way Native Americans were being treated by the film industry. In a long written statement Brando spoke about the issue and the reasons he rejected the award saying:
The motion picture community has been as responsible as any for degrading the Indian and making a mockery of his character, describing him as savage, hostile and evil. It's hard enough for children to grow up in this world. When Indian children ... see their race depicted as they are in films, their minds become injured in ways we can never know.
The audience actually booed her, but Littlefeather bravely went on anyway.
2. HALLE BERRY TALKS ABOUT RACE
In 2002, Berry made history she became the first black actress to ever win an Oscar for best actress. The significance of that did not go unrecognized by Berry, who utilized her speech to thank all the black women who came before her — and weren't recognized by the Academy.
3. SEAN PENN TALKS GAY RIGHTS
In 2009, Penn received the Best Actor award for his work portraying the murdered gay rights leader Harvey Milk. During his acceptance speech, Penn took the time to address the anti-gay protestors who had lined the streets outside the event, and to call out those who were in favor of a gay marriage ban.
4. THE COVE TAKES A STAND FOR ANIMAL RIGHTS
When The Cove won for best documentary in 2010, Ric O'Barry, one of the experts for the film, hoisted a sign that read "Text Dolphin to 44144." Those who texted received information on how to help the dolphins in Taiji, Japan, where fishermen routinely round up the animals and slaughter them. The Academy panicked when O'Barry hoisted his sign and cut away quickly, and the orchestra cut off director Louie Psihoyos before he could make his speech.
5. VANESSA REDGRAVE SPEAKS OUT AGAINST ZIONISTS
Redgrave was at the center of a controversy before she even won the Best Supporting Actress award for the World War II film, Julia. Many people were upset with Redgrave's support of the Palestinian Liberation Organization, and members of the Jewish Defense League protested the ceremony. Over concern for her safety, Redgrave was actually driven to the ceremony in an ambulance. She acknowledged the controversy in her speech.
6. THE AUDIENCE REFUSEs TO STAND FOR ELIA KAZAN
In 1999, Elia Kazan won a lifetime achievement award in a decision that divided Hollywood. The director was nearly 90, but many felt that they couldn't forgive him for cooperating with Senator Joseph McCarthy in 1952, when he outed many fellow directors and actors as members of the Communist Party. Many in the audience of the '99 awards refused to clap or stand for Kazan's achievement.
7. MICHAEL MOORE ATTACKS THE PRESIDENT
After winning Best Documentary for his anti-gun film Bowling for Columbine, Moore used his acceptance speech to speak out against the war in Iraq and President Bush. "We are against this war, Mr. Bush. Shame on you, Mr. Bush, shame on you," Moore said to a crowd mixed with boos and cheers.
After the event, Moore refused to apologize saying, "I'm an American, and you don't leave your citizenship when you enter the doors of the Kodak Theater. What's great about this country is that you can speak your mind."
8. DUSTIN LANCE BLACK STANDS UP FOR GAY RIGHTS
In 2009, Black picked up the award for Best Original Screenplay for Milk. Like Sean Penn, Black utilized the moment to speak about his hope for the country going forward with gay rights.
9. SUSAN SARANDON TALKS ABOUT HAITAN REFUGEES
When Oscars producers caught wind that Sarandon fellow presenter Tim Robbins were planning on making a political point during their speech in 1993, they called their PR people and begged them not to do it. But the two actors did it anyway. Before the presentation for Best Film Editing, Robbins said, "We'd like to call attention to 250 Haitians being quarantined in Cuba. Their crime? Testing positive for the HIV virus." Sarandon implored the U.S government to admit the refugees into the United States.
10. AL GORE TALKS CLIMATE CHANGE
In 2007, Gore won Best Documentary for An Inconvenient Truth. Not surprisingly, he took the opportunity to make an impassioned speech about global warming.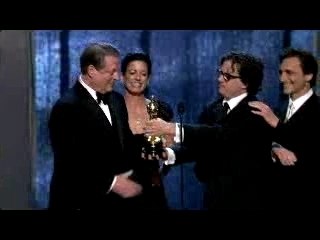 11. RICHARD GERE STANDS UP FOR TIBET
In 1993, Gere presented the award for Best Art Direction, but took things in a different direction when he made a speech he hoped would be heard all the way in China:
It's astonishing—one billion people watching. And I was curious about what countries this was actually going to. And it is in fact being seen in China right now. And the first thought that came to me was, I wondered if Deng Xiaoping is actually watching this right now, with his children and his grandchildren, and with the knowledge that what a horrendous, horrendous human-rights situation there is in China, not only towards their own people but to Tibet as well ... [what if] something miraculous, really kind of movie-like, could happen here, where we could all kind of send love and truth and a kind of sanity to Deng Xiaoping right now in Beijing, that he will take his troops and take the Chinese away from Tibet and allow people to live as free independent people again.
12. CHARLES FERGUSON LAMBASTS WALL STREET
The director won Best Documentary in 2011 for his film Inside Job. Once he was on the stage, Ferguson realized he needed to speak out about the film's subject.
13. ERROL MORRIS CRITICIZES THE WAR IN IRAQ
After winning Best Documentary in 2004 for The Fog of War, a film about the failed war in Vietnam, Morris made a plea for those watching to consider their actions carefully in relation to the past.
Forty years ago this country went down a rabbit hole in Vietnam and millions died. I fear we're going down a rabbit hole once again. And if people can stop and think and reflect on some of the ideas and issues in this movie, perhaps I've done some damn good here.
14. ELLEN DEGENERES' HISTORIC HOST
When Degeneres hosted the Oscars in 2007, she became the first openly gay person to ever hold the position.
She did such a great job that she's back again this year. We couldn't be more excited.