Twitter Is Feeling The Blue Kylie Lip Kits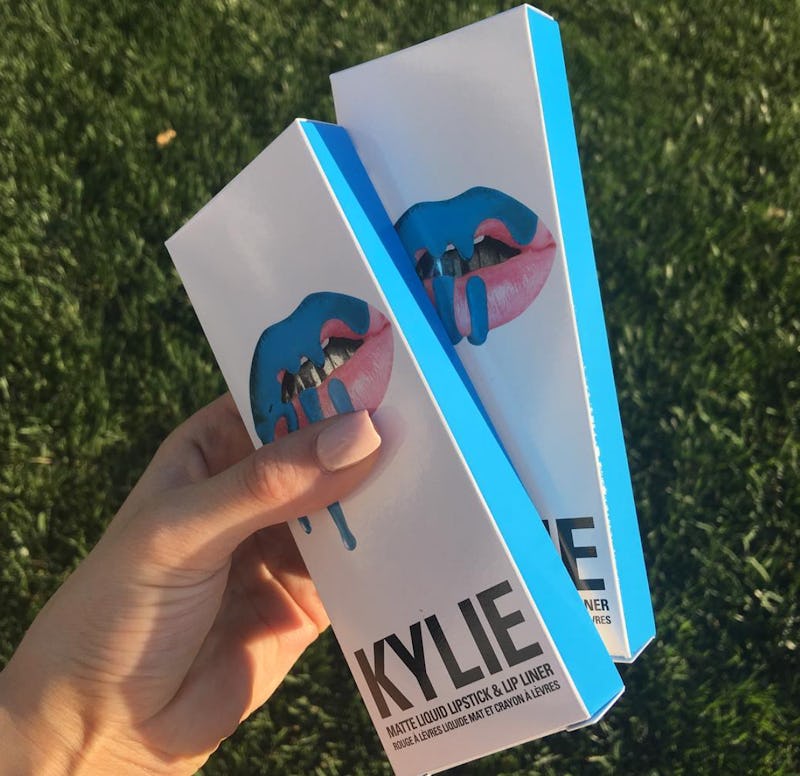 Bring on the blues! Kylie Jenner revealed a pair of blue Kylie Lip Kits. There's Freedom, which is a deep, rich indigo shade, while Skylie is — wait for it— a baby blue. They are being dubbed "exclusive" and seem to be limited edition, based on a hashtag connected to Freedom. That said, both are super unique and an unpredictable change of pace from the variety of nudes, neutrals, and classic shades that comprise the Kylie Kip Kit, Kylie Glosses, and Metal Matte spectrum.
The blue Kylie Lip Kits will arrive Friday, June 24 and if the Twitter reaction is any indication, Skylie and Freedom are going to fly off the digital shelves. They're the new kids on the block and they are so unique that there is no way these lippies won't sell out. Not everyone loves them, because #differentstrokes. But the anticipation is Sky(lie) high.
It's fun to see Jenner play with out-of-the-box colors and offer her customers a variety of shades to shop. There is truly something for everyone.
Skylie and Freedom are perfect for summer parties, holidays, gatherings, and clubs. They aren't every day, all day shades... unless, of course, you are adventurous and have very few restrictions in your life through work and school.
Observe the bold and beautiful Skylie below. Can you work this shade?
Skylie is such a looker.
This is Freedom, which has a patriotic name and is a cool, denim shade.
The two blues!
Here's what Twitter had to say. Freedom seems to be getting the biggest reaction.
The desire is there.
She meant "screaming" and was probably too busy shaking and crying with excitement over the shades to care about spelling correctly, which I totally relate to!
Freedom and Skylie are total #ByeMoney moments.
Dope AF indeed.
This fan plans to shop.
It wouldn't be the strangest thing in the world.
A lot of fans feel this way!
Skylie and Freedom are changing minds and lips!
What's not to love, right?
It's a celebration-ready shade.
Be online and ready to shop on Friday!
That's a common reaction.
It's a tough choice. If the budget allows, nab both.
The Twitterverse did reveal some dissenting opinions on the blue KLKs, because that's life.
The shades are fun and lighthearted, IMO.
This! This! This user doesn't dig it, but isn't tryna judge, either.
I'm excited to see how the Freedom and Skylie Lip Kits look IRL and on actual lips other than Kylie's! Coming soon. They may not be for everyone, but I love that Jenner is expanding and branching out even more.
Images: Kylie Cosmetics/Instagram (3)