Kylie Jenner's Blue Lip Kits Are The Best Finish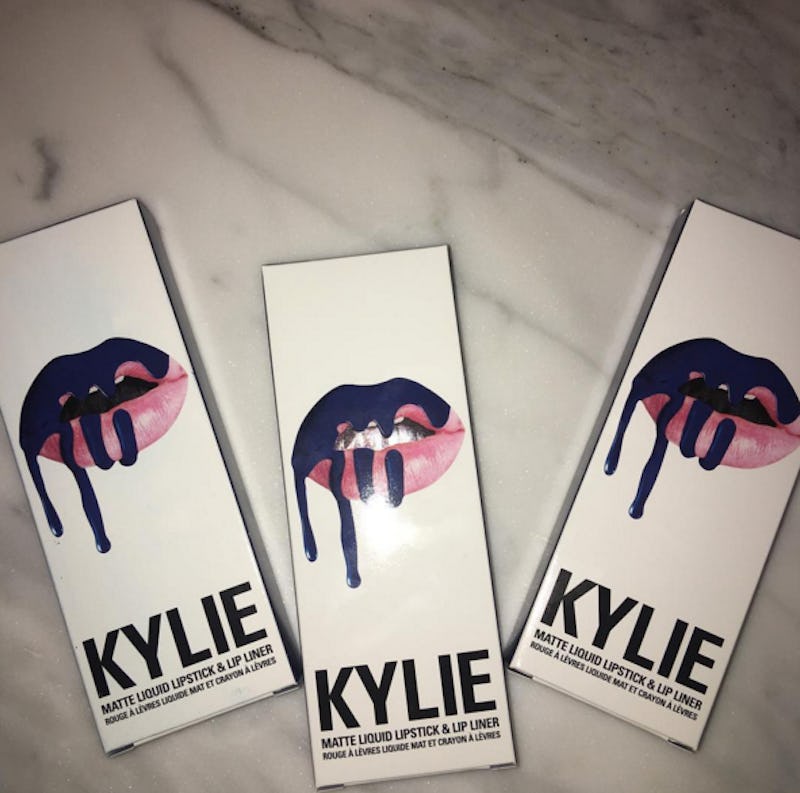 ICYMI — Kylie Jenner previewed two brand new Lip Kits on Monday night, and they are definitely her most dramatic shades yet. After teasing the release of two new colors on Snapchat last week, Kylie promised to give fans a sneak peek of the latest additions before they officially launch on Friday, June 24. As promised, the lippie queen finally revealed the new hues, and as many people guessed, they are both shades of blue. We may now know what the colors are, but many are still wondering — what finish are the blue Kylie Lip Kits? Are they her original matte, shiny gloss, or metallic metal?
Skylie, a pale sky blue, and Freedom, a deep navy, made a first-time appearance on the 18-year-old's Snapchat, because that's Kylie's preferred social media channel in which to drop major news. She first modeled them on her own lips, then flashed images of the colors in their packaging, and finally flaunted swatches on her hand as the colors dried. It was quite easy to tell from all three examples that Skylie and Freedom have a matte finish, not to mention their boxes literally say "Matte Liquid Lipstick & Lip Liner."
Take a look.
The packaging clearly proves these are matte lippies.
The box is also a clue, because only the matte lipsticks have such a large, wide casing.
They also come with a lipliner, which only accompany the mattes.
You can even see as the colors turn from liquid to matte in these swatches.
The new blue matte KLKs make quite a bold statement.
Is it June 24 yet?
Image: KylieCosmetics/Instagram