Has The Real Charlie Manson Seen 'Aquarius'?
It doesn't take anything away from my enjoyment of the crime series, but Aquarius has been candid about the changes it's made to the story of the real Charles Manson and his followers. Aquarius is a procedural with a historical fiction component, not a documentary of any kind. Still, a fictional portrayal of Charles Manson is one of the show's main characters. It was his fictional seduction of teenage Emma Karn that incited the action in Season 1, and, in Season 2, he and the rest of the show-version of the Manson Family are becoming more violent and unpredictable. The Season 2 premiere began with a flash-forward to two bloody nights in 1969 when the real Manson Family killed several people, including director Roman Polanski's pregnant wife, Sharon Tate. But, what does Charles Manson think about Aquarius and its portrayal of him?
Yes, the real Charles Manson is still alive. According to the Los Angeles Times, now 81 years old, Manson is incarcerated in Corcoran State Prison in Kings County, California. The original sentence for his crimes was death, but California briefly outlawed the death penalty in 1972, reducing his sentence to life in jail.
There is no indication that Charles Manson is aware of the NBC crime drama Aquarius or of Game Of Thrones alum Charles Gethin playing him. Aquarius also isn't the first piece of media to feature Manson as a character. The 1976 TV movie Helter Skelter about the Tate and LaBianca murders committed by the Manson Family got some awards attention. Manson's Lost Girls aired on Lifetime earlier this year and focused on the young women the killer was able to entice into his influence. Charles Manson is even a recurring presence on Saturday Night Live. In 2014, Taran Killam played the inmate in a Weekend Update sketch about his pending marriage to admirer Afton Elaine "Star" Burton.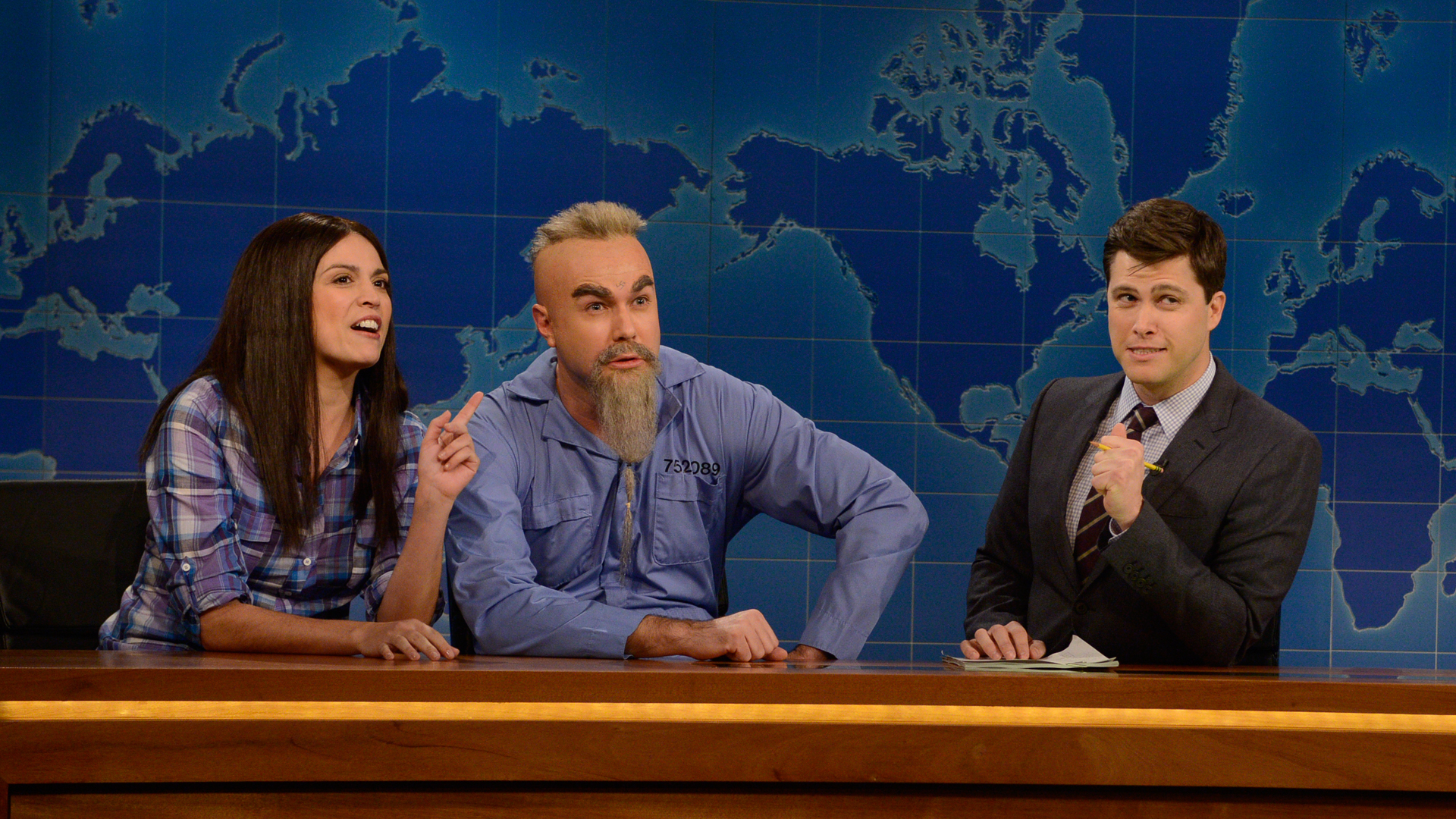 That marriage was called off because, as The Independent reported, journalist Daniel Simone claimed that Burton allegedly wanted custody of Manson's remains so that she could make money off of their display after his death. According to Simone, "[Manson] feels he will never die ... therefore, he feels it's a stupid idea to begin with."
The most recent interview with Manson that I can find is a comprehensive profile in Rolling Stone in 2013. Journalist Erik Herdegaard accompanied Burton on a few of her visits to the convicted killer and received several calls from Manson too. Herdegaard stated that "Manson doesn't watch much TV, although he used to like Barney Miller, Gunsmoke, and Sesame Street in Spanish."
So, the world will probably never know what Charles Manson thinks of Aquarius. But, his opinion, or lackthereof, certainly isn't going to keep people from watching the thrilling drama series.
Image: Vivian Zink/NBC