Sasha Lane Shines In The 'American Honey' Trailer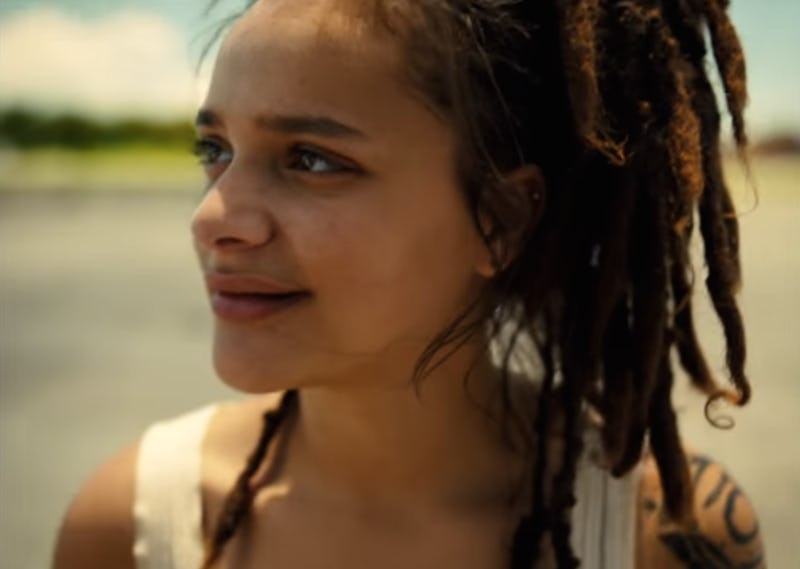 May's Cannes Film Festival premiered Andrea Arnold's American Honey, taking home the Jury Prize and leading many to praise — and be affected by — the British director's bold fourth feature. One look at the trailer for American Honey , and you'll start to understand its captivation. A rat-tailed Shia LaBeouf stars in the film, which follows a traveling magazine sales crew bent on escapism. But next to LaBeouf, there's a new face in American Honey : Sasha Lane. Lane makes her debut as Star, a teenage runaway who gets caught up with this band of misfits while crossing the Midwest. In what appears to be a peek inside the complexities of American youth, American Honey bursts at the seams with stunning visuals of the cast, electronic fueled music, and an overwhelming message of restlessness. Already, the film seems to rely on one person to purvey that message: Sasha Lane. Maybe that's because Star is (partly) based on Lane herself.
American Honey is Lane's first film. The nascent actress was discovered by Arnold on a beach in Florida during spring break 2015, and now she's the star of Cannes's break out film, shining alongside seasoned vets LaBeouf and The Girlfriend Experience's Riley Keough. And she's definitely an actress we're going to want to keep an eye on. Director Arnold seeks out non-actors with similar backgrounds to the characters she's cultivating for her films (she did this is in 2009's critically acclaimed Fish Tank).
Like her character Star, Lane's originally from Texas — San Marcos, specifically. She went to school at Texas State University, and according to an interview in Wonderland Magazine didn't grow up with the desire to act or be famous. Since wrapping the film, the 20 year old has moved to Los Angeles, found a manager, and seems to be going following the path of overnight stardom.
Magazine crews like the one Arnold fictionalized for American Honey are full of teens that have similar upbringings to those of Lane's. The actress understands why kids would get sucked into this world, because she understands "the life of not having a lot of money and never knowing what you're gonna do next." It's the lack of stability — financial, and otherwise — that the magazine crew companies shamelessly exploit. In return, members of the crew are promised money, but more importantly, they're promised an experience —drugs, partying, being free. Ian Urbina's article "For Youths, a Grim Tour on the Magazine Crews" in The New York Times uncovers the business venture in depth, revealing a specious industry that looks promising to young people desperate for change.
"Got any body that's gonna miss you?" Riley Keough of The Girlfriend Experience asks Star in the trailer. She replies "Not really," but I'm willing to bet that won't be true for Lane, not after American Honey premieres. By the looks of her work in the film, we'll be wanting to see a lot more of this actress.
Images: A24/YouTube