How To Deal With Sweaty Hair In The Summer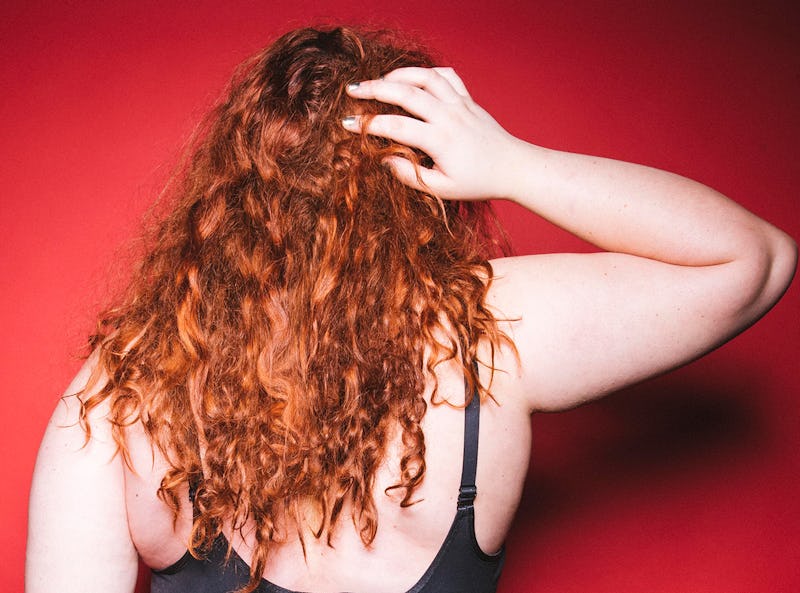 IMO, basically the only time it isn't a complete #blessing to have thick, shiny, ringlets is in the summer. Once the weather gets hotter, it feels like your full-time concern is how to manage sweaty hair, frizzy curls, and just the overall swamp-neck feeling that comes with having luscious locks. After exhausting pretty much all the usual sources for hair hacks, I found two sorta surprising experts on the topic: New York Mets pitchers Jacob deGrom and Noah Syndergaard.
These guys have arguably the best hair in the baseball (players on other teams have even claimed their 'dos are distractingly beautiful) and have recently teamed up with AXE Hair Care. According to a press release about the partnership, deGrom, Syndergaard, and AXE are trying to convince other guys that there's no shame in doing your hair on the daily. And since they're sportsmen who play mostly in the summer season, they also have some pretty solid advice on how to keep your strands looking incredible — even if you're literally soaked in sweat.
At a recent press day, I spoke with Noah Syndergaard, Jacob deGrom, and AXE Hair Celebrity Stylist Amy K. for their ultimate tips to manage sweaty hair, especially in the summertime. Here are the seven best.
1. Try Wax
If you have a pixie cut, you're probably already a big fan of hair wax for styling. But deGrom tells me loves it for his long hair too. He uses his on "wet hair, when I get out of the shower. [I] just rub it in my hands and put it in there." It adds definition to waves without the crunchy look you might get from gel or mousse.
Try: AXE Matte Effect Hair Wax, $10, Amazon
2. Don't Overwash
It can be tempting to shampoo a couple times a day during the sweaty summer, but if you want luscious locks like deGrom and Syndergaard, resist the urge. Syndergaard shampoos every other day, but deGrom goes five without a wash ("I only I wash it on the day I pitch," he says).
3. Use Softening Cream
If you prefer a barely-there hold that just gives your curls a bit of control, a product like AXE Natural Look Softening Cream is your best bet. DeGrom says he uses his on days when he's pitching because "it adds a bit of weight and hold but not too much." He continues to say that "sometimes my hair is really out of control... all up in my eyes and mouth... which makes it a little difficult to pitch." The cream helps keep strands out of his face without the help of a ponytail holder.
Axe Natural Look Softening Cream, $8, Amazon
4. Wear Hats
Though he wears his hair down most of the time, for working out Syndergaard definitely recommends wearing a hat or headband. "It makes it easier to keep hair out of your face," he explains, which means less sweaty strands at the front of your 'do.
5. Don't Abandon Heat Tools
It's tempting to skip steps that could make you hotter in the summer, but if you're worried about frizz, Amy K. recommends you use a blow dryer year-round. After you apply your favorite product, she says to "dry hair on low heat with a diffuser." Product + diffuser = the key to defined curls that aren't puffy.
Try: Chromatique Ionic Hair Dryer, $60, Amazon
6. Use Product All Over
I've always been a bit wary of putting product too close to my roots. But if you're dealing with sweaty strands anyway, Amy K. says to go to town and apply all over to wet hair. "Run the product through the hair in a raking motion from roots to ends," she tells me. "Then, shake your head and tousle your hair to let any waves or curls form naturally."
7. Embrace The Sweat
Yes, there are ways to manage your sweaty strands, but ultimately you're gonna have to give in to the laws of nature — at least a little. When I asked the guys how they deal with all that hair on the hottest days, they both emphasized that they just sort of got used to it. "[The sweat] comes with the territory," Syndergaard says. "And with the way we look, it's well worth it," deGrom insists. Fair.
Images: Andrew Zaeh (2), Bianca Consunji/Bustle; Ryan Moreno, Larisa Birtha, Ariana Prestes, Tina Floersch/Unsplash
Happy shopping! FYI, Bustle may receive a portion of sales from products purchased from this article, which were added independently from Bustle's sales and editorial departments after publication.