7 Dry Oils To Try This Summer Instead Of Lotion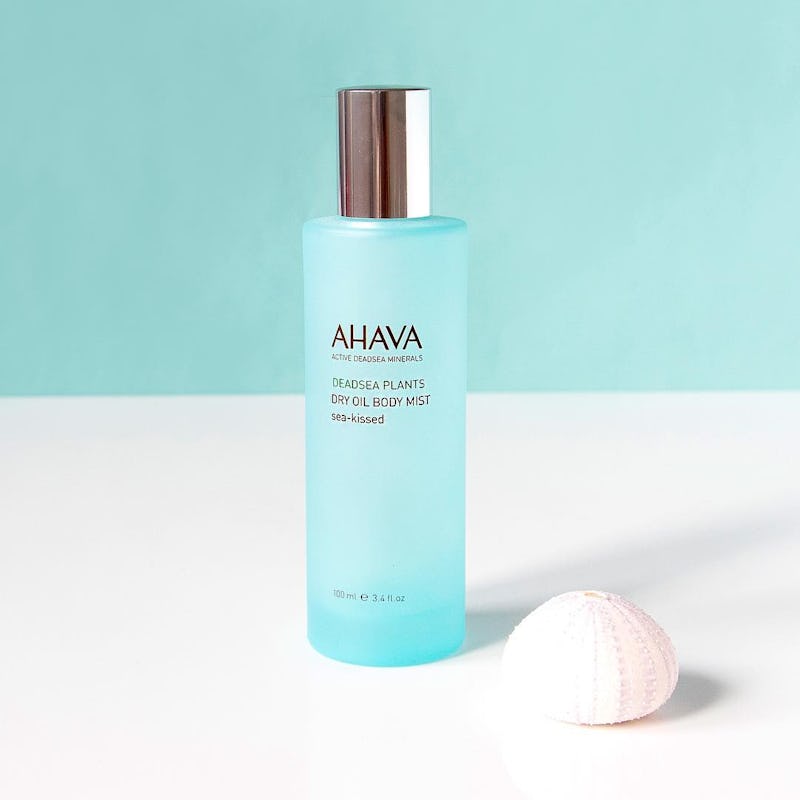 We all know we need to hydrate our skin — especially in the hot summer months — but sometimes putting on thick creams and lotion for the sake of moisturizing can make you feel sticky and gross. The solution? Swap out your usual winter-friendly hydrators for an ultra light alternative: dry oil spray.
Most of these sprays contain essential and/or botanical oils, which nourish your skin without leaving behind a greasy film. The most important ingredient is "Cyclomethicone," a type of unmodified silicone that has large molecules that attach to the top layer of skin and dries with a satiny, rather than a slick, finish — hence the "dry" in dry oil.
Dry oil spray will give you a luxe glow that will make your tan look fierce under your tank tops and sun dresses and won't leave your skin feeling nasty.
How should you use it? It's simple. Spritz the oil generously on your skin immediately after you shower, when your pores are open and more likely to retain moisture. Rub it in wherever you feel like you need a little extra hydration — it even works in your hair and on your face — but be careful not to accidentally spray yourself in the eye (because, ow.)
For all of you dry oil newbies out there, here are seven of my favorites for you to add to your summer beauty routine.
Ahava Dry Oil Body Mist In Sea-Kissed, $41, Amazon
All of AHAVA's products are inspired by the minerals of Israel's dead sea, and this dry oil is no different. It has Jojoba and Vitamin E oils, as well as Dunaliella Algae, which slows down cell degradation by protecting skin from free radical damage. #Score
Philosophy Amazing Grace Satin Finish Body Oil, $27, Sephora
If you are looking for the worlds best smelling body oil, look no further than Philosophy's "Amazing Grace." With a combination of feminine, floral scents, it smells seriously, seriously amazing (no pun intended) and there's no need to bother with wearing perfume on top of it.
Wally's Natural Organic Body Oil, $12, Amazon
This body oil is organic and chock full of Vitamin E, Aloe and calendula — among other all-natural ingredients. Spray-on oil not for you? No problem — Wally's roller ball head makes for easy application from head to toe.
Michael Kors Bath And Body Liquid Shimmer Dry Oil Spray, $60, Macy's
Since dry oil goes on matte, if you want to add a little sparkle to your glow this version from Michael Kors is your best bet. The spray's radiant pearl particles leave skin with an instant iridescent softness and super-silky sheen.
MoroccanOil Dry Body Oil, $48, Amazon
The original Moroccanoil made a major splash on the hair-care scene a few years ago, but did you know there is also a version of the oil for your body?!
Acure Marula + Argan Dry Oil Spray In Coconut, $10, Natural Healthy Concepts
This spray-on oil from Acure is a great (read: cheaper) alternative to some of the more expensive versions. It contains Argan oil, smells like coconut (hello, island girl) and offers non-greasy, long lasting hydration.
Kate Spade New York Walk On Air Dry Oil Mist, $50, Sephora
Could the white globe and bow combination of this Kate Spade bottle be any cuter?! It smells deliciously of Lilly of the Valley, and makes great gift for anyone with a summer birthday or bridal shower.
Images: Courtesy of Brands