Blaming Turner's Friend Is Missing The Point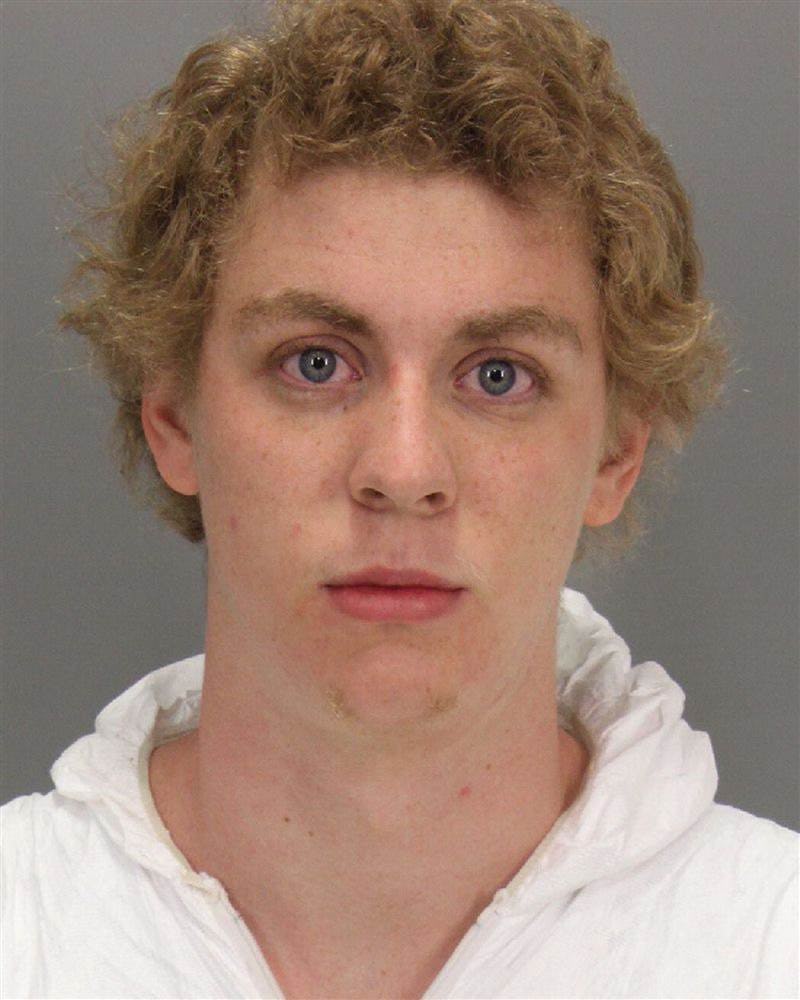 Brock Allen Turner first made national headlines for being caught by two Stanford graduate students sexually assaulting someone. Then it was for receiving a mere six-month jail sentence after being convicted of three felony counts of sexual assault. After the victim's letter, which was read at Turner's sentencing, was released to BuzzFeed, it grabbed the attention of the nation. Even Vice President Joe Biden weighed in with support and praise for the victim and her "courage for speaking out." As a result, many seemingly minor players in Turner's trial and sentencing have become famous — or notorious — including Leslie Rasmussen.
Rasmussen is the 20-year-old drummer of Good English, a band she formed with her sisters, and a childhood friend of Turner's who wrote a letter to the court encouraging leniency. On June 6, part of the letter was shared publicly over Twitter by Michele Landis Dauber, a law professor and sociologist at Stanford Law School and the chairwoman of a campaign to recall Aaron Persky, the California judge responsible for Turner's sentence. New York Magazine's The Cut then published Rasmussen's letter in in full. Rasmussen did not return my request for comment for this article.
As my colleague Suzannah Weiss has noted, Rasmussen's letter is full of ugly rape myths. She argues that Turner did not go out on the night in question "with rape on his mind," and insists that he is "not a monster" and "not [a] rapist," but merely an "idiot boy … [who had] too much to drink."
But the facts as reported in multiple outlets tell a different story. Two Stanford University graduate students caught Turner sexually assaulting an unconscious, partially nude woman behind a dumpster. When they approached, Turner attempted to flee. The students restrained him and called the police. Both Turner and his victim were drunk, but two people saw Turner attacking an incapacitated woman.
Rasmussen has since apologized for her letter, writing on Facebook on June 8, two days after her letter was published:
As I said previously, as part of the sentencing process, I, and at least 39 others wrote character statements to the judge in the case.
Although I was asked to share how I knew him, how long I have known him, his character and personality, time spent with him, activities together, and any other opinion I had on the matter, I was not there that night. I had no right to make any assumptions about the situation.
Most importantly, I did not acknowledge strongly enough the severity of Brock's crime and the suffering and pain that his victim endured, and for that lack of acknowledgement, I am deeply sorry.
I fully understand the outrage over Brock's sentencing and my statement. I can only say that I am committed to learning from this mistake. I am 20 years old, and it has never been more clear to me that I still have much to learn.
Still, many people remain outraged by Rasmussen's letter — and now, it appears that Rasmussen and her band are being punished for it. According to The New York Times, after the letter was made public, her band was dropped from the rosters of a number of Brooklyn venues, including the Rock Shop, Industry City Distillery, Gold Sounds, and Bar Matchless. The Dayton Music Art and Film Festival removed the band from its September lineup, and Behind the Curtains Media, the PR firm which represented Good English, dropped the band from its client roster.
Michael Abiuso, CEO and PR Director of Behind the Curtains Media, tells me in an email that neither his company nor its affiliates and artists "support or endorse the former client, Good English, or the statements made by individual members, and therefore we have severed ties in all capacities." When pressed for further detail, Abiuso says, "All further inquiries should be directed at the band and members themselves."
Dauber tells me she wouldn't encourage anyone to direct their anger over the case at Rasmussen's band: "In terms of whether her band loses work — I don't endorse, condone, or encourage people to deny work to her band." That said, she points out that the only reason Rasmussen's letter became relevant in the first place is that "the judge specifically mentioned it in court at the sentencing as one of the most important and persuasive letters" he'd received in Turner's defense.
According to The New York Times, Rasmussen believed her letter to the judge was private. She was, of course, mistaken. Like most court documents, they became part of the public record. Dauber acknowledges Rasmussen's apparent naivete, but says that people must still be held accountable for what they say and do: "I don't condone her losing opportunities, but other people have the right to do business or not do business with her as a result of that." Or, as Daniel Stedman, a founder of the Northside Media Group (which runs the Northside Festival, another venue which recently dropped Good English from its lineup), told The New York Times, "When people choose to defend something, then I think they should be held accountable for it." Stedman did not return my request for comment.
Although she does not encourage the professional backlash against Rasmussen, Dauber sees the swift condemnation of her letter as a sign of progress. "People are really angry, really frustrated, and they are looking for something to do to express that anger … [there is] a raw nerve ending … about the treatment of victims of sexual violence … and [we're in a] moment of profound social transformation around this issue."
Image: Santa Clara County Police Department