How To Use ModiFace's Facebook Messenger Service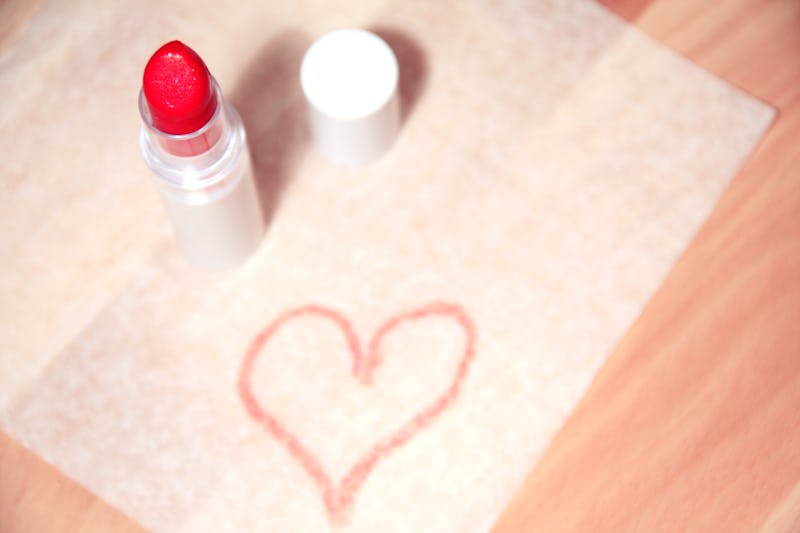 When I was little (OK, like 4), I was constantly cutting/dying/putting makeup on my American Girl Doll in styles that I wanted to try on myself. I figured that since she and I looked decently alike, it was a good place to test things out and see whether or not the real thing would look good. After a serious incident freshman year of high school that involved cutting my own bangs, I realized I maybe needed a new method of trial and error. Enter Modiface's new Facebook Messenger Service.
Modiface is the augmented reality company behind makeup try-on apps like L'Oreal's Makeup Genius and it's own celeb makeover app.
On Tuesday, Modiface launched a service directly in Facebook's messenger app that allows you to try on 900 (!) different shades of lipstick and immediately purchase the ones you like — further proof that Facebook is pretty much taking over the world.
The process is incredibly simple: All you have to do is type "Modiface" into your messenger app, tell her what color or brand you want try out, and send her a straight-on selfie (though you should really say "hello, how are you doing" first, because, manners.) and it applies the shades to the lips in your photo. For some reason, I automatically picture ModiFace as being a girl, but you can really apply whatever gender/personality to your version of the bot as you want... Another amazing part of the experience.
Since I'm on the market for a new lipgloss in honor of the summer solstice (any excuse, amiright??) I decided to try it out. Here is the picture I submitted to the app (one of the perks of being a writer is that you can do your job from anywhere — hence the fact that I am very clearly wearing a bathing suit). Considering it's National Selfie Day, I only felt mildly ridiculous taking such a serious, un-Snapchat-filtered photo of myself in public.
The first color I tried was "Hot Pink," because, why not? I figured it would go nicely with the slight sunburn I realized I was getting on my cheeks.
She suggested Bobbi Brown's Hot Collection Art Stick In Pink, but also sent through 10-15 other options. I agreed to try the Bobbi Brown, which looked like this.
... I was a little disappointed, because it looked like nothing had really happened to the photo other than an awkward crop job. I then asked her for red, and she suggested Sephora Collection's Rouge Cream Lipstick.
Not only did I really like the way this color looked on me, I was also super excited that the service actually worked! It also made me realize that I maybe should have put on some makeup before leaving the house today.
Next, I asked ModiFace if she had any purple "purple," and the bot told me there was nothing in that color, but when I changed my request to "plum," it gave me 26 different options.
Here I am in Bobby Brown's High Shimmer Lip Gloss in Plum Gold:
I wanted to get as dramatic as I could in my sampling, so asked for black, blue, green, yellow, orange and gold — ModiFace told me politely with each request that she didn't have any products in those colors and asked that I make another request.
In addition to colors, you can also ask ModiFace to try out specific brands. Upon realizing this, I immediately asked to test out a Kylie Jenner Lip Kit, which she of course didn't have. So I did the next best thing and asked her about Yves Saint Laurent — I figured I would treat digital me to a luxe lipstick experience that real-life me could never afford. She had 169 (!) YSL lip products to offer, ranging from lipsticks to glosses in a huge range of colors. I tried on the Glosse Volupte in Terriblement Fuchsia, which is a really pretty and shiny pink color.
After trying on seven different shades, I went to get a snack, got distracted, and didn't end up buying anything.
Overall, it was an interesting experience. The service tends to work best with brighter colors, namely reds, because the quality of the images ModiFace sends back are not high enough for the light colors to show up drastically enough. The app makes it incredibly easy to purchase — you can do it in one click, to be exact — and offers a range of different price points. It's hard to test out a lipstick without knowing what it feels and tastes like, but this is a great solution for anyone who loves to order beauty products online.
My only question is when will Kylie Jenner add her lip kits to the roster?!
Images: Pexels; Courtesy of the author