Does the ModiFace App Really Work?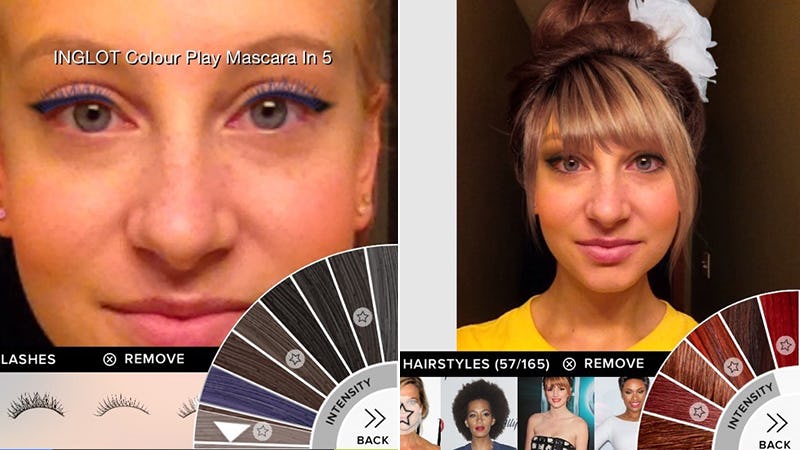 I learned how to use Photoshop for the sole purpose of trying out different hair colors before committing to actually dyeing my hair (I've still never worked up the courage...). So I was excited to find out if beauty-try on apps like ModiFace really work, so I could have a new medium to experiment with makeup and hair trends without actually altering my appearance. I've tested a lot of them: Some apps have inspired new haircuts, and some apps have been a poor use of data.
The ModiFace app, however, works like a charm. It allows you to upload a selfie, then put on virtual makeup from scratch, experiment with celebrity beauty looks and hairstyles, or do a little bit of both. You'll start with foundation and work your way toward contouring, eyeliner, and mascara until you've reached the exact look you're going for. In fact, the app works best if you start without makeup and your hair pulled back IRL, so you can see the full effect of the makeup and new hairstyle without your own peeking through. And the best part: If you fall in love with a color so much you want to buy it, the app clearly states the color and brand of the product!
Instead of showing up to your hairstylist with a picture of the hairstyle you want on someone else, try it on yourself and take that selfie to the salon! It's way easier to commit to a lob if you've already seen how it'll look on your face. Thanks to this app, I'm now considering getting Bella Thorne-inspired bangs. Here's a breakdown of how the app works — it's free on iTunes, so you might as well give it a shot.
1. Start With A #wokeuplikethis Selfie
I downloaded this app in the middle of the day after I had already done my makeup. I could definitely tell the app was adding virtual makeup to my face, but it was difficult to tell what the app could really do.
When I started all over with a fresh face, I was able to really play with the eye shadow colors and various ways I could contour my cheeks or put on my eyeliner.
2. Be Very Particular When the App Detects Your Face
Before you can put on any makeup, the app traces your eyebrows, shape of your eyes and lips. Move the dots around to be sure the app detects the lines of your face accurately. Although I really did not have to move my dots around too much at all, this step could be the difference between nice, Kylie Jenner-lined lips and just looking like a weird clown.
3. Try Out The Different Ways To Apply Basic Makeup
When it comes to my makeup routine, I'm a creature of habit. My day-to-night looks tend to mirror each other. But now that I know I can try a major winged liner and different colors of mascara without looking like a 5-year-old playing in my mom's makeup, I think I'm going to have to put it to the test IRL.
4. Try On Full Celeb Beauty Looks
In case you don't feel like putting virtual makeup just as much as you don't feel like putting on makeup IRL, skip the makeup step and click "LOOKS" on the homepage. You'll see celeb red carpet looks and, with the tap of your finger, you can see their entire hair and makeup on you!
5. Get Major Hair Inspiration
After I applied my virtual makeup, I had to play with my hair. This was actually the step I was most excited about. I've never touched the color of my hair and am terrified to try changing its unique blonde color. But now I majorly want to try pink hair. The app has pictures of celebrities at the bottom of the screen and you can scroll through and try a celeb hairstyle on yourself. I've never had straight bangs, but now I'm not sure I can live another second without them.
Images: ModiFace/Screenshots