ColourPop Metallic Lippies Are Arriving This Week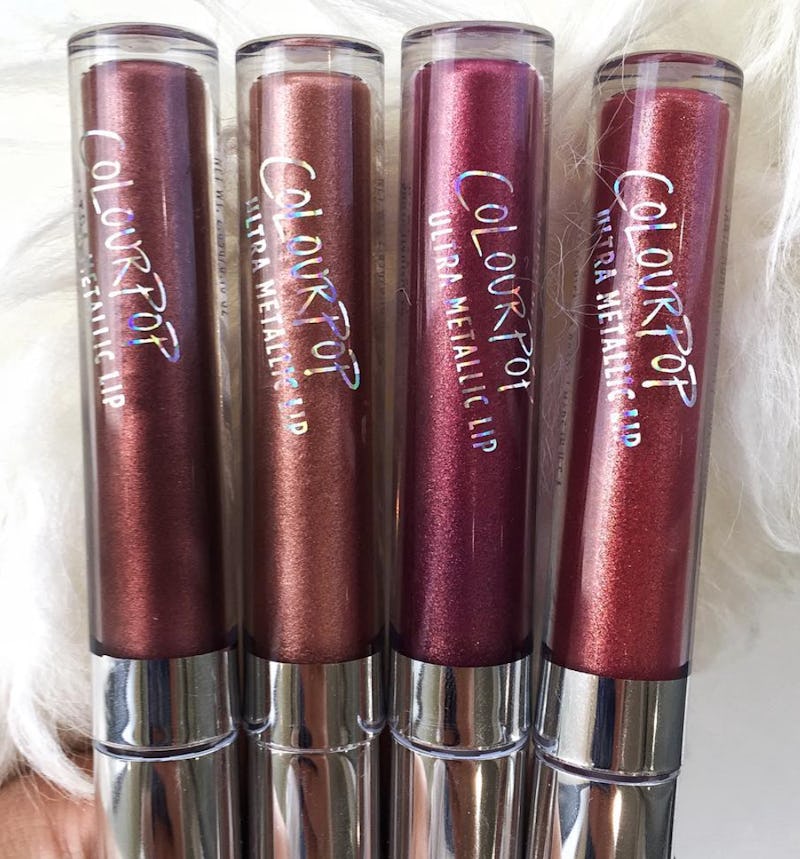 Matte may be the biggest lip trend and formula in 2016 but it's not the only fresh finish! Kylie Jenner added Metal Mattes to her lip product repertoire. Wet n Wild dropped wallet-friendly metallics, too. Now, L.A.-based indie brand ColourPop Cosmetics is releasing the Ultra Metallic Lip lipsticks, which boast quite a metallic sheen. Colourpop is known for its bargain-priced yet totally long-lasting and on-trend Ultra Matte liquid lippies. But now, ColourPop is going metallic. Because why not? When can you buy the ColourPop Metallic Lip?
Well, it turns out that you won't be waiting long. At all. ColourPop will drop the Ultra Metallic Lip on Thursday, June 23. That's tomorrow. Welcome to the ColourPop fam! The brand posted a shot of four shades on its official Instagram and they all look jewel-toned and from the red and berry families. There's Zebra, Man Eater, Kween, and 3-Way. Don't you totally love those playfully naughty shade names? They appear super pigmented and you can paint your pout with rich, ripe color.
Witness the metallic majesty of four of the ColourPop Ultra Metallic lippies. If these look like exactly the type of shades with which you want to paint your pout, prepare to shop tomorrow.
Those are gorge, indeed.
ColourPop offered more critical intel about the Ultra Metallic Lip lipsticks via Snapchat, which I watched and grabbed screenshots from.
The Ultra Metallic Lip is launching with only these four shades at first. As noted by one of the lovelies in the Snap, having a million color options is the ColourPop way. So expect this shade range to expand rather quickly.
Swatch time! The brand also stated in one of the Snaps that the June 23 launch is limited quantity, but there will be restocks. Translation? Do. Not. Delay. Scoop these up as soon as they become available because the limited quantity means they will sell out and you will have to wait for a replenished supply.
The Ulta Metallic lippies are $6 per tube.
More swatches! You can appreciate the depth and the metallic sheen of these babies.
ColourPop did not confirm the exact on-sale time, so be sure to check their socials — mainly Snapchat and Instagram— for the time to shop. But make sure you are ready tomorrow regardless.
Images: ColourPop Co/Snapchat (5); ColourPop Cosmetics/Instagram (1)