The 'Roadies Band' Has Some Tough Acts To Follow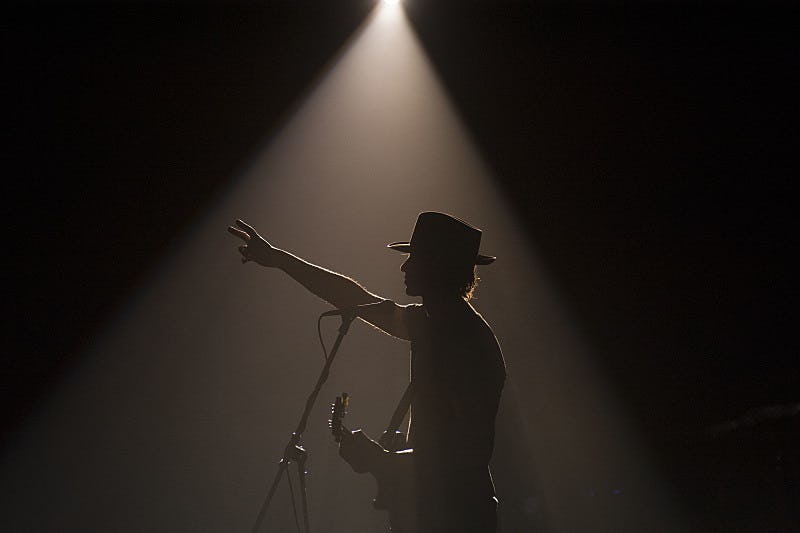 It seems like director Camerone Crowe is trying to recapture some of that Almost Famous magic with his new behind-the-scenes-of-a-rock-band series, Roadies, which premieres on Showtime on June 26. This time, instead of "band aids," the series follows the backstage crew of an arena-level band. But is Roadies ' Staton-House Band a real band?
They have a legit-looking Twitter account announcing their 2016 tour and a website that lists tons of albums, but, no, the band is fictional. That doesn't mean that there isn't a germ of truth in there. Crowe told The Hollywood Reporter that some of the incidents in the show were based on real life. "A story in the pilot about a pianist who flips out when there are fingerprints on his piano is based on Freddie Mercury," The Hollywood Reporter claimed, "while co-star Peter Cambor's guitar tech is based on Elvis Costello." The article also notes that real musicians will make cameos on the show as exaggerated versions of themselves.
Fictional bands are more fun, anyway, and some of them have real musical muscle behind them, too. Here are some other memorable fake(-ish) bands that paved the way for Roadies' Staton-House Band.
Stillwater
It would be remiss to mention Cameron Crowe without giving a nod to his previous fictional band, the star of Almost Famous. Although "Fever Dog," Stillwater's biggest hit, is supposedly written by Crowe and his then-wife, Heart's Nancy Wilson, my favorite Stillwater performance is the rendition of Elton John's "Tiny Dancer" that they did in their tour bus.
Josie and the Pussycats
I legitimately listen to the songs from this soundtrack. It makes sense that they were created and performed by a pop-rock superteam of Matthew Sweet, Fountains Of Wayne's Adam Schlesinger, Counting Crows' Adam Duritz, The Go-Gos' Jane Wiedlin, That Dog's Anna Waronker and producer Babyface. It's genetically engineered for maximum enjoyment. (The Du Jour songs, on the other hand...)
The Weird Sisters
Britpop fans ignore the drama of Harry Potter's Hermione, Viktor Krum, et. al. to focus on the performers of "Do the Hippogriff," aka Pulp's Jarvis Cocker and Radiohead's Jonny Greenwood and Philip Selway.
Drive Shaft
Okay, I'll admit that Drive Shaft's only hit, "You All Everybody," is more of an earworm than a good song. According to DVD commentaries, the title of the song is an inside joke between Lost producers, who heard a flustered audience member use the phrase during an episode of The Phil Donahue Show.
Downtown Sasquatch
Okay, this may not even be the best fictional band in the Degrassi universe. (Would that be the Zits? Whisper Hug? SoundSpeed?) But, look! It's Drake on guitar.
The Beets
With the whole '90s revival we have going on, any chance that Doug's The Beets will reunite? Chances are, they won't need any roadies.
Image: Neal Preston/Showtime