Here's Exactly What's In Starbucks Purple Drink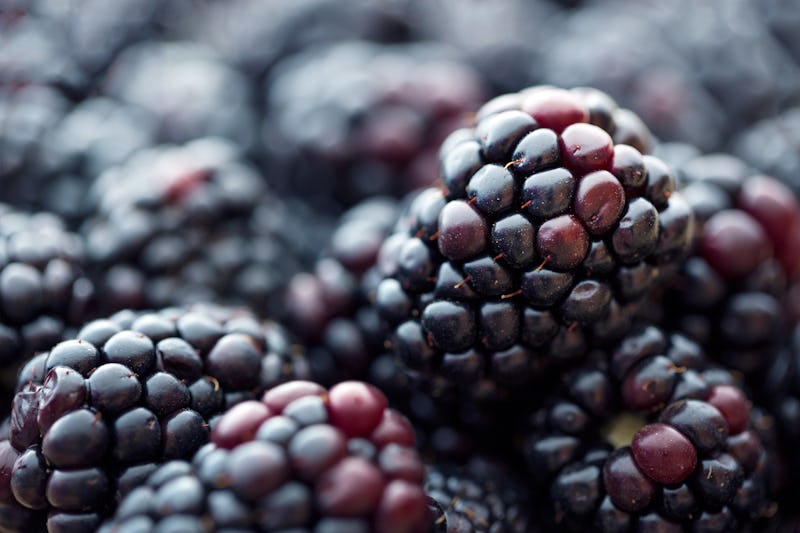 The Starbucks secret menu is legendary for a reason — it's full of deliciousness and mystery, and the internet's latest obsession, Purple Drink, is no exception. But what exactly is in the Starbucks Purple Drink that's been showing up on Instagram lately? And should you order it? The answer to the second question is probably "yes," although hey, you do you. Let's see if we can't answer the first one a little more concretely, though.
Although another Starbucks secret menu item, the Pink Drink, has been getting most of the attention lately, its cleverly named cousin, the Purple Drink, has been gaining in popularity. But like all secret menu items (secret in that they're not official Starbucks drinks), it remains something of a mystery. It's not even on the Starbucks Secret Menu websites, which makes it even hard to figure out if you actually want to order one.
Luckily, though, knowing what's in the beverage might go some way towards helping you make the decision to order or not. According to reports, the ingredients of a Purple Drink are: Passion iced iea (which Bustle's Julie Sprankles probably rightly suspects is officially Teavana Shaken Iced Passion Tango Tea), soy milk, vanilla syrup, and blackberries. There are a couple of substitutions that can be made, though; a Very Berry Hibiscus Refresher might get the job done in lieu of Iced Passion Tango Tea, and you can use coconut milk if soy milk isn't your thing, asDanielle Tullo at Cosmopolitan recommends. However, Tullo also warns that her attempts to order a Purple Drink produced something that was more dark pink than actual purple, and suggests that the perfect purple color you see on social media might be the result of filters, not the actual color of the drink.
Then again, maybe the color is just a little unpredictable. Based on posts on social media, some of the photos of the #PurpleDrink do seem to be more on the pink side:
But others are distinctly more purple, and many don't look filtered or altered to me:
Still, it would make sense if the color is a little variable — no matter how hard they try, not even the most skilled barista can make the same drink exactly the same 100 percent of the time.
If you're truly disappointed with the color results you get, my guess would be that the secret to getting it extra purple-y would be more blackberries — but you might want to consult with your barista about it. But given what's in it, it probably tastes delicious either way.
Image: Fotolia