Sonja Is Going Sober On 'RHONY'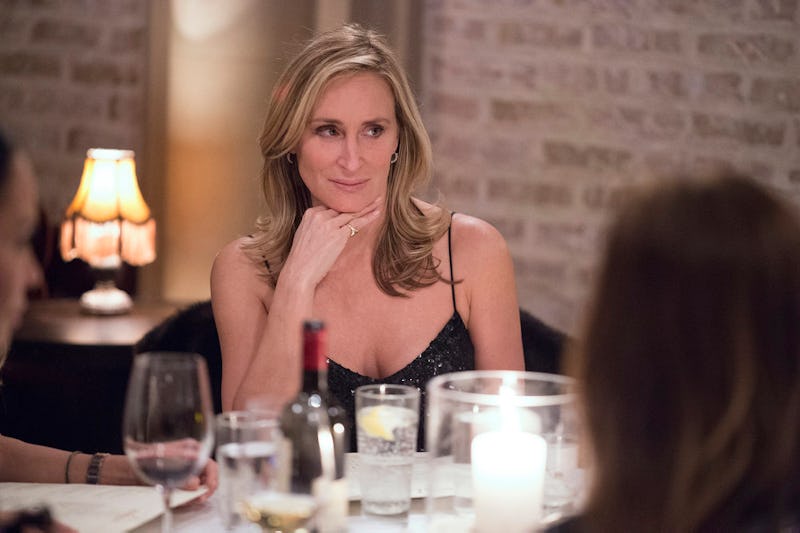 Sonja Morgan has really been through the wringer on Real Housewives Of New York. That being said, she's like a phoenix — she always gets back up. The latest calamity in the long line of Real Housewives Of New York Sonja moments is her whole Tipsy Girl Prosecco line. Basically, Sonja used a similar name to Bethenny's Skinnygirl line to sort of kind of align herself with the brand, and Bethenny, who was right to be mad about this, was really angry about it. That's cheating! Realizing that Sonja has really, really bad ideas and acts like an imbecile when she drinks, Sonja has quit drinking on Real Housewives Of New York , and it's a long time coming.
Trust me — this is for the better. Whether Sonja's intentions for Tipsy Girl were true or not, she messed up, and now she knows that her drinking is part of the problem why her RHONY friends are distancing themselves from her. While Tipsy Girl wasn't the reason Sonja drank it was really the straw that broke the camel's back for her friends. Ramona especially commented on how wonderful it was that Sonja was sober — Sonja's eyes were clear, her skin was glowing, and her awareness was strong. It was like having the old Sonja back again! Sonja doesn't need booze to be fun — she's like ten pounds of fun in a five-pound bag.
Will this sober Sally behavior change things for Sonja? I sure hope so. She gets really out of control when she gets drunk, and the path to healing is self-actualization, isn't it? Knowing you have a problem is the first step to fixing that problem. Sonja is a lovely person otherwise, so I'm fairly certain that if she gets herself together, the other women on the Real Housewives Of New York will welcome her back with open arms.
Images: Dave Kotinsky/Bravo; Giphy