The ColourPop Ultra Metallic Lippies Arrive Today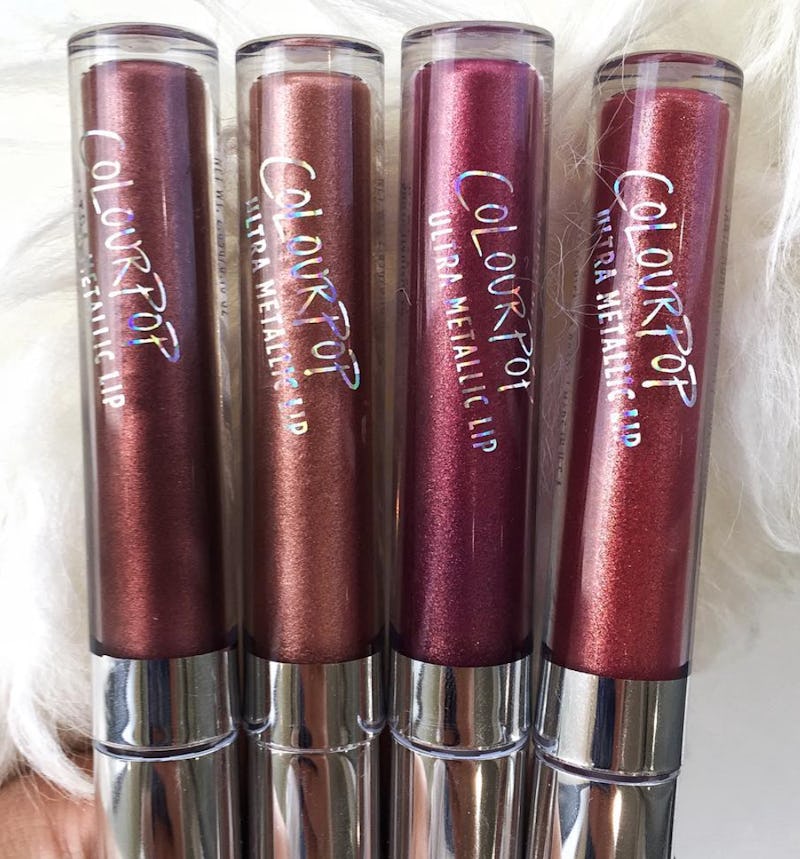 Matte vs. metallic — which lip trend do you prefer? Well, you actually don't need to make the sometimes difficult choice between these two lipstick textures and finishes, since both are available and affordable, thanks to ColourPop Cosmetics. L.A.-based indie brand ColourPop will drop four Ultra Metallic Lip shades on Thursday, June 23. The new lippies, which are red and berry shades, are launching in limited quantity... to start. But they will be restocked, with more colors eventually being added to the range, as confirmed by the brand's Snapchat videos announcing these high sheen lipsticks. You need to hop onto the ColourPop site to shop the Ultra Metallic Lip lipsticks today... but at what time?
According to an Instagram post on the official ColourPop page, the Ultra Metallic Lips are going on sale at 6 p.m. ET/3 p.m. PT. At just $6 a tube, these lippies are crazy affordable and so on-trend, like all of ColourPop's offerings. ColourPop items are current and the color payoff is always primo without breaking the bank. That's makeup nirvana right there.
In case you haven't taken a closer look at the Ultra Metallic Lip offerings, let's remedy that by taking a peek at the swatches that were posted along with the on-sale time.
You cannot beat that rich sheen and that saturated color, which pop against all skin tones, as indicated by this swatch shot.
You can totally swipe these babies on your pout and go. If you are feeling lazy on a particularly hot summer day, all you need to do is apply a few coats of Ultra Metallic Lip and be on your way while looking totally glam. You can build color with multiple swipes and leave the rest of your face bare, since metallic lipstick can be super transformative and light up your visage.
These swatches are from the ColourPop Snapchat reveal.
At under $10 a pop, you can totally stock up on the entire collection so far.
Good luck shopping later this afternoon. Since there is a limited batch going on sale at launch, you should get online about 10 minutes prior to the on-sale time, open a browser to the ColourPop site, close other distracting tabs, and have your credit card close by. Those are my "successful shopping" tips.
Images: ColourPop Cosmetics/Instagram (2); ColourPop Snapchat Screenshots (3)