7 Ways To Moisturize Your Skin While You Sleep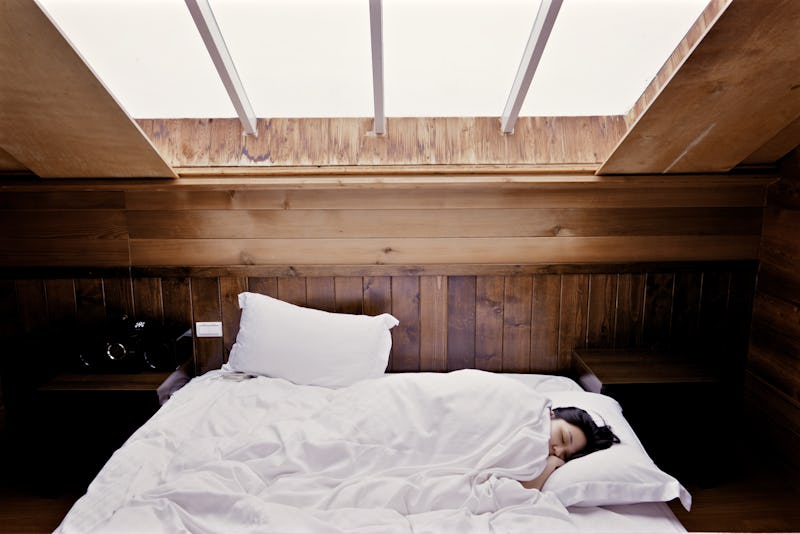 In order to keep your skin healthy and slow signs of aging, you want to do everything you can to keep your skin moisturized and hydrated. Sure, putting on your daily moisturizer is great, but there is always more you can do. There are plenty of ways to get moisturized skin overnight, so that you wake up in the morning with fresh, glowing skin.
Everyone always thinks of winter as the time to go hard with the moisturizer, but it's just as important in the summer. Spending all the time in the sun can dry your skin out — and bonus, if you live somewhere that's really dry, that can also wreck havoc on your skin. While putting on moisturizer is great, you can't go too heavy in the morning if you're applying makeup over it, so nighttime is a great time to really focus on moisturizing. You can let it do it's thing overnight while you sleep, so that your skin is hydrated when you wake up and head out into the sun again. And you don't have to worry about being conservative with products/oils etc, because you aren't applying any makeup over it or getting dressed and going out.
If you need some added moisture this summer, try these seven ways to get moisturized skin overnight.
Nutiva Organic Virgin Coconut, $8, Amazon
You probably already know the amazing effects of coconut oil, but it can be messy and make your skin too greasy when you use it in the morning. Instead, apply coconut oil all over your body before you go to bed.
Jouer Conditioning Treatment, $16, Nordstrom
Lipsticks can definitely dry out your lips, and when you're eating/drinking all day, it's hard to keep a treatment on there, so apply an intensive lip treatment while you sleep to really let it do it's thing.
3. Apply Foot Cream & Cover With Socks
Earth Therapeutics Aloe Moisture Socks, $12, Ulta
You may not think of your feet as needing moisture, but they get their share of wear and tear, so apply a thick moisturizer, then sleep with moisture socks on to make them soft and moisturized.
Pure Enrichment Humidifier, $50, Amazon
This is really important if you live somewhere that's dry. Sleep with a humidifier to bring some added moisture into the room — it's not only good for your skin, it's also better for your hair and your sinuses.
Kiehl's Daily Reviving Oil, $46, Nordstrom
Face oil is amazing for keeping your skin hydrated, but if you've ever tried it in the morning, you know it's your worst enemy. Makeup over oil = bad news, plus you just feel greasy, which isn't fun in the heat. Instead, apply a face oil at night and you'll wake up with fresh, dewy skin.
Kiehl's Overnight Hydrating Masque, $35, Nordstrom
If oil just isn't your thing, or you want to switch it up, apply a facial mask before you go to bed so that while you sleep, it can penetrate into your skin.
If your hands are feeling extra dry, put on a hand cream or vaseline before bed, then sleep with cotton gloves to prevent it getting everywhere.
Images: Shop Links; Amazon; Nordstrom; Target