'Mr. Robot' Season 2 Just Got Bigger & Better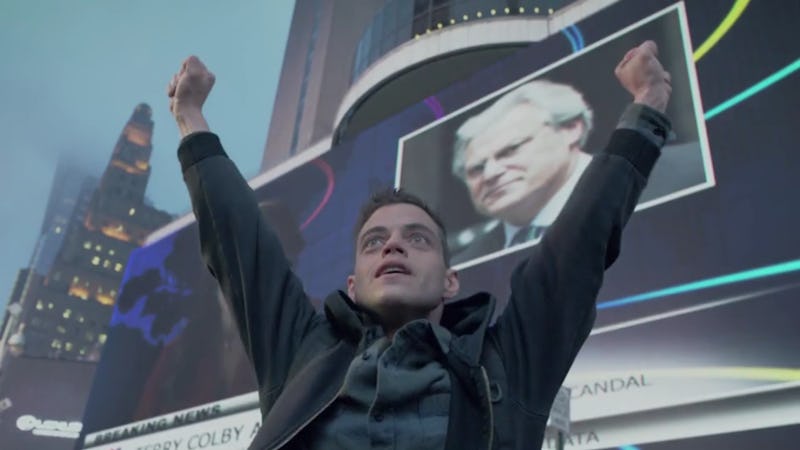 In its heralded freshman season, USA's hacker drama Mr. Robot was awarded top honors by the Golden Globes, the Critics Choice Awards, and the Peabodys, among many others; it landed on many a year-end Best Of list; and it pulled in record ratings for the network. It's no surprise, then, that USA is giving its sophomore series a vote of confidence and upping its episode order just a few weeks before its premiere. That's right: Mr. Robot Season 2 will have 12 episodes, as reported by TVLine — up two full hours from the show's 10-episode first season.
That "Super Size Me" order from the network means that the season will start with an epic two-hour premiere "presented with limited commercial breaks." It's interesting to see Mr. Robot expanding so suddenly, since creator Sam Esmail has always claimed to have a concrete plan for his series. In an interview with Forbes in June 2015, he revealed that his original vision for Mr. Robot was as a feature film.
"I didn't really change anything when I turned it into a TV show," he told the publication. "When I saw it as a movie I knew where I was going. I knew the ending. It was either I had just gotten too longwinded or the story just asked for more characters or more storylines to develop. When I got to Page 90 and I was still halfway through Act 1 that's when I decided, 'OK. This can be a television show.'"
Given the fact that Esmail said he "didn't really change anything" when he adapted his idea to the small screen last year, why the abrupt change in plans this year? As the show has gotten more attention, has he come up with ways to prolong Mr. Robot's longevity for USA? Or is this merely another case of organically uncovering more characters and storylines than anticipated? Hopefully, it's the latter, since the surety of Esmail's vision is a large part of what has made Mr. Robot so successful, and it would be a shame to see him start spinning his wheels in an effort to appease network brass.
Of course, either way it's hard to complain about getting even more of the best new show on TV… and the good news isn't even over yet. The announcement of Mr. Robot's expanded episode order came hand-in-hand with the news that USA would be awarding the series with the hottest new trend in television dramas: a live after show. Called Hacking Robot, the hour-long program will debut after the two-hour Season 2 premiere and presumably continue for the rest of the season.
The phenomenon that started with The Walking Dead's companion series Talking Dead has spread like wildfire through the industry: most of TWD's AMC brethren have after shows (Talking Bad, Talking Saul, Talking Preacher); Teen Wolf has one (Wolf Watch); and this year, both Game Of Thrones and Orphan Black added ones (titled creatively After The Thrones and After The Black).
Some of these shows are undoubtedly more deserving of post-show dissections than others. Six years in, and TWD has gotten a bit repetitive, the series consisting of some variation on: survivors walk around, survivors find shelter, survivors try to make the best of it, survivors meet evil band of survivors, survivors lose shelter, suvivors walk around some more. How much is there left to discuss other than who died (or fake-died) that week? After The Thrones is a bit more understandable, given that show's myriad storylines with literally dozens of characters spread across countless locations on two different continents.
Fortunately, Mr. Robot feels like the kind of show that might actually benefit from some armchair analysis. Not only is every episode packed with technical jargon that can often be difficult for the layperson to sift through, but, as the series has gone on, it has gotten increasingly psychological. Given the unreliability of its narrator, it's almost impossible to tell what's really happening and what's only inside Elliot's head. I'm sure Hacking Robot will feature plenty of heated debates about the nature of the show's reality… or lack thereof.
Images: USA Network; Giphy