There's More Than Just One Kailijumei Lipstick Hue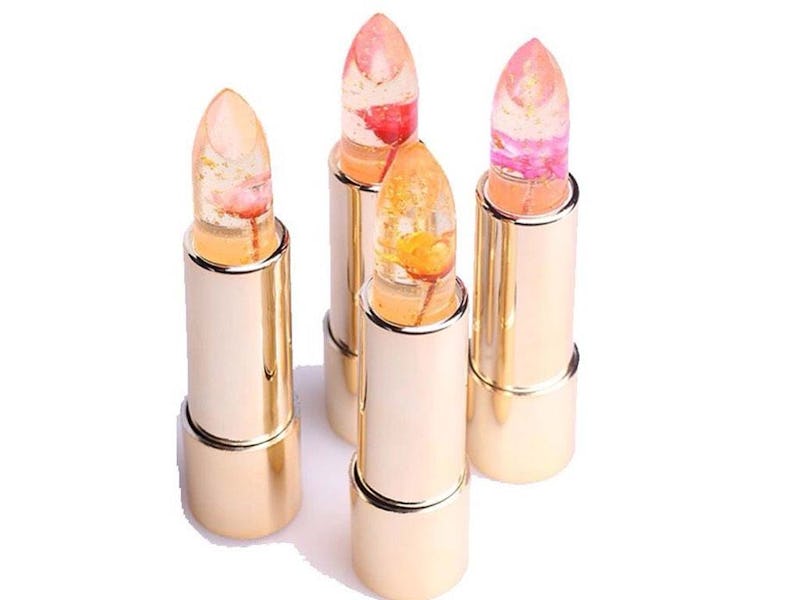 By now, you've probably seen the latest internet beauty obsession on one of your various social media feeds. Kailijumei's gorgeous jelly lipsticks have actual dried flowers in them, and are basically the prettiest things I've ever seen. So what are the different Kailijumei lipstick colors? In the tube, the lipstick appears to be clear so that you can see the flowers inside, but change color once they're applied to your lips.
The science behind that process is actually kind of interesting. When a dye in the lipstick called "Red 27" hits your skin and comes into contact with moisture, the change in pH causes the dye to turn light pink. The dye itself is colorless, which is why the lipstick looks clear in the tube. The amount of Red 27 dye in a product, as well as the other dyes that are included, determine what the final shade will look like on your skin. We've seen this before in products like Lipstick Queen's Frog Prince green-to-raspberry color changing lipstick and MAC's color changing Tendertalk Lipbalm. Pretty cool, huh?
Kailijumei's lipsticks come in three different colors, as well as a clear balm. They all go on glossy pink, but from what we can gather from the company's Instagram account, there is a slight difference between the shades. The names of the different colors refer to the flowers inside of the tube, not to the lipsticks themselves. Since a lot of people are excited about these chic little tubes strictly for Instagram and vanity decorating purposes and aren't planning on actually wearing them, it seems fine that they're all basically the same.
Nevertheless, they all have cute little names so that you know what type of flower you'll be getting when you order — there are three different options.
First up is Flame Red which has a bright red flower inside that looks a bit like a poppy.
Kailijumei Moisurizer Lipsticks, Flame Red, $16, Amazon
Next is Barbie Doll Powder. The flower inside is the exact same color of the Barbie shoes we were constantly losing in our younger years.
Kailijumei Moisurizer Lipsticks Barbie Doll Powder, $16, Amazon
Finally, there's Minute Maid, which has an orange flower that's pretty similar to actual Minute Maid orange juice.
Kailijumei Moisurizer Lipsticks Minute Maid, $16, Amazon
Images: Kailijumei/Instagram; Courtesy of Brands