A Too Faced Sweet Peach Bronzer Might Be Happening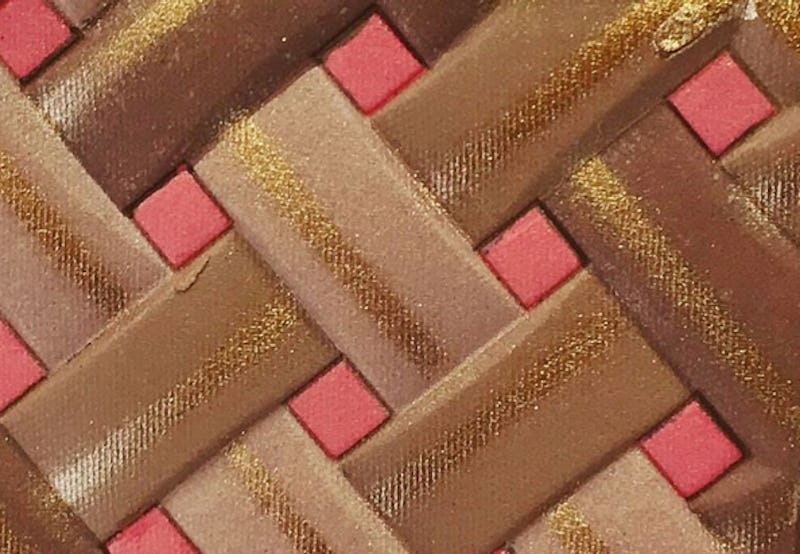 Just days after surprising fans by posting close-up pictures of new products, Jerrod Blandino is at it again. This time he took to Snapchat to post yet another sneak peek, but this time it was of the packaging. From the adorable little peach on the bright pink packaging, it's possible that a Too Faced sweet peach bronzer might be in the works. That's pretty exciting news, people!
Brace yourself, because this could be the sweetest thing since the Sweet Peach Eyeshadow Palette. Three close-up pictures of what looks like a blush and bronzer collection was posted to Blandino's Instagram and now the hints are getting even better. As of now, all fans had to go on was a lattice patterned picture and a peach and heart emoji. Now, it looks like all the hints are starting to align.
The Trendmood post shows a bright pink little package with a small mirror and a peach on the side. Remind you of anything? If you guessed the two emojis used in the bronzer post, then you'd be right. Nothing is definite just yet, but it would make a whole lot of sense. After all, the Sweet Peach Palette was instantly a best-selling product, so it would only make sense that they expand the line.
That's not the only option for the sneak preview could be though. There's always the possibility of a mini Sweet Peach Palette too. Although with the new images out, I'm willing to bet it's not the later. Just look at how gorgeous the lattice work design would look inside the peachy packaging.
Peach cobbler, anyone? That bronze with the pink and shimmery bronze is absolutely stunning. This could easily fit into the peach-smelling theme of the collection. That isn't the only product that would look pretty with the new image either.
Blandino also sneaked a few textured blush shades on his Instagram as well. The rosy product doesn't completely fit the new scented theme, but the coloring does match perfectly.
The peachy colors come back with the next close-up too. The caption under this one is "yum." What else is yummy? Peaches! I might be going out on a limb here, but all the clues seem to connect. I can't wait to see the next clue.
Image: JerrodBlandino/Instagram