Another Reason To Love Kailijumei's Lipsticks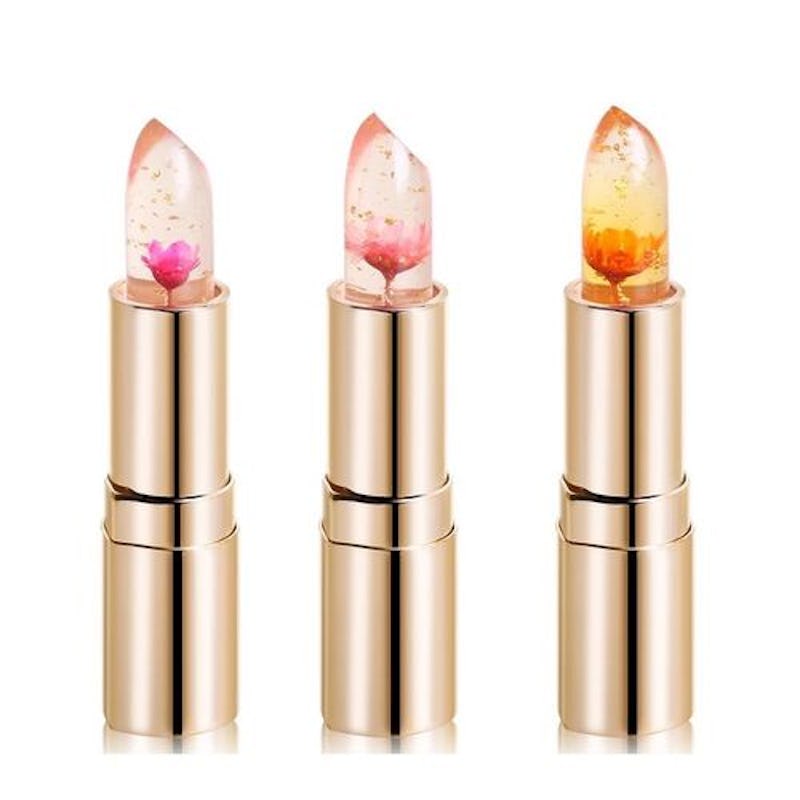 In case you missed it, China-based company Kailijumei created a lipstick with flowers in it. Oh, and it's color changing too, so basically it doesn't get much cooler than this. The only thing that would make the trendy little lip products better is if they were approved for animal lovers everywhere. Are the Kailijumei Flower Lipsticks vegan, you ask? In short, no. That doesn't mean that people should completely rule them out though.
If you haven't already seen the Kailijumei flower lipsticks, get ready to flip out. Each of the three pink lipsticks — Hot Pink, Barbie Doll Powder, and Minutemaid — is made with gold flowers and gold flakes. It might just be the prettiest item in your makeup bag has ever seen. Not only are the $30-a-piece flowery products absolutely gorgeous, but they're pretty good for animal lovers too.
Unfortunately, the jelly lipsticks aren't completely vegan. According to Kailijumei's Instagram post, all of the lip products contain beeswax, which is an animal bi-product. There is good news for animal lovers though. In addition to not using gelatin, the company also doesn't test on animals. Basically, if you can get past a little bee action, these lipsticks are the perfect product for you.
Kailijumei Lipsticks, $30 each, kaulijumei.tictail.com
"We don't do animal testing," the Kailijumei Instagram caption reads. "If you do research you will know that many Chinese brands do it but these lipsticks are sold out of China so none is required. These aren't vegan as they contain beeswax but they don't contain gelatins."
As far as the rest of the ingredients go, the flower lipstick is packed with natural finds. Along with three different types of actual flowers, it's got cocoa butter, botanical extracts, stearic acid, beeswax, candelilla resin, olive oil, citric acid, grape seed oil, lavender oil in it.
The demand for these lipsticks are so high that they even made a limited edition version of them. From the looks of their Instagram posts, they're doing their best to restock them as soon as they can. I'd suggest getting over there and scooping them up while you still can though.
Image: kaulijumei.tictail.com (1)