You Have To See Makeup Geek's New Highlighters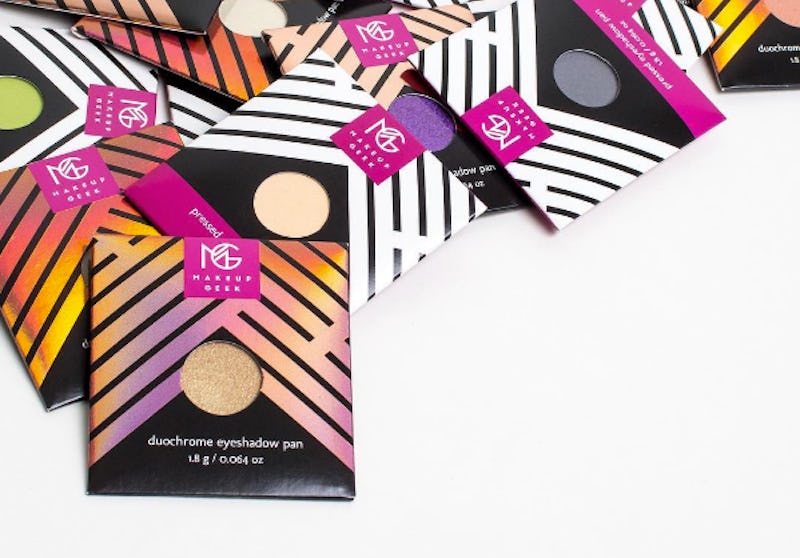 Hold onto your makeup brushes, people, because one of social media's favorite online brands is expanding. After proving that they're one top of top eyeshadow and blush companies on the market, Makeup Geek Cosmetics is creating highlighters and lip glosses as well. Sneak peeks of the highlighters have already been released, and you have to see all six of the stunning new shades.
It's officially the year for online brands. Morphe brushes came out with lip products and concealers, ColourPop Cosmetics made sculpting sticks and three new lip formulas, and now Makeup Geek is joining the party. CEO of the makeup company Marlena Stell took to her Snapchat to give her fans a preview of a few new products — highlighters and some sort of liquid lipstick. That some pretty exciting news, if you ask me!
Stell shared a photo of six new highlight shades ranging from pearly pink to a dark bronze. This might just be a first look, but it seems like there really is a gorgeous hue for a wide variety of skin tones. No names, packaging, or any other information has been released yet, but this is one heck of a sneak peek. Don't just take my word for it though, see it for yourself.
They definitely weren't messing around when they created these colors. I'm absolutely loving the shine and can't wait to see how they look in official packaging. Honestly, it doesn't surprise me one bit that Stell would think up some awesome highlighters. After all, they do have some pretty amazing and universally flattering eyeshadow shades.
As you can probably tell from the Snapchat sneak peek, highlighters aren't the only thing that Stell has up her sleeve. Some form of liquid lipwear is also in the works. There's no exact date on when these new products will be available, but the #comingsoon stamped across the picture is definitely good news.
The company's latest makeup venture was blushes, and boy did they do a great job. Just like their eyeshadows, they took a variety of skin colors into consideration with the launch. I'm willing to bet they'll do the same for their two new products as well. I can't wait to see more!
Images: makeupgeekcosmetics/Instagram (1)