Samira Wiley On That Final 'OITNB' Poussey Scene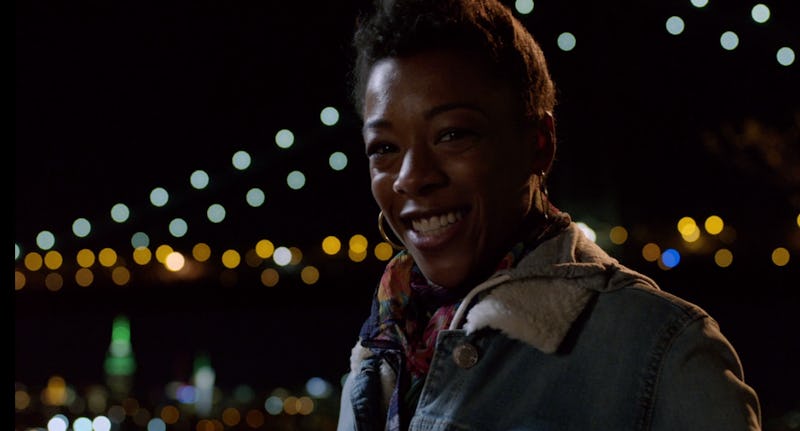 Orange is the New Black Season 4 doesn't end with a bang or a whimper [spoilers ahead]— it ends with a smile from the late Poussey Washington (played by Samira Wiley) in a flashback in Brooklyn as she looks directly into the camera. It's the first time the Netflix series has done something like this and I asked Samira Wiley herself about why Poussey breaks the fourth wall in the Orange is the New Black Season 4 finale. The powerful shot has been interpreted many ways — is it a message from Poussey from heaven? — but Wiley tells Bustle that the move was a last-minute decision by Orange is the New Black showrunner Jenji Kohan. "That's really the power of Jenji," Wiley says. "That wasn't anything but a split decision right in the moment."
After Poussey's tragic death in Episode 12, viewers get to see the character in action one last time in a flashback, which shows Poussey during fun night in New York City in Episode 13. The now-iconic shot is Poussey's final scene, which follows a cliffhanger scene involving Litchfield's present-day uprising. She stares out at Manhattan from Brooklyn's waterfront and she turns and smiles at the camera. In the original script, Wiley says she was supposed to just stare out into the distance, but, while filming, Kohan wanted to get a different kind of shot.
"We were just getting ready to be done with the scene and someone came in, saying 'Jenji wants you to look into the camera.' And I didn't believe them," she tells Bustle with a laugh. "I was like, 'What?' I was actually in the moment really confused and I didn't understand why I was doing it. But I felt like I need to trust Jenji and trust that this is her show. When I did it, I was thinking that they'll obviously not use it, but of course they did."
Wiley says she hasn't watched the her final episodes from Season 4 yet, but she has heard from many people just how much the shot is resonating with fans. "I can imagine you fall in love with a character for that many seasons, see their demise and they look right into you," she says. It's true, and the scene conjures up a cross between from having chills to having all the feels.
Even though the shot sounds like it was a bit serendipitous, I think it can still have a number of deep interpretations. First of all, the scene doesn't have any of the other NYC flashback characters in it, so who says it's still in flashback-time? It's just Poussey, the Big Apple, and the viewer. Perhaps that super fun New York City night became — or actually was — Poussey's heaven and she's smiling down on everyone. Maybe it's her way of signaling her approval of Litchfield's inmate revolt. It could be her way of saying, "Don't worry, I'm OK."
The best thing about the shot isn't the meaning, though — what makes it beautiful is that it can be interpreted so many different ways. And, it's a great way to remember a beloved character from the show.
Images: Netflix, JoJo Whilden/Netflix