Dog Dad Wells Is Keeping Busy Post-'Bachelorette'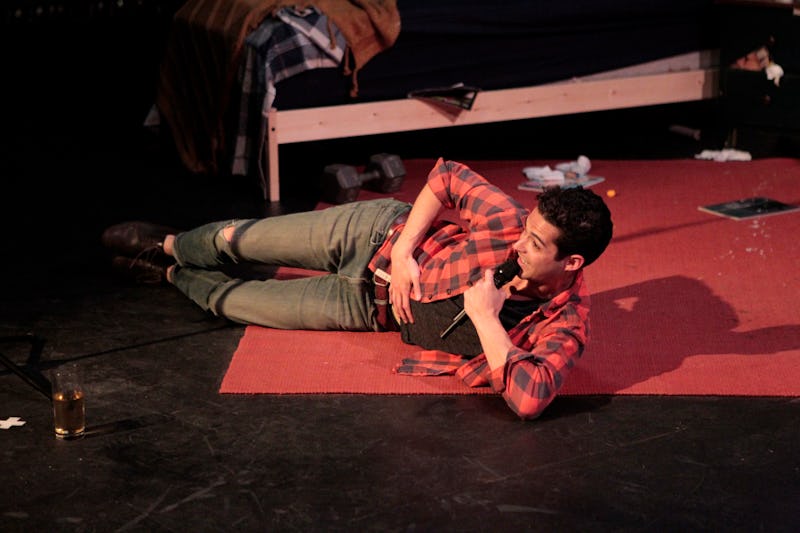 The field of eligible young men is dwindling on The Bachelorette, but for now, radio DJ Wells Adams is still in the game. Wells is playing up the sweet and sensitive thing to charm JoJo Fletcher and the audience, and so far it's working. (Remember how his adorable fail during the firefighter challenge ended with a solo date?) Basically, he's the anti-Chad. But the competition is getting more intense and Wells and his a capella group past may not stick it out until the end. As I'm sure you know, this Bachelorette season is already in the can. So, whether Wells will be eliminated in this week's episode or hangs on until the final rose ceremony, that ship has sailed. What has Wells been up to since filming The Bachelorette?
Before Wells got to The Bachelorette mansion, he was keeping busy bringing rock and alternative radio to the people of Nashville. His Twitter bio still has his occupation listed as the Morning Show host on ALT 983 and the Afternoon Drive host on 1059 The Rock. And, props to Wells for keeping the show's secrets even when he's in front of a microphone for hours every day. Here's what else the Bachelorette cutie has been doing since the final rose.
Keeping His Instagram Game Strong
Everyone who truly gets The Bachelorette loves the show because it's inherently ridiculous. I really appreciate that Wells has a sense of humor not just about the concept but about himself as a contestant. It's very endearing and real. (Like I said, the anti-Chad.) Besides sharing memes, Wells uses his Instagram to share amazing throwback pics of his childhood, memories with his Bachelorette bros, and soooo many sweet puppy shots.
Being A Volunteer Dog Walker
On his official Bachelorette bio page, Wells says that the one thing he wouldn't do for love would be to get a cat. It's abundantly clear from his social media that Wells is a dog person through and through. He works with the Nashville Humane Association to find homes for adoptable mutts. He also has his own full-time best friend, Carl the Bloodhound, who's also famous on Instagram.
Being The Voice Of Nashville
Like I said above, Wells returned to the life of a radio personality as soon as his season ended. Not only does he still run his morning and afternoon shows, Wells also writes blog posts for 1059's I Heart Radio page on topics like "How To Stalk On Facebook Without Being A Creep."
Romancing Another Alum, Maybe
This is possibly a spoiler and possibly just a platonic meet-up. But a fan submitted a photo to Reality Steve of Wells and Bachelor Season 19 contestant Carly Waddell enjoying a night out together in Nashville, and they look pretty cozy. Is JoJo's loss Carly's gain?
Wells' social media proves that life does go on after The Bachelorette, no matter how the season ends.
Image: Rick Rowell/ABC