SNL returned from hiatus last night with first-time host Jim Parsons and musical guest Beck! The episode also marked the debut of head writer Colin Jost as the new co-anchor of Weekend Update. Although Parsons got his start on stage and continues to receive positive notices for his theatrical work, he's most well known for playing Sheldon Cooper, the lovably nerdy physicist from CBS's wildly popular sitcom, The Big Bang Theory. Critics and audiences alike love Parsons as Sheldon (he's won three Emmy Awards for the role), but after six years and seven seasons, it's getting harder and harder to separate the actor from the character. Would hosting SNL give Parsons the opportunity to play against type and really show off his dynamic range? Or would the show's writers doom him to play a slew of Sheldon-like geeks sketch after sketch?
Well, the writers gave Parsons plenty of opportunities to branch out, with characters ranging from Peter Pan to an Old West cowboy, but he didn't always rise to the occasion. The fact of the matter is: Parsons is kind of a lot like Sheldon Cooper. During his opening monologue, Parsons tried to convince us otherwise (through song, naturally), but I didn't buy it. That's right — don't confuse Parsons with Sheldon. After all, Parsons isn't obsessed with Stars Wars and doesn't speak Klingon like Sheldon does! Parsons then brought up a series of actors who were also supposedly hard to separate from their defining characters, like…Jaleel White and Steve Urkel?? Um, no one on Earth has ever confused White with Steve Urkel, because White isn't a hunched over, suspender-wearing super-nerd with oversized glasses and a ridiculously nasal voice. In real life, he's a totally different man! (Now if you confused him with Stefan Urquelle, I'd understand.) Face it: Parsons looks, sounds, and acts a lot like Sheldon. What we think of as Sheldon's vocal ticks and distinctively jerky mannerisms are really Parsons's vocal ticks and distinctively jerky mannerisms. Unfortunately, I think he's going to have a hard time shaking the comparison throughout his career. That one major sticking point aside, Parsons seemed genuinely excited to be hosting the show and got some good laughs throughout the night.
No stranger to the SNL stage, indie rocker Beck made his seventh appearance as musical guest last night, fresh off the release of his 12th studio album, Morning Phase. Like a true veteran, Beck knocked both of his performances out of the park (though I believe I saw Taylor Swift wearing the same outfit on her Red tour). Beck's performance of lead single "Blue Moon" was calm and soothing, while album cut "Wave" was mysterious and atmospheric. As someone who could only name one Beck song before last night ("Where It's At," of course), the performances made a powerful impression — I want to hear his new album! Definitely one of the best musical guests of the season so far.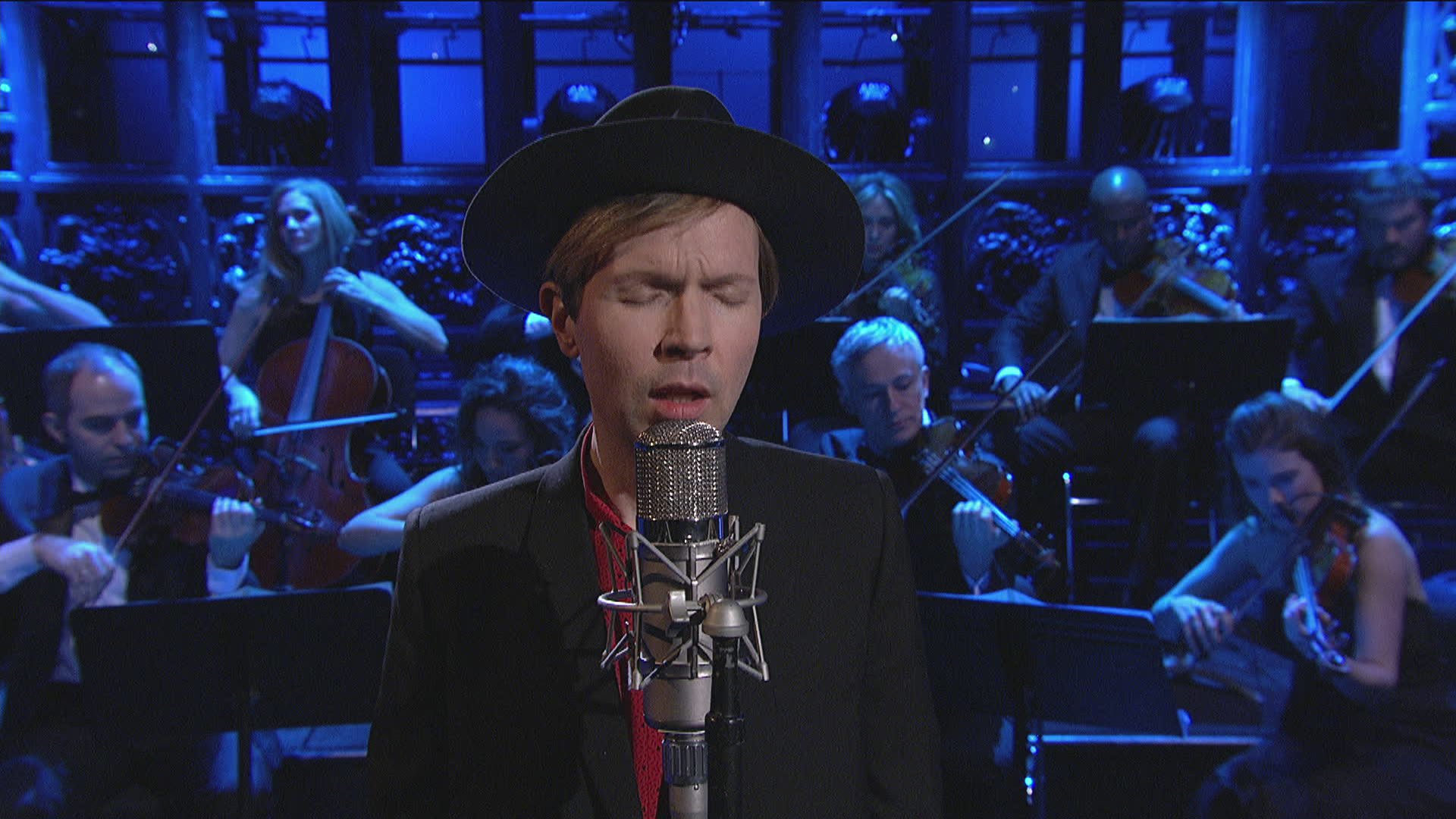 Check out my rundown of last night's Must Watch and Must Miss sketches below!
Must Watch
Weekend Update
It's Jost's first night behind the Weekend Update desk, and he nails it! Co-anchor Cecily Strong is in fine form as well (she has an extended joke about two dogs that accidentally go for a joy ride in their owner's car that is breathtaking), but it's just so adorable watching Jost read a joke, wait for it to land, and then when it does, give this tiny little smile like, "Yeah, I did it!" Yes, I'm going to miss Seth Meyers, but I think Update's future is bright. Jay Pharoah and Kenan Thompson make hilarious guest appearances as Shaquille O'Neal and Charles Barkley (at one point, Pharoah's cross-eyed antics as O'Neal almost cause Thompson to break), while Taran Killam caps things off as 1860s newspaper critic Jebidiah Atkinson, who gives us his thoughts on this year's Best Picture nominees (spoiler: he thinks they all suck). Personally, I think Killam's Jebidiah schtick borrows a little too heavily from Kristen Wiig's Aunt Linda, but I digress. This is the best sketch of the night by far.
Peter Pan
Okay, I admit it: I'm an Aidy Bryant stan. She took a little while to grow on me, but she's really come into her own this season. In this sketch, Parsons plays Peter Pan, returning to London to take the Darling family back to Neverland. He would've brought Tinkerbell along with him, but she wasn't feeling well, so he has the next best thing: Tonkerbell. Tonkerball (Bryant) is Tinkerbell's half-sister (they have the same mom, but Tonkerbell's dad is a sly housefly who somehow tricked their mom into doing the deed). Tonkerbell's catch phrase is, "You just got 'tonked!" Her "happy thoughts" are gorditas, a strong masseuse, and very loose underwear. Oh, and she's dating Gus Gus, the rotund mouse in a crop top from Disney's Cinderella (a terrifying Bobby Moynihan). She is amazing.
Bird Bible
No, you are not ready for this insane fake commercial for The Bird Bible — an illustrated book that, in an attempt to make the Bible more interesting for kids, reimagines key biblical stories (The Last Supper, Moses parting the Red Sea, etc.) with "some of North America's most beautiful birds." I could not stop yelling, "What??" throughout the entire sketch, which basically means that I loved every second of it. I don't know who came up with this weirdness, but they deserve an award. The illustration of bird Adam and Eve getting kicked out of the Garden of Eden, which depicts God's hand as a fierce eagle claw, reaching down from the heavens and shooting a bolt of lightening from an extended talon, is almost too much to bear.
Must Miss
Elevator
Second-to-last sketch? Strange, complicated premise that's hard to explain? Must be the worst sketch of the night! Parsons plays Mr. Conrad, an executive of a large corporation who's trying to sneak out of the office for the day unseen, but one of his employees (Mike O'Brien) catches up to him before the elevator doors can shut. Why did Mr. Conrad want to get away unnoticed? Well, because there's some construction going on near the office building and a piece of construction equipment made a really loud noise during the day that kind of sounded like a bomb going off and it scared him so much that he pooped his pants. Naturally, he's carrying his soiled underwear in a Ziploc bag, like you do. The elevator makes a bunch of stops on its way to the ground floor and the horrible smell is all that anyone can talk about. Look, I'm not fancy, I can roll with a poop joke (or two), but this is just uninspired.
That's all for this week! Tune in next Saturday for host Lena Dunham and musical guest The National. Will Dunham poke fun at the recent "scandal" regarding her digitally altered Vogue photo shoot? There's only one way to find out!
Image: NBC