Derek's IG Says A Lot About This 'Bach' Suitor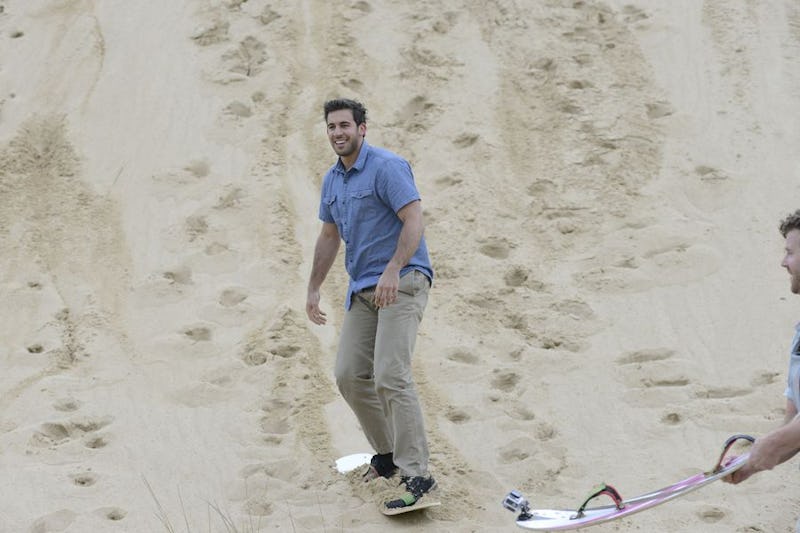 In a world where social media reigns supreme, it's pretty easy to find information about someone. In fact, unless you try to remain completely off the grid like Parks and Recreation's Ron Swanson, there are a ton of details about yourself that are at the internet's fingertips. So when you become a contestant on The Bachelorette like Derek Peth, you better believe fans are going to go through all of his social media platforms with a fine tooth comb. But it's Derek's Instagram account that people should really be focused on, in my opinion. Because much like how eyes are the windows to the soul, his vast array of pictures gives us a deeper insight into his personality in a way we have yet to see on the show.
Granted, Derek has seemed like a stand up guy ever since he first stepped out of that limo on The Bachelorette. But it never hurts to know more about the guys vying for JoJo Fletcher's heart, which means a little super sleuthing is in order. So aside from the fact that Derek is a clear replica of Jim Halpert from The Office, here's everything that this contestant's Instagram account reveals about him. Trust me when I say, it'll only make you love him more.
He Had A Very Happy Childhood
This flashback photo for Father's Day was all sorts of adorable and tells us that Derek grew up in a very happy and loving environment, which could imply the type of life he'd be able to provide JoJo with as well. Not to mention it already proves that he would look great in a groomsmen tux. Just saying!
He's Handy To Have Around The House
Considering the work glasses he's rocking in this photo, it seems as though Derek has the skills to be able to handle the unfortunate flooding situation himself. I wouldn't mind having someone with his knowledge and skill set around the house.
He Has A Great Sense Of Humor
He doesn't just accept the uncanny similarities between him and John Krasinski, he fully embraces it in the best way possible. Well done, sir.
He's A Supportive Brother
A rose-worthy trait if there ever was one, in my opinion.
There's A Deeper Side To Him
This is a poem called "Victory" by Herbert Kauffman and centers around the idea of making the most out of your life because it'll go by in the blink of an eye. It's an important message to live by and one that Derek seems to take to heart.
He Likes To Sleep In
That means he's not a morning person and has therefore earned the key to my heart.
He's A Big Fan Of Harry Potter
And the many fun memes and riddikulus puns that come with it. (See what I did there? #soulmates)
His Musician Look Is On Point
Seriously, JoJo, just go ahead and pick him already because this is beyond adorable.
As you can see, Derek has a lot more to him than just an extremely handsome face and seems like the perfect contender to win over JoJo's heart.
Images: Veronica Gambini/ABC; Derek Peth/Instagram (8)